Cameras
The 10 Best Cameras for YouTube of 2022 – Reviews & Buyer's Guide
Cameras for the both beginners and professional content creators.
Today, becoming a YouTuber is a quickly emerging passion that has taken over the scene.
Apart from having the talent and the inspiration to be on YouTube, you likewise also need an excellent camera to record high-quality videos for your channel.
And so, how do you choose the best camera for recording high-quality videos for your YouTube channel?
A normal 12MP Digital Camera, a point and shoot camera, a mirrorless camera or a high-end DSLR camera?
Below, we have reviewed the 10 Best cameras for YouTube. This in-depth guide will walk you through the good and the bad of all the mentioned cameras and will allow you to choose the camera best suited to your needs.
Best Cameras for YouTube of 2022 – Quick Look
(Click on the name of any camera to read it's in-depth review)
---
1. Canon EOS M50 – Best Mirrorless YouTube Camera
Canon just makes great products and the Canon EOS M50 is one of them. This high-resolution camera comes with features that emphasize superb image and video quality, clear details, and an impressive range.
Taking shots in the difficult angles is a breeze with this device, thanks to its adjustable orientation LCD screen.
What's more? It comes with built-in features that emphasize quick editing and finally, transfer to your PC or mobile devices to share beautiful and magical scenery you have captured, with the rest of the world.
Specifications
Dual Pixel CMOS Autofocus with 2.36 Mega dot electronic viewfinder.
24.1 Megapixel APS C CMOS sensor, DIGIC 8 Image Processor, and interchangeable lens.
An adjustable orientation LCD touchscreen
Automatic image transfer with Camera Connect app feature.
Our In-Depth Review:
At the heart of all the functions of the Canon EOS M50 is the dual pixel CMOS Autofocus feature. Manufactured by Canon themselves, it helps you create high quality, professional-looking videos, utilizing a pull-focus effect by blurring out the backgrounds and keeping your capture subject in sharp focus, as they move towards you. Capture all the action as its happening in extremely high quality. It also comes with an impressive 2.36 million dot electronic viewfinder. This mechanism is what makes it compact, less-bulkier than DSLRs, and easily maneuverable.
This camera also features a 24.1 Megapixel APS C CMOS sensor that will quickly collect light from your images and process it into your camera's information. Backed by the DIGIC 8 image processor, this innovative combination yields to brilliantly sharp colors, distinct boundaries for clear details, and impressive range.
This camera also comes with an interchangeable lens option for varied magnifying power. In the end, it allows you to zoom in and out as you need to for both distant and close subjects while maintaining a crisp image in the eye view to take the best shots.
We all know that the best photos or videos sometimes are not taken in the best 'photographer positions'. The ability to tilt your camera to any angle, while maintaining a clear view of the display is key to taking stunning pictures. The Canon EOS M50 comes with an adjustable orientation LCD screen that gives you freedom of physical expression to get into whatever position you like.
Whether for low or high-angle shooting, this camera will fit in nicely. It is also a great display for quickly reviewing your pictures after shooting.
Transferring your beautiful pictures to your various devices is a breeze with the Canon EOS M50. An automatic image transfer feature allows you to connect your camera to your personal computer and save taken images either to your computer's memory or the cloud.
A Camera Connect app feature allows you to transfer images quickly to your smartphone or tablet. You can then show off your outstanding shots to the rest of the world via social media, or connect to your printer to generate hard copies.
The EOS M50, however, comes expensive, characteristic if most modern, high-end cameras. Also, it does not come with extra lenses and you will have to buy these for improved focus, zoom, and range.
Pros
It is compact and lightweight.
Supports low and high-angle shooting, and video creation accessories.
Quick and easy file transfer to local devices.
Superb image quality, autofocus features, and impressive range.
Conclusion:
The Canon EOS M50 is a great camera for both aspiring and professional photographers. It is a great buy if you are looking for a compact, high-end camera with great image and video quality, high adaptability, and are willing to spend some good money.
---
2. Canon G7 X Mark II – Used by Top Vloggers
The Mark series has been known for offering some of the best professional cameras out there and the G7 X Mark II from the series is another camera widely used by some of the most popular vlogging YouTubers.
The G7 X Mark II comes with a 1.0 inch, 20.1MP CMOS sensor, along with a Digic 7 processor, which delivers at a lightning-fast speed and helps in processing amazing images even in low-light conditions.
The Canon G7X is a point and shoot camera that easily fits in the palm of your hand and still manages to showcase amazing features that are commonly associated with DSLR cameras.
Specifications
1.0 inch, 20.1 MP CMOS Sensor.
8fps in burst mode.
1080P FHD at 60 fps recording.
Vary-angle 3.0 inch LCD screen.
Wi-Fi and NFC.
Our In-Depth Review:
Unlike the EOS series, the G7X is very handy and is the best Vlogging camera on the list. Its Handycam reminiscent design makes it really compact and easy to handle.
The camera body is made up of metal that feels really sturdy and has a matte finish on top. The body also has some grip that makes them fit perfectly and makes sure the camera doesn't slip out of your hand.
You get a total of 4 rotatory dials on the camera. One is a mode dial, under which you will see an exposure compensation dial. Then there is a ring/dial around the lens that could be used to control various functions, and then there is the last dial on the backplate.
G7X Mark II can record up to 8 frames per second at continuous shooting, which is better than the EOS 80D. The ability to record videos at 8 frames per second helps capture fast-moving objects easily whether you are shooting wildlife, fast action like sports or any other quick motion content.
As compared to G7, G7 Mark II comes with good improvement in terms of autofocus. Under autofocus options, you get to select between two options: Servo AF and Oneshot. You can also set the focus manually from the 3.0-inch LCD touch screen.
The camera also comes with the Canon HS system which helps in capturing bright and beautiful videos.
Adding to this the 4.2x, f/1.8– f/2.8 Optical Zoom Lens, you now get to maximize the content in your frame with swift precision.
The camera can record up to 1080p full HD videos at 60 frames per second. The 4K video is not supported, and that's actually not needed in a point and shoot camera. In case you need 4K in a point and shoot camera, do check out the Panasonic Lumix Fz80 on our list.
You do get built-in NFC and Wi-Fi allowing you to share videos seamlessly, as well as control the camera remotely through your mobile phone.
Pros
A perfect camera for vloggers.
Compact design that would easily fit in the palm.
Camera Connect for remote shooting and monitoring.
1080P at 60fps and 8fps in continuos shooting.
Conclusion:
This is one powerful camera considering what you pay for it. If you are looking for a point and shoot camera that is as powerful as a DSLR, then the G7 X Mark II is your best bet. It provides stiff competition to the EOS 80D and yet sports a comparatively cheaper price tag making it a popular choice for several of the biggest YouTubers around.
---
3. Canon EOS 80D – Used by Top YouTubers
Canon EOS 80D is the sequel to the EOS 70D and is one of the best digital SLRs from Canon and also a favorite of some of the most popular YouTubers.
The camera comes at a great price point and offers all the excellent features that a camera should have.
The EOS 80D camera comes with a 45 points all-across Autofocus system, providing the best focus experience when working with focus area selection modes or optical viewfinder.
When it comes to the CMOS sensor, the EOS 80D comes in with a 24.2MP APS-C sensor, which can create high-resolution videos. It also comes with dual pixel CMOS autofocus, which helps in shooting videos with accurate and fast focus.
Specifications
7fps in continuos shooting.
Digic 6 processor.
Up to ISO 25600 for brilliant video recording, even in low light conditions.
45 Cross-type autofocus points.
Our In-Depth Review:
Overall, the EOS 80D is one of the best cameras for YouTube that you can get. The 3.0 inch articulating touch screen makes it super easy to focus with an easy tap. The battery life is satisfactory and will not be an issue even if you are out shooting for multiple hours.
The 80D is not much different than 70D in terms of design and control placement. On top, you get direct controls to ISo, Drive, Autofocus mode and metering. The body is built of sturdy plastic with leather covering at few places for providing an ergonomic grip.
The Intelligent viewfinder on the EOS 80D provides a comprehensive and bright view taking out all the guesswork with 100% coverage, allowing you to get the right show at the right time.
While the absence of 4K could be a letdown, the EOS 80D produces excellent 1080p FHD videos. The camera is capable of shooting 1080p videos at 60 fps in MP4 format with standard IBP compression, and MOV format at 30fps and 24 fps respectively.
The Autofocus on the Canon EOS 80D is brilliant. The Dual Pixel CMOS Autofocus delivers fast and accurate focus while shooting videos. Dual pixels work like a charm with video recording, helping you achieve a natural and precise focus, even when shooting fast action videos.
Furthermore, you get a 45 points cross-type autofocus system with a full-frame sensor which is fantastic. The autofocus points are really fast and accurate.
The camera comes with a headphone jack. This allows you to monitor audio levels while recording videos and adjust the audio levels without having to look at audio graphs on a separate screen.
In terms of wireless connectivity, the Canon EOS 80D comes integrated with Wi-Fi and NFC for seamless sharing of photographs and videos to your mobile phone, tablet or any other Wi-Fi or NFC enabled device.
When it comes to low light performance on the EOS 80D, the camera features a wide ISO range of ISO 100 – 12800 (expandable to 16000/25600), which helps the camera perform brilliantly in low light conditions even with no flash.
Digic 6 Image Processor
The Digic 6 processor is one of the latest and fastest processors from Canon. It delivers excellent processing, full resolution high-speed continuous still shooting and distortion connection in camera.
Pros
Extremely popular amount YouTubers.
Upgraded Dual CMOS Autofocus.
12800 ISO for movies.
Wi-Fi and NFC for seamless sharing.
Conclusion:
Barring the Mark series, the EOS 80D is the finest camera for YouTube that Canon has to offer. The Autofocus especially makes it a great choice for YouTube and more so for Vlogging. This should come as no surprise since the EOS 80D is widely used by popular YouTubers and so we strongly recommend checking it out!
---
4. Nikon D5300 – With 3D Tracking
Next up is the D5300 from the Nikon D series. It is slightly more expensive than the D3300 for which you get some major upgrades.
The D5300 is another mid-budget camera from Nikon that can record brilliantly focused videos at up to 1080p.
If you weren't quite sold on the D3300, you should definitely check this one out. The upgrades on this camera are pretty big with the price not being much higher than the D3300.
Specifications
24MP Dx-format sensor
No optical low-pass filter.
39 AF points.
5 frames per second on a continuous recording.
1080p FHD at 60fps.
Our In-Depth Review:
When it comes down to the autofocus, D3300 pales in comparison, plus with features like 3D matrix and 3D tracking you get even better visuals.
The Nikon D3300 and the D5300, are practically one of the best entry-level DSLR cameras from Nikon. When compared to the Rebel T5 and T6, both of them come with a mic input allowing you to connect an external microphone to the camera.
Both cameras come with better autofocus when compared to the Rebel series and yet have a similar price point. If the brand name doesn't matter much to you, we would definitely recommend choosing either the D3300 or D5300 from Nikon over Canon's Rebel T5 or T6.
The sharpness, clarity, and richness of colors on videos recorded through the D5300 are astonishing. The 24.2MP  DX-Format CMOS Sensor records the best lifelike videos, which are an absolute treat to watch.
With integrated Wi-Fi and GPS, you can share your videos to your mobile phone or tablet with just a click and like some of the other cameras mentioned here, you again have the capability to monitor your videos and control your camera right from your mobile phone.
The Nikon D5300 is not just powerful but is also very lightweight and compact. Like every other DSLR from Nikon, the D5300 is designed to be intuitively ergonomic. Every button is placed within comfortable reach ensuring efficient operation.
The best thing about the camera is, of course, its price tag. It is pretty under-priced at the mid-level range and does a fantastic job considering.
Pros
Records breathtaking lifelike videos.
Good Autofocus.
3D tracking and 3D matrix metering II.
Built-in Wi-Fi for sharing and remote control.
Cons
Autofocus only works with AF-S or AF-I lens. AF or AF-D lenses will not work.
Conclusion:
If you can invest some extra bucks, then we would absolutely recommend the D5300 over the D3300. For the extra amount, you do get pretty big upgrades in terms of the sensor, point focus system, and, of course, the 3D features it comes packed with.
---
5. Panasonic Lumix FZ80 – Affordable 4K Camera
The Lumix FZ80 is the best entry-level 4K camera in this roundup. And this stems not solely due to the top of the line specs it offers, but also the price at which you can get it.
The FZ80 is a revolutionary camera due to this very point. The number of features it comes packed with at an incredible price point is mind-blowing.
The FZ80 is a point and shoot camera that comes with an 18.1MP power OIS lens, helping you capture fleeting moments at up to 30 frames per second.
It comes with a 20mm wide-angle lens with 60x long zoom, which is by far the best zooming functionality we have encountered in any video camera at such a low price point.
Specifications
3.0 inch Touchscreen LCD.
18MP Sensor.
LUMIX DFD Focusing system for better and accurate focus.
60x zooming capabilities.
1080p at 60fps, and 4K at 30fps.
Ergonomic grip.
Our In-Depth Review:
The Lumix FZ80 is by far the best 4K camera for amateur YouTubers or any individual looking for a camera on a budget partially due to its 4K functionality, but also as a result of everything else that truly makes this camera a worthy addition to this list.
The camera on top of the body has an option to enable "movie mode", which when enabled, gives you full creative control over how your final video will look. This is a really handy feature on the FZ80 when, ordinarily, you don't get such level of imaginative controls on any camera at an entry-level price range.
The camera easily beats out the similarly priced competition in the zoom department with its 60x zoom capability. While some photos when zoomed to the max might appear a little structured, we can truly appreciate the overall zoom function that Panasonic has added in.
Along with the zoom, the camera comes with a 20mm lens, substantial enough to capture a wide range of imagery.
The camera also offers amazing image stabilization, that aides in taking better shots and creating better recordings.
The Lumix FZ80 comes with an ergonomic grip which makes it fit flawlessly in your hands. Its viewfinder is clear even in bright sunlight. On the top, you get a dedicated button allowing you to instantly turn on the 4K video mode thus making it quite easy to make a switch between regular and 4K modes.
One thing that could disappoint some users is the type of display added to the camera. It's a non-articulating display, which means you can not adjust it as per your preference. You have to get down to the level of the screen to do the monitoring.
In a nutshell, you get unbelievable value for money. The camera records some really high-quality videos and pictures at great resolution. Apart from 4K, you can shoot 1080p videos at 30 frames per second, and you can shoot 720p HD slow-mo videos at 120 frames per second. Overall the Lumix Fz80 is a great youtube camera for beginners.
Pros
60x Optical zoom for capturing far moments.
Affordable camera with 4K tech.
Dedicated button to turn on 4K video mode and 4K photo burst mode.
Comes with a movie mode.
Cons
Comes with a fixed screen.
Doesn't perform well in low lighting conditions.
Conclusion:
The FZ80 is an incredible value for money camera. The inclusion of 4K technology is an absolute steal at this entry-level price range, allowing you to record high-quality videos at an amazing frame per second rate. If you are just starting out with YouTube and do not want to blow a large amount of cash on a camera, then this your best bet.
---
6. Go Pro Hero 7 – Best Action Camera for YouTube
The Go Pro brand has been at the forefront of producing high-quality action cameras through recent years. They are known to produce great cameras that are small, compact and pretty much indestructible.
GoPro has been our go-to brand for capturing almost any activities. These activities vary from extreme sports to travels to blogging and so much more.
GoPro had proven to be the most trusted companion and tool in creating the most awesome videos and spot-on pictures.
GoPro cameras are primarily small, handheld and waterproof giving them the ability to be adaptive to just about anything and capture unique shots from the best angles. The GoPro family continues to amaze us with its new development of innovative cameras.
While many people think that GoPro is designed ultimately for those into action sports like surfing, sky diving, hiking or trekking that alone isn't entirely true. With the newest GoPro Hero 7, it allows almost anyone to use its incredible features with ease.
Specifications
8X Slow-mo recording.
Waterproof up to 33 feet.
Hyper smooth stabilization and Super photo.
Auto Low Light mode for better low light performance.
1080p at 240fps, and 4K at  60fps.
Face, Smile, and Scene detection.
Our In-Depth Review:
The GoPro Hero 7 action camera comes with its hottest feature the HyperSmooth Video Stabilization that delivers a gimbal-like stabilization without the actual use of a gimbal.
The Hypersmooth feature makes handheld footage look like it came from a stabilized gimbal even when used while running, bouncing or spinning.
This feature creates a dramatic improvement on the GoPro line and makes it perfect for just about any kind of activity. It makes your bouncy bike ride look like a first-person magic carpet ride. This feature makes the new GoPro Hero 7 the ultimate action camera of its kind.
The new GoPro Hero 7 comes with several other new features like Super photo giving you that Instagram worthy picture automatically.
We know that GoPros are best known for its video capabilities but with this new Super photo feature, they are more and more becoming a very capable photo camera as well.
This feature automatically analyzes the scenery and intelligently applies the best filter and image enhancements needed for the shot but in a subtle way making it look natural.
More to the GoPro Hero7 new features is the TimeWarp Video. This is essentially a HyperSmooth applied to a TimeLapse Video that allows the user to turn longer activities into a super stabilized shareable moment.
GoPro also allows direct live streaming to sites like Facebook and YouTube.
On top of these awesome features, the GoPro Hero 7 is significantly user-friendly making it perfect for both amateurs and professionals.
One of the downsides of the GoPro Hero 7 is that even though the camera itself is waterproof, you need the SuperSuit housing to take the camera past 33ft or 10m depth and it's a bit hard to switch back and forth between macro and wide shot when sealed in the SuperSuit underwater.
Pros
Professional level of gimbal-like image stabilization in video using HyperSmooth.
4k video recording capability.
New creative tools.
User-friendly Interface.
Cons
Limited Macro-switching control when sealed in SuperSuit.
Minor LCD glitches fixable by software upgrade.
Conclusion:
The new GoPro Hero 7 is undoubtingly impressive. Despite its few shortcomings, Hero 7 has still undeniably performed well and is still on top of its competition. If you will ask us, GoPro Hero 7 Black does everything that Hero 5 and Hero 6 do plus more. It made significant and actually useful improvements making it worth using not only for action scenarios but for everyday use as well.
---
7. Canon EOS Rebel T6 – Best DSLR Camera for Beginners
The Canon EOS Rebel T6 is yet another great offering from the Canon Rebel Series.
The price of this camera is set in the entry-level range, making it a great choice for you if you're just starting out on YouTube and want to wait to invest in more expensive tools.
Now it may look a little weak, especially coming in right after the G7X Mark Ii and EOS 80D respectively, but if you're not going to be filming crazy action shots, then the Rebel T6 would work just fine and also cost you almost half the price of the EOS 80D.
A low price tag doesn't necessarily mean outdated and limited features. Here's a quick look at what the Rebel T6 has to offer.
Specifications
3.0 inch 920K dot LCD.
18MP APS-C sensor.
9 Point Auto Focus with center cross-type.
Digic 4 image processor.
Intelligent auto basic mode and some creative modes.
Our In-Depth Review:
The Canon Rebel T6 is the successor to the Rebel T5 and has the same sensor along with a whole bunch of other similarities. Comparing it to the other cameras in this list, the camera is very very much similar to Nikon D3300.
The body of the camera is mainly made up of plastic and is very light, which means you can carry it along for the whole day without any issues.
If you are looking for an excellent entry-level camera for YouTube, then look no further. The colors are bright and the 9 point autofocus is good. You also get some pre-loaded creative modes, which are pretty great if you try to use them.
The camera comes with an 18MP APS-C CMOS sensor that captures excellent quality videos at up to 1080p at 60 frames per second which is pretty decent. The videos recorded are sharp and look pretty great. The camera is good for shooting light action shots with its capability to record up to 3 frames per second.
Talking about the Autofocus system on this camera, you get a total of 9 autofocus points. These are surely not a lot of autofocus points, but looking at the price point, that's acceptable. The autofocus works well in good lighting conditions but not too good in low lighting.
Surprisingly, even at the price point, you manage to get the Digic 4+ Image Processor which is fast and processes hefty data without any issues.
The Canon Rebel T6 does not have a microphone input, which means the audio would be directly recorded from the inbuilt microphone. The inbuilt microphone is of high-volume that picks up a clear voice. In case you are not satisfied with it, you can always mount an external microphone and record the sound in your cell phone or other devices, and then sync audio-video with your editing software.
Integrated with Wi-Fi and NFC you can create a connection between the camera and your smartphone, again, giving you control of your camera right from your mobile phone. Wi-Fi and NFC capability also allow for seamless sharing of content from your camera to your phone.
Pros
Easily affordable by beginners.
Faster processing with Digic 4+ image processor.
1080p recording at 30fps.
Comes with Wi-Fi and NFC.
Cons
No external microphone jack.
Non-articulating display.
Conclusion:
We'll keep it short – this camera is a great, entry-level camera and comes bundled with everything you need for Vlogging or creating videos for YouTube. Super easy to use and a great camera to start learning on. Though the camera does not have an external microphone port, the inbuilt high volume microphone performs really well.
---
8. Sony A7R ii – Very Powerful 4K Camera
The Sony a7R II is the most powerful camera for YouTube among all of the cameras listed here. Period.
It is a full-frame, mirrorless, interchangeable lens camera that is truly exceptional in every way.
It comes with the world's first full-frame, back-illuminated Exmor R CMOS 42.4MP Sensor, 4K movie recording and 5 axis-in-body image stabilization.
A majority of the people today believe that a DSLR camera is probably the best camera type available today, and while this may have been true in the past, we've now got Mirrorless Cameras.
Mirrorless cameras are very compact, lightweight and non-bulky when compared to DSLR cameras, and yet have all the excellent features that make DSLRs so popular.
Case in point being the Sony a7R II – a Mirrorless camera, that easily wipes out all high-end DSLR cameras here.
Specifications
Full frame 42.4MP CMOS Sensor.
4K movie recording.
Fast Hybrid AF with 399 points.
OLED Tru-finder.
Strong Magnesium alloy body and lens mount.
Our In-Depth Review:
What can we say that hasn't already been said? Only one word comes to mind when trying to describe this camera – Perfection!
The Sony a7R II is a keeper. With competitive power-packed features that make for a truly amazing camera, you won't feel the need to replace it for a good long while.
Ideally built for professionals, that this is probably the best camera you could get to create amazing, high quality, professional content for your YouTube channel.
The 35mm Exmor CMOS Sensor is the World's first full-frame sensor with a back-illuminated structure. The structure is made by a combination of gapless on-chip lens design and AR coating on the sensor's glass seal along with the revolutionary no low pass filter to improve light collection efficiency.
The a7R II comes equipped with 4K for amazing videos [5]. A combination of a full-frame image sensor in 4K, with direct pixel readout, and no binning results in better overall video quality.
Fast Hybrid Auto Focus with 399 phase-detection Autofocus points and 5-axis image stabilization favors the 4K and takes movie making to another level.
The Focus capability on the Sony a7r II will simply blow your mind. The new full-frame image sensors make sure that you get the highest number of focal phase-detection AF points and the widest coverage possible.
The fast hybrid autofocus system with an additional 25 points improves accuracy and tracking even at 5fps continuous shooting at 42.4MP.
The focus is spread across the whole frame right up to the edges, instead of being clustered in the center, which is a huge plus point this camera has over the other.
The camera offers seamless connectivity to your mobile phone or tablet via Bluetooth or NFC with the PlayMemories mobile app. This allows you to fully control your camera, frame your image using your mobile device, turn on the camera shutter or movie button, etc. You can also transfer videos to your mobile phone or tablet simply by one touch.
The build of the a7r II is robust, designed for reliability and a strong grip. The a7r II also features a solidly built lens mount allowing you to mount large lenses to the camera, which, it will ultimately hold very well. The body features a matte finish that gives it a look of premium DSLR.
The Sony A7R ii is also weatherproof, which means the camera is suitable for use in extreme conditions, providing the lens is weatherproof too.
Pros
No pixel binning.
Articulated display for easy live monitoring.
Excellent 4K video recording.
Top of the line Auto focus.
Conclusion:
The Sony a7R II is the ultimate YouTube camera, ideally built for people who want to record highly professional videos. Being a mirrorless camera, it is very compact in nature. We would definitely recommend this to anyone who wants the absolute best with no compromises.
---
9. Canon EOS 70D – With Dual Pixel AF
Still, reading through this list? This next camera is sure to please!
Next in our countdown is the Canon EOS 70D, a DSLR that stands on an excellent market reputation.
EOS 70D is the predecessor to EOS80D and is currently available for a lower price than its successor.
To compare, it comes with a 20MP sensor, while the EOS 80D comes with a 24MP sensor.
With the EOS 70D, you get a 19 points cross-type autofocus, while with EOS 80D offers up a 51 points cross-type autofocus which is amazing.
Though the EOS 70D is not superior to the EOS 80D, when compared to other cameras it certainly holds its own position.
Specifications
20.2MP APS-C sensor.
7fps while continuos shooting.
Dual Pixel CMOS AF.
Expeed 5 processor.
Built-in, a great quality microphone.
Our In-Depth Review:
Apart from the amazing specifications, the camera also brings great build quality and design to the table. It comes with some pretty cool leather finish on the top that complements its design really well.
The articulation LCD screen is the probably best feature of the camera. Regardless of where you view it from, you get a pretty clear view of the display. Plus, with an easy tap, you can adjust the focus level, amongst other properties.
While the Canon EOS 70D focus may pale in front of the EOS 80D, it isn't to say that it isn't good at all. The focus system on the 70D is still miles better than most cameras.
11 AF points are precise and sense objects in Snap. And with 7 frames per second rate at high-speed continuous shooting on the EOS 70D, you are guaranteed amazing visual content.
The facial focus is exceptional and can be used to create that great blurred effect in portrait videos. The microphone is decent and pretty straightforward and while it can certainly be used to record sounds, we would recommend a dedicated microphone for truly great audio.
The benefits of the Dual Pixel CMOS are clearly visible in videos when focus on subjects is a critical element. On the EOS 70D, the Dual Pixel CMOS makes sure that the focus in videos is very precise yet natural, even when switching between different subjects. Combine that with Movie Servo Autofocus and you get a smooth and consistent focus throughout your recording.
The EOS 70D comes with Wi-Fi integrated into the system allowing you to seamlessly share and preview videos on your iOS or Android-based mobile phones and tablets, and, also allows you to control the camera right from your mobile phone.
Pros
Wi-Fi integrated.
1080P recording at 60fps.
It comes with 19 point cross-type AF System.
Records excellent Videos at all lightning conditions.
Cons
Great Wide Angle shots will require a separate lens.
Conclusion:
The Canon EOS 70D is a perfectly designed YouTube camera. It is lightweight, well priced and comes packed with great features. The Dual Pixel CMOS autofocus is excellent and considering the price point of the camera, you get a pretty great deal. Now although the EOS 70D is pretty great, our official recommendation would be to get the 80D if it works with your budget as, naturally, being the successor, it does sport better features.
---
10. Nikon D7200 – With DX-Format Sensor
Share your creative vision through your videos using this astounding camera from Nikon.
Nikon D7200 is the brand's first camera that comes with both leading wireless technologies i.e. Wi-Fi and NFC.
The Nikon D7200 provides solid competition to all of the cameras listed here, whether it is the Canon EOS 80D or the high-end Mark Series.
So, what make it such a special camera? Well, let's find out in our review below. But before that, let's have a look at the specifications.
Specifications
51 Points AF.
24.2MP DX-Format CMOS Sensor.
Expeed 4 processor.
6fps in burst mode.
Equipped with No Optical Low Pass Filter.
Wi-Fi and NFC
Our In-Depth Review:
The Nikon D7200 comes with a 24.2MP CMOS image sensor that helps in capturing 1080P videos. It comes with Nikon's revolutionary No Optical Low Pass Filter and the latest wireless sharing technologies Wi-Fi and NFC.
Equipped with an optical low pass filter, the Nikon D7200 delivers remarkably sharp photos and videos. The 24.2MP CMOS picture sensors that join the Expeed 4 processor and Nikkor focal points, upgrades subtle elements and allows for significantly better visuals.
The camera comes with a 51 Point autofocus system that provides great attention to detail while filming videos. The autofocus points are well spread across the whole frame and detect objects seamlessly. Regardless of whether you are working in sunlight or low-light conditions, the Autofocus framework will dependably have exactly the intended effect.
The advanced multi-cam 3500 autofocus detection in the D7200 achieves excellent focus detection even at a very dim -3 EV (ISO 100, 20C/68F).
With advanced functionality to records videos at up to 6 frames per second at continuous shooting, the camera is also perfectly suitable for YouTubers that are going to record fast-moving action like sports or wildlife.
Talking about the body of the camera, it's very similar to other models in D series. If you have ever held D7100, you will hardly feel any difference holding D7200. It's ergonomic and fits really well in the hands. The controls buttons are quickly accessible with right-hand fingers for easy operations.
Looking at the price point, we really expected it to have an articulating screen, but it doesn't have that. That's the only thing that we missed on this camera, and we are sure it would be missed by a lot of other users as well.
The addition of Wi-Fi and NFC is actually a great idea and is very useful when it comes to sharing content from your camera to other devices. With the D7200, this goes a further step since you additionally get the opportunity to control the camera through your mobile phone and can likewise examine the live view.
The last thing that we would like to mention is the battery life. The range is phenomenal, and you can easily expect usage of 5-6 hours on a single charge.
Pros
Excellent Battery range of 5-6 hours.
1080 FHD videos at 60 fps.
Expeed 4 image processing.
Time lapse movies.
Cons
Non-articulating display.
Conclusion:
The Nikon D7200 FX is an excellent camera for YouTube that can record 1080p videos at 60 frames per second. It has some unique features added to it like the No optical pass filter and Expeed 4 image processor which makes processing much faster. We highly recommend this to anyone that can work this into their budget.
---
Cameras for YouTube – Buyer's Guide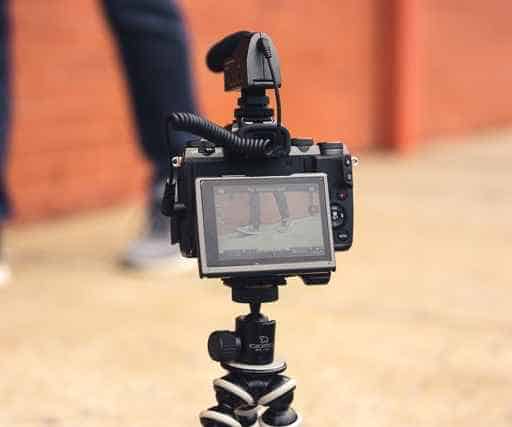 Buying a camera that covers your Vlogging needs can be a difficult task. Before you decide to invest in one, you need to be clear about what you need.
On our list here, we have cameras under both low and high budget. Since videos on YouTube do need to be professional looking, we have not included any cheap cameras,  since they may not be able to produce videos of at YouTube level quality.
The camera you ultimately get depends on a wide range of things, primarily being your budget. If you've got a tight budget and basic requirements for a camera, you, of course, should get one of the lower-priced cameras on this list.
Conversely, if you want advanced features and specifications and price is not an issue, you could get one of the more premium cameras on this list.
"YouTube Videos" are pretty hard to generalize and buying a camera for YouTube depends on what kind of videos you intend to shoot. If you are just starting out and are looking for a basic, functional camera then an entry-level DSLR would be suitable.
If, however, you are into recording sports/fast action videos, then you would need a camera with higher frames per second rate. Ultimately, it does come down to what you intend to do with your camera and the kind of content you plan on creating.
What Brands are the Best?
When it comes to cameras, Canon is the leading manufacturer in the industry.
You also have some other brands like Nikon, Panasonic, and Sony, that have produced some really awesome cameras.
We have atleast one favorite camera from all the brands, so that would not be fair to call any particular brand the best among all.
Rest assured, if you going to choose a camera from any of the brands mentioned above, you would be extremely satisfied with it.
If you are someone who is going for adventure vlogs, then GoPro is the only brand you should be looking at.
Deciding on a Budget
Budget is a critical factor when it comes to buying pretty much anything. In order to make the best purchase that you can, due diligence is crucial.
When it comes to YouTube Cameras, an approximate $500 would be a pretty decent budget to work with giving you a few really good camera options that can record high-quality 1080p videos.
You can also get cameras that have 4K functionality at this price as with the Lumix Fz80 that can seamlessly record 4K videos.
Truly professional-grade cameras are hard-pressed to be under $1000 whereas premium, high-end cameras can run into a couple of thousand dollars.
In order to make deciding easier, it is vital for you to first set your investment price point.
Types of Videos to be Recorded
Ask yourself, what type of Youtube camera do I need? What are my actual requirements? We see so many people reaching for a high-end professional camera without identifying their actual needs.
Are you planning to record fast-action videos?
Are you planning to record 4K videos?
Are you planning to record slo-mo videos?
These are the type of questions you need to ask yourself, else you end up with an overpriced piece of equipment that you don't need.
Elaborating further, if you are planning to record some action videos then you surely need a high-end camera that could shoot videos at high FPS. But, if you are planning to record normal stuff, then that high-end camera would be irrelevant.
Camera relevant for Vlogs: When it comes to vlogging, always choose a point and shoot camera. Those cameras are portable and lightweight and offer great video quality. Some Point and shoot video cameras like Lumix Fz80 can also record 4K videos.
Camera relevant for adventure Vlogs: Action cameras are the best type of cameras that could be used for filming adventure vlogs. They are small, water-resistant, and could be easily mounted anywhere. We recommend Go Pro Action Cameras.
Camera for normal filming: For general filming, you can either go for a DSLR camera or a Mirrorless camera. Mirrorless camera was recently introduced to the market, that comes with all the awesome features of a DSLR camera, but is very compact as compared to them. Both types of cameras offer excellent videos with great Autofocus. Sony a7r ii and Canon EOS 80D are our most recommended cameras.
What are the different types of Video Cameras available?
There are mainly 4 types of videos camera that are great for recording YouTube Videos.
DSLR Cameras
The best and the most powerful camera type in the market, these are highly recommended for pretty much everyone unless you specifically have decided on another type of camera.
DSLR cameras are upgraded version of SLR cameras that also come with a digital image sensor. Both of them run on the same mirror mechanism.
A mirror that is placed inside the camera body reflects the incoming light to the prism through the lens, then to the viewfinder for previewing.
Mirrorless Cameras
Mirrorless cameras are the latest trend in the market. They are as powerful as DSLR cameras and are very compact in nature.
In a mirrorless camera, light passes directly from the lens to the image sensor, which displays it on the rear screen.
The only feature where DSLRs outperform Mirrorless cameras is the Autofocus. DSLR cameras come with a really great autofocus system that is fast and very accurate. Though few of the modern-day Mirrorless cameras like Sony A7r ii offer great AF, there is still a long way to go.
Point and Shoot Cameras
A very compact option for someone who likes to travel a lot and doesn't want to lug around bulky DSLR cameras. In reference to youtube, these are ideally suited for Vloggers. Since they are lightweight and small, vloggers can easily carry them anywhere.
They are not suitable for recording high action shots and don't have any advanced autofocus system, but for recording vlogs, they do a great job.
Sports and Action Cameras
Cameras built for adventures and fast action shots. The GoPro series is a perfect example of action cameras.
Action cameras are the smallest type of youtube cameras. They get mounted everywhere, are waterproof and are usually built of solid materials.
But remember, action cameras are mostly only good for adventures and normal filming. You can not use them for high-quality filming.
Camcorders
Camcorders are beasts, but they are also quite difficult to operate.
If you are a beginner, you should probably not pick a camcorder, else you would be confused with the operational settings.
The settings are much advanced as compared to modern-day DSLRs and beginners would face some difficulty using them.
Camcorders are generally used by professionals as they need full control over the video. If you think you are ready to get to that level, go and get a camcorder for yourself.
And, don't worry, they are not too expensive.
Featured Cameras on this list
We've decided to keep this list pretty broad and have included all 4 types of cameras:  DSLR, Mirrorless, Action, and Point & Shoot cameras.
DSLR cameras are capable of performing well in every situation and are pretty well known for recording high-quality videos.
Point and shoot cameras, on the other hand, are very portable cameras and fit very well into compact spaces such as pockets and shoulder bags making them pretty easy to carry around and the perfect choice for people who don't want to lug heavy DSLR cameras around.
An important thing to keep in mind while buying cameras is that regardless of the microphone capability on cameras, you will ultimately need a dedicated microphone if you are going to make audio heavy content. Keep this in mind as you work out a budget since great microphones can cost a pretty penny as well.
What Cameras are Suitable for Vloggers?
We have said it a lot of times, and we would say this again. If you are a vlogger, go either with Point and shoot cameras or action cameras.
Action cameras are usually used by vloggers who are into adventure, but they can be used for normal vlogging too.
The best thing about Action cameras is their size and portability, plus they are affordable too.
Point and shoot cameras, on the other hand, are not as small as action cameras but are still very compact. The best example for that would be Canon Powershot G7X Mark II.
DSLR cameras would be a bad choice for vloggers due to their overall size and weight.
Important Features to consider before buying a Camera for YouTube:
SensorAutofocusLightingMicrophoneZooming QualityBattery Life
In a camera, the image sensor plays a very important role. It defines the sizes of one pixel.
As compared to Point and shoot and action cameras, Mirrorless cameras and DSLR cameras have larger sensors. And, the larger the sensor, the clearer the pixel quality.
The most common type of sensor in DSLR cameras is a CMOS sensor.
To have a great focus on multiple objects at the same time, a camera must have multiple autofocus points. Along with that, the autofocus must be fast, so that when you switch scenes the autofocus gets adjusted quickly.
Most of the DSLR and Mirrorless cameras have good autofocus, while some of them have extraordinary autofocus.
Most cameras will perform exceptionally well in broad daylight or in good lighting scenarios, but when it comes to low light situations, some may give up or produce poor or average results.
In our opinion, a truly great DSLR camera should absolutely perform well in low light, opening up the different scenarios in which you can shoot, be it night time or dark indoors.   Make sure to check out some sample videos shot through the camera in low light conditions. These can easily be found in review sections uploaded by previous buyers, or on YouTube review videos.
We can all agree that sound is a vital part of video making. And while an external microphone is your best bet and great audio quality, you cannot always lug your microphone everywhere.
This means you have got to sometimes rely on the built-in microphone on your camera. At times like these, you need to ensure you've got a pretty great microphone.
A camera without a decent microphone is pretty useless at recording great videos. Important things to consider when it comes to microphone quality is whether or not the mic picks up on motor sounds and/or external sounds such as wind, and motion sounds.
The cameras on our list go up to 60x when it comes to zooming, but a great range on most cameras is up to 10x. The zoom feature should be on the top of your priority list if you plan on shooting outdoors.  You want to make sure that zoomed-in videos appear as clear as regular ones in order to determine the quality of the camera.
One of the worst things that could happen to a YouTuber is if their camera were to suddenly die right in the middle of recording a video. This can be extremely stressful and a major hindrance.
In order to assure you don't find yourself in such a situation, we'd recommend not getting any camera with a battery life less than 3-5 hours.
You will rarely have the opportunity to be able to charge your camera once you're outdoors making it difficult to Vlog the entire day. If, however, you find yourself needing more juice, try and carry spare external batteries to combat this.
What is Optical Image Stabilization (OIS)?
Think of those moments when you take out your camera to take an awesome picture, you spend some time adjusting the focus, and as soon as you click to take the shot, the camera somehow moves a little and the complete shot is blurred.
Optical Image Stabilization is a technology that reduces that blurring caused by the motion of the camera.
However, it's important to know that OIS technology does not prevent motion blur caused due to moving objects. It only prevents blur caused due to camera movements.
Most of the high-end cameras today come with OIS technology. Even some of the premium mobile phones with high-end cameras come with Optical Image Stabilization technology.
What's Up with 360-degree cameras?
In the past few years, 360 videos have got quite popular.
Some people confuse 360 videos with VR, but both of them are completely different. VR is a computer-generated content that is edited by a professional creator to make it that way. 360 videos, on the other hand, are directly recorded from the wide-angle lenses.
A 360 video is a great experience, but you are stuck at the camera's perspective. While in VR, you see any perspective just with your head movement.
A normal Youtuber cannot create VR videos but could create 360 videos.
There are a lot of 360-degree cameras in the market now. We also had a GoPro Fusion 360 camera, but we didn't like it much.
From what we have seen and tested, cameras from Insta 360 are good cameras. We recommend Insta 360 One X, which is a portable camera that comes with flow state stabilization.
What Camera accessories do I need?
There are a lot of camera accessories you can get to make things convenient for you, but today we are going to talk about the accessories that are an absolute must.
Camera BagTripodsExtra BatteryLens CleanerCamera StrapExtra Memory cardMemory Card Reader
Camera bags come in as very handy when you are traveling from one location to another with your DSLR. Moreover, the bag adds an adequate amount of safety as well.
There are many types of camera bags available in the market, and often youtubers end up choosing a wrong bag (mostly in terms of size).
Users usually buy a bag looking at the current requirement, which usually is a camera and a lens. But with time, a lot of other accessories get along, and the bag ends up being too small to carry everything.
So instead of spending money on a small bag, you should choose the large bag from the very beginning. We personally recommend backpacks, as they are large and convenient to carry.
A tripod could be very helpful for stable video recording or photography. But make sure you are getting a quality one.
A poor quality tripod might not be able to resist the weight of the DSLR, and this could be the reason for your DSLR falling off and taking damage.
When choosing a tripod, make sure one you are finalizing can handle atleast twice the weight of your DSLR and lens.
You should never rely fully on a single battery.
Camera batteries don't have much power and hardly last for around 3-4 hours.
So, In general, you should always carry an extra battery in your bag. Even if you are not planning to shoot outside for long, you must still carry an extra battery.
Pro tip: Batteries drain up much faster in cold temperatures, so make sure you are carrying few extra batteries in cold weather areas.
Glass placed at the front of the lens catches dust, resulting in capturing cloudy-looking videos.
Therefore, you should always make sure that the lens front is fully clean with no dust particles on it.
We have tried multiple cleaning cloths in the past, and have found out that Magicfibre microfibre cleaning cloths are the best.
If you are going to get a DSLR or a mirrorless camera, make sure you also get a comfortable strap with it.
A camera + lens combo is heavy, and carrying it around with a normal strap could be painful, and might leave some bruises on your neck.
A comfortable adjustable strap would allow you to carry the camera around your neck without any issues.
We would say this is the must-have camera accessory.
1080p FHD videos take a lot of space, and you can't store all of that in a single memory card.
You must always carry atleast one extra memory card with you.
A 32GB memory would do the job, but we usually recommend getting atleast a 64GB of memory card.
Also, you need to make sure you are getting a memory card that has high read/write speed.
If you view and edit videos on the go on your laptop, then a memory card reader is a must.
There are several types of memory card readers in the market with different speeds and different types of slots.
Having a memory card reader that can read multiple memory cards at once is always a good idea.
If your laptop only has a C-type port then make sure you are buying a C-type card reader.
Tips for recording great YouTube Videos
So this is surely off-topic, but we thought that if you are giving you so much advice on buying a camera for youtube, few tips on how to create good videos wouldn't hurt.
These are general tips that can be applied while shooting with any type of camera, even mobile phones.
Tip1: Sound quality matters
Sound quality is as important as video quality.
People are willing to watch a video in 240p. as long as the sound part is good.
and that is why we highly recommend everyone to get a high-quality external microphone.
Even if you are using your mobile phone to shoot the videos, you can still connect an external microphone to it, and you must do that.
An external microphone is close to you, is built to pick up the voices that are important, and has a good connectivity range.
You should also use some sound editing software to make the final audio even better.
Tip2: Lighting matters
If you are going to shoot a video outdoor in daylight, try to shoot either in the morning or evening.
During the mid-day, the sun-light is straight over-head, and the shadows on your subject could have a harsh effect on your videos. Morning and evening light don't cause any negative issues.
If you are filming indoors, be careful of what lights you are using.
Don't place alight just over the head of the subjects, as that would cast shadows on their faces.
Placement of two soft lights on both sides of the camera would put perfect lighting on the subject. You need to also place a high-power light at the back to eliminate shadows.
Tip3: Using your phone the right way
With phone cameras getting better day by day, you can now create awesome Youtube videos directly from your mobile phone.
But you need to keep few things in mind before you do that.
Use your rear camera instead of your front camera since it will produce a more high-quality video.
Record videos horizontally so that they look good in every device.
Set the settings to record the video in 1080P atleast. If your phone can record in 4K, that's would be even better.
Tip4: Try different angles
Switching from one angle to another is a good way to build audience interest.
if your video doesn't include you just sitting and talking about something, rather shows you doing something, reviewing a product, or doing a how-to video, then showing that from different angles would make things even better.
Tip5: Keep Editing Simple
Editing could be fun, but don't go too crazy.
Applying too many effects on a video can actually be bad.
Just edit the lighting and make sure its perfect. Adjust colors and saturation if needed.
add some background music and cut out scenes that are not needed.
Tip6: Use a clean background
A messy background could be very distracting. And its not too difficult to set up a professional background.
You can just shoot in front of the wall, a bedsheet or simple screen would work too.
You can also shoot at your workplace or at your home office.
Tip7: Avoid Shaky footage
If you are using a point and shoot or mobile phone then the shaking would be very minimal since these devices are lightweight and you could easily carry them.
However in the case of DSLR and mirrorless cameras, its hard to hold them and shoot.
The best thing you can do in that case is to get a tripod so that the camera stays in place.
If you are shooting a video outside, a gimbal could be very helpful.
How do you Edit Youtube Videos?
Creating a good youtube video not only involves shooting, but also some good editing which is also known as a post-production process.
The editing process usually involves cutting down the not needed scenes, adding various effects, adding background music, and a few other things that would make the video awesome.
Back in time, editing videos was a costly process. You had to hire a professional to do the job.
But now with so many modern tools in the industry, anyone can be an effective video editor (of course with some practice).
To be able to edit videos, the first thing you need to do is get a video editing tool.
Currently, for Microsoft, the best video editing software is Adobe Premiere Pro, and for Apple, it's Final Cut Pro. But they are also quite expensive.
They are also a few of the free tools like Windows movie maker and iMovie that offer a decent performance.
Once the video editing is complete, you need to choose a file format. Youtube accepts all the format of videos, but we still recommend to stick with .avi or .mp4, and always render your videos in 720p and 1080p High definition.
Some FAQ'S regarding Cameras for Youtube
What Cameras do Youtubers Use?
Different youtubers use different cameras, but as per our research two of the cameras that are most common among Youtubers are Canon EOS 80D and Canon Powershot G7X Mark II.
What Cameras do Vloggers Use?
Most of the Vloggers use Canon Powershot G7X Mark II point and shoot camera.
Is 4K important?
4K videos are much sharper as compared to normal 1080p HD videos, that's a fact. But how many users on youtube actually stream videos at 4K? A very few indeed. So if your only motive is to make videos for youtube, then a 4K camera is not actually needed.
Can I use action cameras for filming?
As compared to DSLR cameras, action cameras don't perform great in low lighting, and also don't have good autofocus. So if autofocus and low lighting performance are on top of your priority list, then you shouldn't choose action cameras for normal filming. Action cameras are ideally built for recording adventure vlogs.
What Editing software do Youtubers use?
Most of the Youtubers use Adobe Premiere Pro for Windows, and Final Cut Pro for Mac.
---
Conclusion: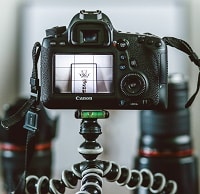 We would end this by saying that buying a dedicated camera is not so important today.
With phone cameras getting advanced day by day, you can now record an FHD video from most 0f the mobile phones. Some of the high-end smartphones can even record 4K videos.
By the way, this advice is for the beginners who are usually low on budget. If you are a professional youtuber or have a good budget in hand, by all means, go ahead and buy a Youtube Camera.
After reviewing so many Cameras for youtube, we can say that Canon EOS 80D comes out as the best camera. For the vlogging purpose, Canon G7X Mark II still rules the market.
If you are an adventure vlogger, then you probably know that Go pro is the best camera you can buy.