Accessories
The 10 Best Outdoor TV Antennas for 2022 – Reviews & Buyer's Guide
Enjoy your favorite TV channels with no transmission issues.
Over recent years, so many technological changes have taken over. Of the most prominent of these changes is our entertainment at home. With so many emerging online channels and paid cable services, it seems like the list is endless.
However, this doesn't mean that you cannot enjoy TV viewing on a budget or opt for a more traditional way to entertain yourself. You can still connect your television to an outdoor antenna for old-fashioned local channel viewing.
Outdoor antennas have proven to still be gems to many of us. You get to enjoy a choice of up to 30 channels for free on your TV with clarity and ease. And as always, the better features and capabilities your antenna boasts, the more you will experience more channels and better viewing.
Compiled below is a list of the 10 best outdoor antennas in 2022. Each antenna outlines its unique features and functions, it all depends on what you are looking for.
Best Outdoor TV Antennas – Quick Look
(Click on the name of any TV antenna to read its in-depth review)
---
1. RCA Yagi Antenna – Best Overall Outdoor TV Antenna
Whether you want to pair your antenna with your streaming players or simply enjoy free HDTV viewing, the RCA Yagi outdoor antenna is perfect for this.
The ANT 751E series comfortably sits anywhere, outdoors or indoors without compromising quality.
Plus, you don't have to struggle to manually search for channels thanks to its advanced Signal finder App. This ingeniously designed signal finder and reception make it a true digital antenna.
Specifications
Digital signal amplifier to enhance the signal.
Mounting hardware with a 75-ohm transformer.
Receives signals up to 70 miles from a broadcasting tower.
Supports up to 1080i HDTV broadcasting.
Our In-Depth Review:
The RCA Yagi ANT 751E series is ideally designed to offer high-quality HDTV viewing with free local channels. The antenna delivers these channels within the 70-mile radius proximity to the broadcasting towers. Depending on your area, you can receive up to a generous 30-view channel for free.
The digital antenna for outdoor and indoor use also features the brand's new signal finder App technology. The signal finder App technology enhances the chances of picking up a broadcast that is within your signal range. It's like your device's own signal fisher as it works this very way to find broadcasting towers nearby.
And to further enhance your channel fishing experience, the outdoor antenna boasts a patented Smart Boost TM amplification system. The amplification system acts as a digital signal amplifier, and just as the name suggests it works to enhance your viewing experience. The amplifier works to maximize the strength of your antenna reception. It also enables your antenna to pick up more channels and display the channels clearly with no interruptions.
Additionally, the digital antenna's construction is designed to enhance precise signal reception. The cross-design and use of multiple accessories and elements help to complement its enhanced reception technology. With this, you are guaranteed free local and network UHF and VHF channels.
The ANT 751E series also pair well and complement most streaming players such as Hulu TV. This allows you to use most of your entertainment system, whether you are viewing a free local channel or streaming on-demand TV, the digital antenna guarantees quality.
The RCA Yagi is also designed to be placed inside your house. However, this doesn't affect its adapted ruggedness which also makes it an ideal outdoor antenna. The antenna features a sturdy material construction which accounts for its durability and high performance.
Don't be fooled by the antenna's outstanding and impressive performance. This doesn't mean that it is a huge and chunky "NASA-like satellite". In fact, this outdoor antenna features a sleek and compact design. This is so that transportation and even installation is not a headache. Plus, if you choose to store it away, it shouldn't take up much of your space.
And you don't have to be an electrician to install the antenna in your home. The RCA Yagi comes pre-assembled, thus, making the installation process easier for you. Simply unlock and fold out the antenna, and use the provided mounting hardware and accessories to effectively mount it. If the elements are confusing for you, refer to the manual it comes with.
Pros
Ideal for both indoor and outdoor use.
It comes with all the necessary installation equipment including mounting hardware.
Very simple and easy to set up.
Built-in technology to maximize signal reception.
Cons
The frequency range is somewhat limited.
Conclusion:
The RCA brand designed the Yagi ANT 751E series with only successful operation in mind. Whether it is the signal amplifier or signal finder, the digital antenna guarantees generous and high-quality channel viewing. Plus, its versatility opens you up to a whole new possibility – stream on-demand TV, watch network channels or stick to local, the choice is yours.
---
2. Pingbingding 2608 Series – With 360 Degrees Control
The Pingbingding HDTV Outdoor Antenna features an amplified and digital setting. The antenna boasts a mounting pole with a wireless remote-controlled 360-degree rotation design.
The antenna incorporates a simple quick installation and can simultaneously support up to 2 Television sets.
It is also fitted with a 40 feet RG6 Coax cable and covers a range of up to 150 miles. Its superior HDTV broadcasting abilities improve your overall viewing experience.
Specifications
VHF 170- 230 MHz/ UHF 470 digital working frequency.
Supports 720p, 1080p and 1080i HDTV broadcasting signals.
Quick Installation.
360 degrees rotation motorized remote control.
Our In-Depth Review:
The Pingbingding 2608 series is designed with a long range of up to 150 miles and dual TV output connectivity. The long-range design of the antenna enhances your TV channel broadcast strength and increases the chances of receiving more channels. The dual TV connectivity and easy installation also deliver high value for your money.
For effective connectivity and viewing, you don't even need a splitter or special adapter thanks to its easy installation. The digital outdoor antenna comes pre-assembled with mounting hardware for placement options. Simply snap on the supplied parts and accessories of the antenna with no extra tools required to instantly start viewing. And to make it easier even for amateurs, the package comes with an easy-to-follow user manual.
The digital antenna supports free digital broadcasting, with both VHF and UHF frequencies that deliver high-definition signals to your television sets. The digital antenna's 4k high ultra HD broadcasting allows you to prevent the high cost of paying for satellite or cable TV.
And you don't have to worry about spending so much time fidgeting with the antenna, thanks to the wireless remote controller that it comes with. This design features a 360-degree motor rotor, and a built-in super high gain and low noise amplifier for viewing adjustability. The 40foot RG6 coaxial cable ensures the connection is always perfect.
It also moves and positions around the yard a lot easier for you. Also, placing it outside doesn't pose any risk. The digital antenna comes with a free mounting pole and features smart lighting protected, weather-resistant and durable design. When you are connecting your digital HDTV antenna, locate the preamplifier indicator light on the main unit and make sure it is on.
Placing it higher on the roof or wall enhances signal capture and broadcasting. Rotate your antenna using the provided wireless remote controller to ensure you gauge a proper resolution on your screen. Additionally, the perks of owning this outdoor antenna are that it lets you enjoy Dolby audio.
The digital outdoor antenna allows you to enjoy the sound you want. The Pingbingding outdoor antenna package comes with wireless remote control, control box, power supply adapter, 40FT coaxial cable, and mounting pole.
Pros
Long signal range.
Pre-assembled design.
Weather-resistant and anti-lightning design.
Supports 2 TVs at the same time.
Cons
Limited remote controller range.
Ideal only for outdoor use.
Conclusion:
The bottom line is that the Pingbingding 2608 series offers great value and deal for your money. There's nothing better in an outdoor antenna than a wide signal range, weather protection, simple installation, digital broadcasting, and above all, built-in sport for 2 TVs. Unless, of course, the cost itself is low – which is what the Pingbingding outdoor antenna offers.
---
3. Vansky Outdoor Antenna – With Noise Canceling Amplifiers
The Vansky outdoor Antenna lets you kick in and relax all day as it delivers high-quality and clarity-free local and network channel viewing.
The noise-canceling amplifiers articulately carve off unwanted distractions to deliver fine-tuning and pictures.
Its wireless remote control alleviates the hassle of fumbling with the antenna on those rough days. You can simply rotate your antenna till you get your desired picture from the comfort of your bed or couch.
Specifications
Built-in noise-canceling amplifiers.
Built-in 360-degree rotating motor.
Free wireless remote control.
Dual TV connectivity.
Our In-Depth Review:
The Vansky antenna series is built to support two televisions at the same time without the need for extra tools. The antenna is equipped with a wide 150-mile radius from any broadcasting tower, thus, enhancing your chances of receiving more channels and good quality viewing.
The antenna effectively receives digital VHF, UHF, and FM signals. The digital antenna is even able to pick up prominent TV channels such as NBC, Fox, ABC, and PBS – just to mention a few, depending on your location.
The HDTV antenna supports up to 1080p broadcasting. It also boasts high-frequency signals of up to 32db which guarantee quality as well. The versatile design of the antenna also allows you to manually search for signals and adjust your video quality, thanks to the built-in 360 degrees rotatory motor.
Plus, you don't have to struggle so much to operate the antenna. Simply use the supplied wireless remote control to rotate the antenna wherever you are in the house, as long as you are nearby near the control box. The low noise amplifier also complements the antenna's function to maximize signal reception.
The antenna's rotating mechanism is also multidirectional. This means that the outdoor antenna can rotate in either direction. This design is put in mind to consider the position of your antenna when it is installed and mounted. The multidirectional rotation prevents tangling, which would otherwise be inconvenient for you.
The outdoor antenna also features durable and weather-resistant construction. And during rough weather, the precision assembly and lighting-protected construction ensure your antenna is safe outside.
The antenna also features an instantaneous installation process. Simply assemble the smaller bits of the antenna, open up the large reflector and connect your coax cable. Then, turn on the antenna, ensuring the indicator light is on. Test the rotation and remote control and you should be ready to mount and use the antenna.
When installing and mounting your antenna, it is highly recommended that you place it at least 30 feet above the ground. Ideal locations within your residence include the roof, attic (if you have one), or on the side of your house.
The package includes the antenna, power supply adapter, and a 32.8 ft. coaxial cable for easier connectivity and accessibility.
Pros
Supports 2 TVs with no extra tools required.
Longer coaxial cable.
It also receives FM channels.
Multidirectional 360 rotation prevents tangles.
Cons
Limited channel reception.
The power cable is a little short.
Conclusion:
The Vansky outdoor antenna is certainly your one-stop solution for your home entertainment. Its reliable VHF, UHF, and FM signal reception gives you a wider option for TV and radio coverage – whether you are catching up with the news or indulging in a telenovela. The dual TV support also kills two birds with one stone, as one antenna effectively services your two TV units.
---
4. Antenna Direct Clearstream 2V – With 40 Channels Reception
The sleek look of the Antennas Direct Clearstream 2V antenna matches its sophisticated performance.
A top choice amongst many consumers, the Clearstream 2V incorporated cutting-edge technology and ingenious loop design to deliver high-quality and precision channel reception and viewing.
The design also allows for its generous multi-directional 60 –mil range whilst Its carefully designed and included installation equipment offers a perfect mounting and effortless operation.
Specifications
60-mile multi-direction signal range.
Full HD 1080 support and UHD 4k ready.
Fitted on 20 in J-mounting hardware.
Reception of up to 40 channels.
Our In-Depth Review:
The ClearStream 2V antenna is built with a 60-mile signal range and depending on location, and elevation, you can enjoy exciting new channels such as ABS, CBS, and NBS for free. The full HD 1080 outdoor antenna also delivers digital performance.
The antenna is designed to pick up VHF and UHF signals through multi-directional scanning. Plus, it delivers a higher frequency and bandwidth of up to 10.2 dBi. Additionally, the digital antenna is also designed to deliver higher sound quality at 5.1 surround sound a lot better than many paid cable and satellite services.
During installation, you can even choose to adjust the antenna to enhance reception and signal strength. You can do this by adjusting the dip poles which extended from 12.2 inches to 35.5 inches.
The powerful antenna utilizes a patented loop design technology to enhance its function. The loop design gives the antenna an overall wider angle range thus, remove the need for your antenna to rotate. In fact, compared to rotating antennas, the ClearStream 2V series performs with more precision, clarity, and results.
The antenna's loop design offers a 70-degree angle. This particular angle design allows for an enhanced and wide frequency value of 470t0 700 MHz. The reflector panels built on the antenna on the other end help to focus the antenna's strength. This in turn further widens the range and counters interference. Thus, the result is effortless channel capture, enhanced reception strength, and clear viewing.
The design and technical quality make the outdoor antenna ideal for both indoor and outdoor use in rural and suburban areas. This is because the digital antenna is designed to thrive in areas with buildings that are not designed to accommodate technology with materials such as heavy plantation and roofing material.
The antenna measures 18 inches higher, is an adjustable 33.5 wide and is 5-inch diameter. And it weighs about 6 pounds. Because of its slightly larger-than-average design, the ClearStream 2V antenna series tends to be more stable and rugged, which makes it suitable for both indoor and outdoor use.
Its stand and pole design deliver stability with two factors. Large stable bottoms and secured sealing process. However, don't let this limit your choice, because the antenna is still compact and light enough to carry, manage or store.
The installation process is also a breeze as the antenna comes pre-assembled with its stand and poles – all that's left is mounting. The antenna comes with a 20-inch mount, weather-resistant mounting hardware, and a detailed user manual for proper installation.
Pros
Very sturdy stand supplied with mounting poles.
Enhanced signal strength.
Ideal for both indoor and outdoor use.
Ideal for areas with major obstructions and obstacles.
Cons
A little expensive.
Coaxial cable is to be purchased separately.
Conclusion:
Though it sits at a slightly higher price tag compared to the many other antenna designs, the sleek and sophisticated performance of the Antennas Direct Clearstream 2V outdoor antenna is worth the purchase. The digital antenna has proven its ability to break through obstacles and limitations to deliver generous and high-quality channel viewing and sound delivery.
---
5. GE Pro Attic – With Reflectors
The GE Pro Attic offers an affordable and long-range antenna option that is ideal for any household.
The heavy-duty and smart design of the GE Pro Attic series delivers its powerful and supportive qualities – up to 4 TVs supported concurrently.
Its weather-resistant design on the body and mounting hardware it comes with removing the headaches of worrying about your outdoor device over harsh weather.
Specifications
Fitted with reflectors to strengthen reception.
It can support up to 4 TVs.
Compatible with the majority of TV brands.
4K ready full HDTV antenna.
Our In-Depth Review:
The Go Pro Attic provides high-quality and cost-cutting solutions to free channel viewing in your home. If you find yourself in a good line g sight to broadcasting towers, you may even enjoy up to 40 or 50 of your favorite TV channels. This includes NBC, CBS, PBS, the weather channel, and many more.
The outdoor antenna is also ideally designed to deliver full high-definition video quality and enhanced surround sound quality to make your viewing experience superior. The antenna receives both strong VHF and UHF signals and supports up to 1080p broadcasting.
The digital antenna is also powered with a 70-mile signal range coverage to broadcasting towers. Whether it is installed in the attic, roof, or the side of your house, it still maintains impressive signal-capturing qualities and maintains high reception strength. This is because the antenna is cleverly designed to surpass interference or obstacles – whether it is the thick foam insulated walls or bulk roofing material.
On the body, the Pro Attic antenna is quite curved and it is here where you will find the antenna reflectors. The reflectors offer high value to the antenna as they enhance signal strength. The reflectors also come in handy as they reduce signal losses.
The GE Pro Attic also features a toughened metal construction with weather-resistant and anti-rust treatment. So does the J- mounting bracket. Additionally, its standard design makes it easy to mount on any antenna mast.
Furthermore, with the additional purchase of an amplifier, splitter, and coaxial cables, a single antenna can support all TVs in your residence. The antenna entirely supports each TV at once without loose its working quality and strength.
The TV antenna also boasts a very simple setup process. It comes pre-assembled with all essential pieces and is complemented with a mounting bracket and mast clamp to complete the installation t home. And if you struggle with the process, a step-by-step user guide is also included in the package.
And it doesn't end there with GE, the antenna also carries a lifetime warranty to ensure its customers of the quality of the antenna. Yet, in case, you are having trouble, their 24/7 US-based customer and tech support are quite reliable.
Pros
Built with reflectors to enhance the signal and reduce dropouts.
Easily mounts to most TV antenna masts.
Works with the majority of TV brands.
Proactive customer support.
Cons
Extra tools are needed to connect more than one TV.
Conclusion:
The GE Pro Attic models offer affordability, versatility, and convenience. At such a friendly price tag, the Pro Attic boasts a high signal and reception strength to deliver great quality videos and surround sound. Its multi-connectivity to your home TV also helps to cut down cost, as the thought of good reception, no matter where you mount it removes the headache.
---
6. Mediasonic Homeworx – With SD Broadcasting
The compact and simple design of the Mediasonic Homeworx HD antenna should not fool you with its performance.
The outdoor antenna delivers long-range and high-frequency digital VHF and UHF signals to ensure proper signal strength and channel viewing. Its incorporated and well-thought-out signal tracker and reception deliver fine quality and audio tuning to your screen.
It's very easy to put together installation will have you enjoy up to 30+ channels in no time.
Specifications
80-mile wide signal range.
Full HD and SD broadcasting.
Cutting-edge signal and reception pick-up tech.
Simple installation.
Our In-Depth Review:
Understandably, some of us like to spend a lot of time in front of the TV. And sometimes you want to cut down costs that paid streaming services such as Netflix offer. Yet, you want to maintain a good source of entertainment – be it movies, series, or even on-demand news.
This is where the Mediasonic Homeworx HD antenna jumps in. At a single and extremely low one-time cost, the Homeworx will provide you with a steady supply of local channels and favorite network channels which are not short of your favorite movies, series, sports shows, and even weather update.
With an 80-mile wide signal range, the outdoor antenna guarantees reception strength and good viewing quality even if the broadcasting towers are not nearby. The Homeworx supports digital VHF and UHF signals ad pickups both high and standard frequency strengths.
The antenna is also perfectly designed to pick up long-range signals and transform them into high-quality and clear pictures. The digital antenna's high signal and reception strength also make it ideal for use in any condition. Whether you find yourself surrounded by thick-roofed buildings and foliage in rural and suburban areas or an urban metropolitan, the antenna will still work superbly.
The digital antenna features a compact and 1.5mm thick build which makes mounting and storage easy. Though compact, the antenna is still rugged, heavy-duty, and durable enough to survive the outdoors.
The Homeworx is also very easy to install. The 32-inch long weather-protected antenna comes with a detachable 10-foot coaxial cable so you can easily set it up n your home. The cable's detachable design allows you to go for a longer option, should you need to do so.
Simply connect the coax cable to your television set or converter box, mount your antenna at the place of your choosing and begin scanning for your channels.
The Mediasonic Homeworx HD antennas work exceptionally well – with good-quality viewing and high reception strength. Yet, in case of any hiccups, you may not receive as much help. The manufacturer's website is virtually nonexistent and so is the customer support.
However, if you are settled with fixing any emergent issues, then, Homeworx remains as of the top-rated, highly reliable, and low costing devices. Plus, when purchased it comes with a seller's one-year warranty that keeps you fairly protected.
Pros
Good antenna length.
Ultra-compact design.
High receiving frequency.
Easily mounts to most TV antenna masts.
Cons
Mounting pole.
Non-existent manufacturer website and tech support.
Conclusion:
The Mediasonic Homeworx HD outdoor antenna boasts a revolutionary technology that supports incredible long-distance signal pickup and reception strength. It's a very simple installation process and the compact design also proves the concept of working smarter, not harder, as this is exactly how the antenna works. Lightweight, compact, one-minute installation, and high signal reception!
---
7. By One Antenna – With Excellent Range
Rocking an ultra-paper-thin design, the 1 By One outdoor antenna offers both class and performance.
The amplified digital outdoor antenna features a reliable signal booster that guarantees full reception strength, high-quality video viewing, and enhanced sound quality.
Its "out-of-this-world" signal filtering technology cleans up the signal reception to deliver the perfect viewing whilst canceling even the tiniest of unwanted interruptions.
Specifications
Specially designed RG6U 26 FT Coaxial cable included.
Signal booster with patented CleanPeakTM RF filtering tech.
100-mile long signal range.
Ultra-thin design.
Our In-Depth Review:
The full look and design of your home are largely influenced by bringing many different elements together. Your furniture, plants, photographs, wall paintings, and even your entertainment system. The 1 By One outdoor antenna gives you a two-way option – add style to your home and enjoy free local and network channel viewing.
The high-tech design of the digital antenna allows for limitless access to over 40 free channels. You can simply have access to a pool of entertainment shows, be it music, sports, local news, or a movie. The cable-free antenna also guarantees 4 K-ready ultra high-definition cord-cutting viewing.
The outdoor antenna also features a powerful and creatively designed signal booster. The signal booster is designed to feature the patented CleanPeakTM RF filtering technology. The filtering technology helps to create precision signal seeking and reception. It does this by filtering out interfering signals such as cellular signals and FM signals around the area. This helps the antenna to achieve better reception which in turn provides clearer pictures and true sound quality.
The 1 By One antenna also comes with a coaxial cable for installation. Keep in mind, however, the coaxial cable for By One is not only for connection purposes. The 26-foot cable is long enough to make the installation convenient but also improves the quality of viewing.
The specially designed extra-long RG6U cable delivers improved and high-resolution 4k/1080p images. The cable does this by utilizing its solid center conductor, insulation, and 3-layer aluminum shield construction to prevent external interference such as electromagnetic and radio signal frequencies.
The antenna is also designed to be ultra-thin to allow for easy handling, placement, and storage. The ultra-thin sleek design, however, doesn't overpower its protective build. The digital antenna features weather-resistant and UV-protected coating to enhance its ruggedness and durability in the outdoors.
Additionally, it works best when placed outside thanks to the relatively reduced obstacle interferences and clearer line of view for broadcasting towers.
The digital also features a smooth installation process – plug in the coax cable, mount the antenna and start scanning for local and network channels. The antenna package also comes with a 90-Day money-back guarantee in case you change your mind.
Pros
Amplified to enhance the signal.
Sleek and attractive design.
The long cable allows for easier movement and placement.
Coax cable helps to enhance video quality.
Cons
The Signal only improves if placed outdoors.
Conclusion:
The combined ultra-thin, sleek, and extremely powerful performance of the 1 By One outdoor antenna is what makes it worth the purchase. The antenna's blended functionality of separate components such as the signal booster with the filtration tech and the RG6U coax cable is also what adds to its impressive reception strength and high-quality video delivery.
---
8. McDuory Amplified – With 150-Mile Range
The McDuory Amplified outdoor antenna offers to provide value-added and free local and network channel viewing with utmost precision.
Its generous 150-mile-long signal range, remote-controlled 360 degrees rotation, and built-in amplification help to enhance your viewing experience and increased channel offering.
Its rugged design is particularly fortified to survive the harshness of the outdoors. And at a friendly price tag, it brings long-lasting value for every penny you pay.
Specifications
150-mile long signal range.
Wireless remote control.
360 degrees motorized rotation.
Signal to boost built-in amplifier.
Our In-Depth Review:
The McDuory Amplified antenna introduces a whole new world of possibilities for free local and network channel viewing. The digital antenna is built with a multidirectional 150-mile-long signal range. It also supports a working frequency of 170 to 30 MHz for very high-frequency signals and 470 to 860 MHz for ultra-high-frequency signals.
The HDTV antenna is also designed to support up to 2 TVs at once without the need for extra tools or splitters. The McDuory antenna series also features an updated construction design and it makes it extremely easy to install without downplaying its quality. The installation process involves snapping on minimal elements that don't come in pre-assembled with the antenna, connecting the coax cable, mounting, and usage.
The antenna also comes with manual instructions so you can refer back in case of any hiccups during the short installation process. Additionally, the antenna comes with infrared remote control. The remote control helps you to adjust the video resolution and scan for channels without leaving the comfort of your couch or bed.
Aimed at the control box, the remote control facilitates 60 degrees of motor rotation in each for better signal reception. The antenna also features a super high signal-gaining built-in amplifier which also works to cancel noise interferences.
The McDuory digital antenna is also built to survive and thrive in the rough outdoors. The VHF and UHF antenna features an anti-lighting and weather-resistant construction which also accounts for its long-lasting robustness.
After installation, take some time to familiarize yourself with the antenna. The control box has three light indicators. The 3 light design makes it easier for you to operate the antenna and easily troubleshot common problems. During the antenna usage, you want to make sure that the red pre-amplifier light is always on.
The green light on the other end only comes on when you are rotating the antenna by using the remote controller or control box button. The yellow light notifies you of impending problems. Most commonly it will indicate power surges and overloads.
The antenna package contains the antenna itself, infrared remote control, and a 40 FT coax cable for smooth installation and operation. Additionally, the antenna package also comes with a one-year warranty to protect you and ensure quality. The antenna also boasts a 45-day money-back guarantee.
Pros
Elaborative control box.
Free digital HDTV broadcasting.
It comes with remote control.
Waterproof, weather-resistant, and lighting-protected.
Cons
Ideal for outdoor mounting only.
Conclusion:
The McDuory Amplified outdoor antenna incorporates all the extremes that make it an exceptional piece. From its comprehensively designed control box, and long and convenient coaxial cable to the built-in amplifier and high-quality and range signal reception, it does a well-rounded job. And don't forget its equally durable and superior construction which makes it an invaluable treasure in your home.
---
9. Antop Outdoor Antenna – With 4G Filtering Technology
The Antop outdoor antenna incorporates a vigorous mix of elements to provide high-quality free local and channel viewing.
Its integrated system design boasts the 4G LTE amplifier with filtration and smart pass technology.
Combined the function of the integrated system to block out even minuscule interruptions to deliver crispy clear video viewing and buzz-free sound quality. All whilst delivering achieving unbeatable 360 degrees of multidirectional reception.
Specifications
70-mile long signal range.
A smart pass amplifier system.
Interference blocking 4G LTE filtering technology.
360 degrees non-rotational Omnidirectional reception.
Our In-Depth Review:
The Antop antenna series is built with a newer and adaptable design to enhance its performing results. The Antop antenna's smaller and compact box design is ideally designed to withstand the harsh outdoor weather and wind drag so you don't have to spend your time fumbling around with it during harsh weather.
The digital antenna also features a waterproof and snowproof build which is also coated with UV protection. So whether it's raining heavily or there's a snowstorm outside, you still get to enjoy your viewing. Its compact design also makes indoor mounting such as in the attic a less painful job. An indoor mounting, however, doesn't affect its high-functioning abilities at all.
The antenna also boasts an incredible 360 degrees of Omni-directional reception that receives high and standard VHF and UHF signals. This extremely skillful design on the antenna eliminates the need for extra tools such as remote controls and the unnecessary motor rotation to capture reception. In fact, this design performs more diligently and effectively than the regular rotating models.
The antenna also supports broadcasting of up to 1080p as well as high definition and 4K. The antenna's high-frequency gain boosting goes up to 16dB. Its noise-canceling levels are very powerful with limited noise interference at less than 2dB overall digital signals. To make it even more interesting for you, the Antop antenna's versatility allows it to even broadcast FM signals – so you don't miss out on your favorite radio channels.
The Antop brand also incorporates the sleek design of this antenna series to its ideal technical parameters. The antenna comes with a built-in special Smart pass amplifier that features a filtering system. The amplifier system works by using its set 70-mile radius and dead zone killer settings. It does this by switching on and off to gauge and pick up both short and long-range signals.
The filtering system on the other end works to support and complement the system. It does so by blocking out potentially interfering signals such as 3G and 4G mobile signals. This, in turn, delivers enhanced reception strength which provides high-definition and quality images. The filtering technology is also 4G LTE powered.
The antenna also comes with a tool-free easy installation process so you can quickly start enjoying your viewing. The antenna comes with a special RG6U coaxial cable. The 16FT cable boasts high shielding and also complements the amplifier system to prevent interferences. The outdoor antenna package includes a USB power cord for easy operation and a user manual for smooth installation.
Pros
It can be installed outside or in the attic.
Water, wind, and snowproof.
4G LTE-powered technology effectively blocks unwanted signals.
Anti-interference 16ft RG6U coax cable.
Cons
Reception strength is slightly distorted during bad weather.
Conclusion:
The Antop antenna focuses its detailed attention on the smart amplifier system. And it's a smart move, the system employs human-like skills to deliver high-quality channel reception whilst fighting off obstacles and interferences in the background. The 4G LTE power also helps to boost the antenna's ever-changing and updating qualities.
---
10. Free Signal – With Multi TV Connectivity
Free Signal TV Outdoor Antenna backs a powerful signal finder and reception to deliver precision and distortion-free local and network channel viewing.
The reception-enhancing technology as well as its minuscule yet sleek design, are combined to make it a top-rated and loved antenna in many households.
Its no-limitation placement also makes it easier to use by anyone.
Specifications
Up to 4 TVs with simultaneous connectivity.
100-mile wide signal range.
4G LTE filtering technology.
Built-in amplifier.
Our In-Depth Review:
The Free Signal TV outdoor antenna holds a valid reason as to why it's a famed household name. The outdoor antenna delivers free and cost-cutting local and network channel viewing with guaranteed quality.
Boasting a long signal range of up to 100 miles, the antenna also delivers enhanced reception strength performance. The built-in amplifier on the other end complements the long-range construction design on the antenna to enhance reception strength and ultimately video quality.
The built-in amplifier is also 4K ready. This means that the antenna is able to deliver four times better video quality resolution than other antennas, cable, and satellite services. The built-in amplifier also comes with 4G LTE filtering technology.
The technology helps to ward off cellular and other signal interruptions to deliver precision video quality. Whether you place it indoors or outdoors, its unique, durable and compact sealed design makes it adaptable to any environment
To make it easier for you, simply check stations and broadcasting towers within the 100 miles range of your location on common mapping websites. Then, let the Free Signal TV antenna series do the rest, to ensure all your favorite channels are captured.
The advanced technology on the antenna allows it to deliver high-frequency and high-resolution videos and low noise interruption. The antenna delivers a powerful frequency of up to 40dBi whilst blocking out noise interruption, with only a minuscule leak of less than 3.5dB.
The sleek, compact, and ultrathin antenna also boast the ultimate versatility. With a one-time investment in the antenna, it can support wholly the TV sets in your household. The HDTV antenna can support up to 4 TVs at once. And with the antenna's simple installation, you can easily connect each TV with no added tools.
The Free Signal TV antenna also boasts advanced technological designs that help to augment its function and quality. The circular and slim design of the antenna contributes to the antenna's signal search strength, especially in areas that are obstructed. The circular and ultrathin design also helps to capture even the toughest VHF signals.
The antenna's 3-step installation features the antenna, connection cables, and a 110V power cable. Simply connect the cables to the TV, connect the power cable to an outlet, scan for channels and start enjoying free channel viewing to any of the four TV in your residence. And if the installation is a challenge, the user manual guide and 24/7 reliable customer support will come to your aid.
Pros
Broadcasts FM/AM signals.
A sleek and compact design enhances the function.
Long signal range.
HD and 4K are ready.
Conclusion:
The Free signal TV outdoor antenna combines both design and technology to offer the viewing experience you deserve. Who said free channel viewing is bad after all? With a one-time investment, even if it digs deep into your pockets, you a long-term investment and asset. Plus, it brings with it more value – you get to connect up to 4 TVs in your home and also enjoy an FM/AM signal on those days when you want to indulge in the old-fashioned radio broadcast.
---
Outdoor TV Antenna: Buyer's Guide
TV antennas have been a popular medium to consume over-the-air content for the better part of the last century.
Although there has been an explosion of online subscription content of everything from Disney plus and Amazon prime to Google stadia and Netflix, antennas remain to be one of the most popular methods of consuming television in most parts of the world.
While cords and satellite sales continue to rise, antennas provide certain benefits that other mediums simply cannot hope to achieve.
What is an outdoor TV antenna?
Also known as a TV aerial, a TV antenna is designed to be paired with a receiver to provide reception of broadcast television signals. You can normally spot a TV antenna on rooftops. They serve as a necessary component to ensure sufficient reception in fringe areas that are distant from television stations.
An outdoor TV antenna is an apparatus that is designed to procure over-the-air visual signals that are broadcasted from various channels. Most modern antennas are designed to pick up either VHF or UHF signals while a few are capable of both.
The antennas are often mounted on top of the roof of a house, apartment, marine vessel, or RV. The antenna is pointed in a certain direction from where it picks up a broadcasted signal and relays that signal through to a television or home entertainment system.
The tech certainly sounds old school and may remind you of those fuzzy blurry images from the TV antennas of the 90s. But as technology has come a long way in every other broadcast medium, it has in the case of TV antennas as well. Most modern TV antennas can broadcast all channels in uninterrupted full HD and some are even capable of broadcasting in 4K resolution. Most cable service providers still struggle to provide an HD viewing experience.
The fuzzy blurry images and adjusting the antenna manually for better signals are all things of the past as modern antennas are either Omni-directional or they are capable of being adjusted via remote-controlled rotors. These antennas are no longer giant lightning magnets and are elegantly designed and easy to install. The greatest advantage these antennas offer is that you are not required to pay anything for viewing 4K content other than the initial cost of purchasing and setting up the antenna.
This is in stark contrast to how subscription and cable providers operate as you're required to pay for as long as you use the service. Antennas are also longer lasting and serve the user for many years. There are admittedly certain disadvantages like being sensitive to bad weather and windy conditions. But these are not exclusive to antennas as many satellite providers also have trouble with quality in tricky weather conditions
Uses of an outdoor TV antenna
With the fast-moving life we lead, TV antennas are dubbed to be up in years. It is used extensively by a large population whether in terms of some sort of TV subscription service, or satellite or cable television. There are a number of reasons why outdoor TV antennas are so in fashion.
When making a purchase for a TV antenna, you will positively garner better results from an outdoor model. Competent in satellite signal reception, these models enjoy several benefits. They are enlisted below.
Price saving
The former cause for the popularity of outdoor TV antennas is their price savings. When compared to subscription services or even the time-honored cable televisions, they are a more economical option especially if you don't want to splurge so much.
Moreover, if you are someone who does not watch television as much, these are safer options as it is capable of making available a large number of local channels which are completely free of cost. In a nutshell, it is a great way to tune into the local channels without cable.
A wide selection of channels
You will certainly be pleased with the number of channels you receive with antennas. Based on the location you are in, you might even reap additional benefits of getting one or more networks that offer channels, free of cost. Since an antenna catches every signal within its scope, you might even end up with more channels than you subscribed to.
Combats weather issue
If you are using a high-quality antenna, you are past half the battle when it comes to combating the weather issue. Most of the users who have used a satellite subscription would testify about the array of problems that arise when they are hit with an unfavorable weather conditions which makes it practically impossible to sit down and watch television. This problem will not make its way in the case of local transmission. If you depend on an antenna, you will no longer have to get your knickers in a knot.
Better signal quality
Next on the list is the improved quality of signals. When compared to signals transmitted by your cable provider or satellite subscription, the locally transmitted signals are not compressed. This renders them virtually effortless to view. Even when it comes to tuning to high-definition channels, you will be struck by the excellent image quality.
Multi-directional vs. Uni-directional TV antennas
Directional
They are premeditated to pick up signals and receive signals from far-off stations. They are known to make available the strongest signal reception of all home-use antennas; in the direction, you point them. They are built to incorporate the built to focus in the preferred direction.
This gain subsequently is computed by totaling the gain rate to the noise margin. Consequently, these antennas are insufficient receivers of manifold stations in numerous directions. They are instrumental in receiving stations characterized by weak signals. A rotator to alter their aim is normally fitted with directional antennas.
Multidirectional
A multidirectional antenna, decisive to its name, is capable of receiving signals from all directions by an act of balance in their gain. Also known as omnidirectional antennas, their functioning is not focused on a definite transmitter. Rather, their signal strength is inclined to be considerably less when compared to their counterpart.
The multidirectional antennas are an ideal choice in occasions where numerous TV transmitters are in close proximity as well as in situations where signals are strong.
Amplified vs. Non amplified antennas
While setting up an antenna, more often than not, we are stuck dealing with troubles posed by interference and other obstructions. To triumph over these difficulties and to perk up the reception up a notch, users can consider the use of amplifiers. While sometimes amplifiers come integrated with the antennas, there are some models that require you to purchase a separate device. Open-air antenna amplifiers are more famously known as preamps.
An amplified antenna pulls in a directional signal from a larger distance and comes equipped with a power cord that requires an outlet. They are convenient for those set of people who live far off from the TV stations.
On the other hand, non-amplified antennas are frequently employed in indoor spaces. They are known to pick up signals in every direction with their rabbit ear design or flat amplified antenna. It must be noted that the suitability of these is limited to areas with close-by TV signal towers. Or simply put, in areas that are marked by very little interference.
Tips for getting the best signals
The primary step to being done before even trying to set up your antenna is to recognize the positioning of the broadcast towers in your neighborhood. Preferably, understanding this before making a purchase will give you a picture of the power your antenna requires to pick up the signals.
The lesser the hindrances between the antenna and the broadcast towers, the better would be the signal. Make no mistake when it comes to assuming thick walls and ceilings pose no obstructions. Because they do. To avoid this problem, mount the antenna in or near a window for the best results. This provides you with a patent line of sight to the broadcast tower as long as there are no underlying obstacles in the form of a tree or a wall.
There are certain points of notice that you have to make note of before proceeding. Firstly, be wary of heat absorption. Mount the antenna accordingly so that the white side faces outside. This will lessen the crisis exponentially. Secondly, if you are using a flat antenna, make sure to steadily tape all the edges so that the problem of bending and warping over time is practically nonexistent.
Nextly, place your antenna as high as you can. Higher it is placed, the better. Altitude is a vital aspect that decides the performance of your antenna. This ensures you have the best results.
If you are powerless to locate your desired channels, consider investing in an antenna rotator. Considering they are reasonably inexpensive, we don't see why you should not use them. This practical device permits control of the situation of the antenna. It can be used for changing the direction of the antenna when you want it.
You can also go in for installing multiple antennas for an augmented television viewing experience. However, do this only if you have ample space to accommodate multiple antennas on your rooftop without causing collision and interference.
To reduce interference of any sort, metallic surfaces must be completely done with. Metal roofing, metal burglar bars, or even metal bug screens can hamper the reception. Conclusively, place your antenna as distant from the metal surface to yield positive results.
Installing the antenna by yourself is a task in itself. Do not hesitate the accept help when you need it. Hiring a professional to do it for you, will make it all the more trouble-free. Do not, at any cost, risk your safety while installing the antenna. Even if you are not seeking the help of a professional, make sure to call someone for assistance. Especially for holding the ladder or passing on the tools while installation.
How to install the outdoor TV antenna
As the first step, decide where you want to position your TV antenna. You can take the help of the numerous websites available over the Internet to know about the closest broadcast towers in your neighborhood. After you are done with that, input your address and see the results for yourself. Once you have clarity over the direction in which you want to place your antenna, it is time to get ready for installation.
Prior to climbing all the way to the roof, make sure to go through the instruction manual that comes with the mounting kit. Follow the steps and shelter the bracket on the rooftop with means of screws. Silicone caulk may always be applied to offer resistance against water penetration. This step is heavily reliant on the antenna you have purchased as certain models call for assembling parts together. While some others come in one solid piece.
After assembling the components, you will need to place the antenna pole by sliding on the antenna sleeve and locking its position. Fiddle with the antenna until you find the best possible direction that points toward the broadcast tower. Always keep the bolts loose and easy as it will help you with future adjustments if any.
At this stage, to make certain you've done everything fittingly, run a test after attaching all the wires. Assign someone to watch over the TV to see that everything is good. You can alternate between different positions to see which offers the finest reception.
If you are certain that you have mounted the antenna perfectly, secure it with the help of bolts and screws. Another important step is to fasten the grounding wires across the roof. It is always advisable to make use of professional help for this.
Concerning your safety, make sure to use suitable electric codes. Connecting the coaxial cable to the splitters so as to tune into programs anywhere from your home should also be done.
Omnidirectional antennas
They receive signals from all directions. It branches out and obtains signals evenly in all parallel directions (both horizontal and vertical). They are best suited for applications requiring good all-around coverage. While they are more vulnerable to intervention in comparison to a directional antenna, it is value for money because it makes available a myriad of channel stations.
What determines the channels that you would get and their clarity?
There are a number of factors that determine the range and reception quality. They include:
The terrain: This is one of the most important factors that decide the channels you receive. Some of them cause interferences and impediments. Especially if you are living in a hilly or forest area.
The range and reception would be both poor. Living in the city creates the hassle of interference with its many buildings and other obstructions.
The weather: Weather conditions also affect the channels and their clarity. Rain, snow, wind, and ice storms can reduce the reception quality considerably. As a solution to this menace, a number of outdoor TV antennas come equipped with anti-UV coating and further anti-weather protection systems which assist them to perform satisfactorily in the occurrence of such dramatic weather conditions.
Distance from your area of living to the TV tower: This is a crucial runner in influencing the reception. This is where the range provided by your antenna comes to the forefront. If your house is placed away from the tower, the poorer would be the signals. You can make use of amplifiers to improve the conditions.
A number of individual TV towers available: Every area is marked by a different number of TV towers. The more the number, the better. This means more signals. Although some might be weaker than others, you can always choose the best ones according to your preference.
Indoor vs. outdoor TV antennas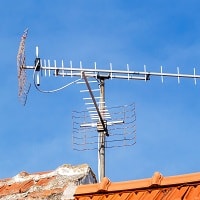 Indoor antennas are by and large tiny, lightweight, and trouble-free to connect to your TV. While it is commonly placed near the television for added convenience, the best reception will be guaranteed upon its placement high up on a wall or near a window.
On the other hand, outdoor antennas are likely to be considerably larger and heavier in their build and are deliberated for mounting on roofs or attics. The greater the antenna's surface area is, the stronger would it be its signal. Measured in decibels, "gain" is a term that is used to refer to the comparative potency of the signal an antenna can deliver to a tuner. To put things into perceptive, as the value of dB increases, so does the 'gain'.
The outdoor antennas will outperform even the best indoor antennas. The latter suffers from dimensional disadvantages and is negatively impacted by factors such as the walls of the building or even by human movement.
What type of cable do I use for a TV antenna?
The association between the antenna to the TV is equally significant. You can make use of a premium coaxial cable. The latter or "coax" comes with an external plait that protects the center cable from any intervention. It also comes with a center wire surrounding a plastic insulator.
If you are ditching satellite TV for satellite, use the coaxial cable in hand from the satellite dish. If it does not work, purchase and run a fresh coax. The cable has to be single run as each time you link undersized cables collectively, some of the signals get lost in the process. RG-6 is the most universally accepted type of cable.
FAQs related to Outdoor TV antennas
Where should I point my outdoor TV Antenna?
Generally speaking, the higher your antenna is placed, the better the results are going to be. To put it in perspective, a distance of 30 feet above ground level definite gives you the best experience by ensuring a clear over-the-air connection with a tower. Another point to be taken into consideration while aiming the outdoor antenna is to face the front of the antenna in the bearing the channels are broadcast from.
How many channels can you get with an outdoor TV antenna?
The number of channels you may have available on an outdoor TV antenna is not an exact science. Since a lot of the frequencies and the quality of the signal received depend greatly on the angle with which the antenna is pointed, the location of the antenna, and the type of antenna that is installed. Metropolitan areas have a lot more signals going through especially the UHF kind. A good UHF antenna can pick up anywhere between 70-100 channels on average. The Los Angeles metropolitan area can pick up more than 147 channels that stream in full HD resolution. VHF signals are increasingly less common as more and more channels opt out of using the lower frequency. However, a well-angled antenna can detect 40=60 VHF channels in a city area. Most modern antennas can pick up both VHF and UHF signals and if you live in a city or a well-populated area you could expect anywhere between 110-160 channels and a well-angled antenna could have you stream all of them in HD and even some in 2160p 4K resolution.
Does a metal roof affect TV antenna reception?
Metal roofs could be quite an archenemy to TV antennas so does any other built-up material that comes with metal or dense stone. The latter would prevent the signals from penetrating through the body and pose difficulties when it comes to antenna installation. So bear in mind to pick the antenna site perfectly aligned with the signal's path. The antenna has to be shielded and kept away from metallic surfaces. Furthermore, supplies such as data wirings, ductwork, and other electrical mediums pose a serious menace to the digital signals and have to be placed at a minimum distance of 6 feet or greater. In short, if you are someone who has metal roofing, installing an antenna in the attic must be fended off at any cost as it has a very low probability of success.
Does a smart TV need an antenna for TV reception?
If the question is whether the smart TV needs an antenna to function, the answer is a resounding no. A smart TV is capable of pulling in visual media from a variety of mediums. It is capable of natively streaming over online subscription services and is also capable of being hooked up to a satellite dish or over a normal HDMI cable. But if the question is whether an antenna can provide TV reception to a smart TV, it absolutely can. Using an antenna to receive content would be not only economical but also a very reliable option for consistent visual quality. The antenna can produce consistent 4K quality while freeing up the RAM in the smart TV for other tasks.
How high a TV antenna should be mounted?
There is no cut and dry exact answer for this either as much of the requirement is dependent on the neighborhood and the area the antenna is mounted. As a general rule of thumb, the higher the antenna is mounted the better it is for signal strength and visual quality. However, it is neither practical nor sane to build a tower just for your antenna. 30 feet above the ground is usually the ideal height to receive most over-the-air signals. This means that you could mount the antenna on the roof of most single-storeyed buildings and have reasonably good signal strength. Signal strength is highly dependent on what structures surround the area that surrounds the signal receiver. A small house that is surrounded by large apartment complexes would need the antenna to be mounted much higher than normal in order to work as intended.
Can TV antenna pickup Cable channels?
Yes and No. Antennas do not pick up the same type of signals as cable channels. Cable channels in the modern era use low-frequency optical signals for transmission while antennas use Very High Frequency (VHF) or more commonly Ultra High Frequency (UHF). Cables are not capable of picking up higher frequencies just like antennas cannot pick up lower frequencies. However, this does not mean that it is impossible to get cable channels through the antenna. Most cable channels such as CBS, ABC, MSNBC, PBS, Comedy Central and FOX all have over-the-air signals that the antennas can pick up. The signals are not the same as the cables pick up or transmit but they do produce the same and sometimes better results. An uninterrupted signal means that the channels come through at a much higher quality than most cable service providers.
Is there a wireless outdoor TV antenna?
Yes, there is. In fact, wireless antennas are gaining in popularity in recent years. Owing to the fact that these are extremely easy to install and do not involve any peck drilling or wiring involved has contributed to their soaring popularity. The signal comes through normally on a 2.4 GHz signal. The signal tends to be a lot twitchier and unstable compared to the cable counterpart. However, the recent developments in Wi-Fi tech have brought us the 5.0 GHz signal that is a lot stronger and can stream 4K seamlessly.
Does aluminum foil boost TV antenna signals?
This is an old trick to boost signal strength and it absolutely does work. The reason is that the aluminum foil produces a dipole receiver of a much higher surface area. The more the surface area, the higher the signal strength. This trick is widely employed around the world. It also works with tin foil or any dipole metal foil for that matter.
How do you measure TV antenna signals strength?
TV antenna signal strength is an important metric to measure and know about as it is the single most reliable measurement that tells you how good the visual coming through to your television is. Signal quality is measured in a unit known as Decibel milli-watts. A bad signal is usually around -55 dBm and a good signal is around -75mm dBm. The signal quality is usually measured by the inbuilt devices inside the televisions so you do not need to do this yourself. In case you need to measure the signal coming from the antenna to make sure that it is not damaged, you can do this using a store-bought ammeter. Connect one lead to the antenna and hold the other in your hands, then switch the ammeter to resistance reading mode and it should ideally say 0 ohms. If there is a higher resistance than 1 0hm, this means that the antenna is damaged and needs replacement or repair.
How can I connect a TV Antenna to a TV without coaxial input?
This can be done easily using an HDMI adapter. Most modern televisions come with multiple HDMI ports that you can plug directly into.
If you need more info, have a look at these other great Outdoor Tv Antenna buying guides by Popular Science, CNET, and Digital Trends.