Sports and Outdoors
The 10 Best Hoverboards for 2022 – Reviews & Buyer's Guide
A hoverboard is one of the most fun thing you could own.
Unless you've been living under a rock for the past couple of years, you've definitely heard of the infamous hoverboard.
Also known as the self-balancing scooter, these devices have been all the rage with people of all ages.
If you've decided to give in and get one for yourself, you might find the surrounding hype a little overwhelming.
Luckily, we've taken on some of the best hoverboards to review and give you detailed insight, allowing you to make an informed decision on which hoverboard to get!
This post will walk you through reviews of the 10 Best Hoverboards available in 2022.
We've created this in-depth guide to clear all doubts and questions you might have regarding hoverboards in general, and to walk you through the best options that you can buy, regardless of your expenditure budget.
Best Hoverboards for 2022 – Quick Look
(Click on the name of any hoverboard to read it's in-depth review)
---
1. Halo Rover X – Best All-Terrain Hoverboard
The Halo Rover is a clear winner in the race of all-terrain hoverboards.
Sturdy build quality, indestructible tires and the IPX4 water-resistant technology are some of the features that truly make it stand apart from the competition.
The Halo Rover is the first all-terrain hoverboard that performs quite well on muddy or icy surfaces, bumpy roads, and cracked pavements.
Specifications
Big LED lights on the front.
800 Watt powerful electric motor.
A maximum speed of up to 10mph.
IPX4 water-resistant.
Made with high-end aluminum and glass frame.
Propelling this hoverboard is a high-power 800-Watts electric motor which is rated for a manufacturer-claimed top speed of 10mph. The battery life is an estimated 10 miles or approximately 2 hours of usage on a single charge. We tested out these claims and can assure they stand up, which isn't often true for a lot of real-world testing.
The Halo Rover has the added benefit of the UL2272 safety certification and the LG sourced lithium-ion battery is also UL2271 certified, bolstering safety and peace of mind for the rider.
The manufacturer has put in a lot of effort to make the hoverboard look unique and stand out from the rest of the competition. And it shows. The board comes in a hardshell case that has shoulder straps on it. This helps with safety and aids in build quality as well as making the board ergonomically easy to carry around when not in use.
The hoverboard also comes with an IPX4 water resistance rating which allows users to confidently ride on lightly wet and muddy surfaces.
The physical size of the board is quite larger in comparison to other options on this list. This gives the rider freedom of adjustability and maneuvering. The hoverboard also features fenders on the sides to prevent scratches. It also has two LED headlamps, turns indicators and a battery-life indicator.
The wheels of the hoverboard were developed keeping in mind the rough and demanding terrains they will have to tackle, resulting in wheels with a diameter of 8.5 inches which is much larger than competitors' products and are built with sturdy and long-lasting materials to make them durable and indestructible.
Another unique feature of the hoverboard is that it comes equipped with Bluetooth Connectivity and this enables you to play music directly from your phone onto the speakers on the hoverboard.
You can also use the onboard Bluetooth to control the hoverboard through your smartphone by installing the Halo app on your phone. You also have the option to control speed mode and generate statistics based on your tracked riding behavior.
Pros
Dedicated mobile app for controlling the hoverboard.
Excellent looks and solid build quality.
The large size of the board makes feet placement easier and comfortable.
Sturdy and large 8.5-inch tires have a strong grip and are usable on all-terrains and long-lasting.
Conclusion:
Leading in every aspect, this hoverboard is recommended by us for riders who want nothing but the best. It is powerful, solidly built, and all-terrain ready. It has unique LED lights and built-in speakers, extra room for feet placement and indestructible tires make it a great choice for all types of riders and for all types of surfaces. A special mention goes to the dedicated app offered by the company for easier controls and tracking of your riding behavior of the Halo Hoverboard through your smartphone.
---
2. Gyroor Hoverboard - Best Overall Hoverboard
Gyroor is a manufacturer that brings the consumer closer to the future by producing high technology products. That vision becomes a reality with the Gyroor Hoverboard Warrior.
A hoverboard built for speed while keeping all the safety features in mind. As its name, "warrior" is durable and capable of handling anything thrown at it.
Let's take a closer look at its feature and quality to prove the robust name of Gyroor Hoverboard Warrior.
Specifications
Up to 265 pounds weighing capacity.
8.5-inch rubber solid tires.
The maximum climbing angle of 30 degrees.
Our In-Depth Review:
Gyroor is a relatively popular brand in personal transportation. The warrior hoverboard is one of the top choices in the market with many reasonable factors. The Warrior is made up of a combination of aluminum and metal, a power casing which makes up its sturdy structure for durability in all-weather conditions and all-terrain rides.
It comes with 8.5 inch solid tires and 350 watts dual motors with solid shock absorber for a smooth and stable ride. It can handle a weighing capacity up to 265 pounds and can go a distance of 9.5 miles on a full charge.
Gyroor Hoverboard Warrior is available in 4 different color options to complement your style and look. The unit has some bright and flashing LED lights in both front and rear that adds to the hoverboard to look good. It also has built-in Bluetooth speakers to enjoy music from your phone while on your ride.
It has a maximum speed of up to 9.95 miles, making it one of the fastest hoverboards in the market. The hoverboard also comes with a self-balancing security protection feature that makes it easier for you to balance on. It also helps protect the rider from the possibility of losing control while cruising with your hoverboard.
Another technological advancement of Warrior is the user-friendly mobile application to control the hoverboard. Using the app, you can switch from Adult Mode to Child Mode, control the LED lights, adjust the speed you want, balance the board, activate the anti-theft alarm and listen to music over Bluetooth connectivity.
For the safety feature, the Gyroor Warrior hoverboard is UL2272 certified meaning that it meets all the necessary safety and strict electrical test to assure safe charging and safe hoverboard ride. It is certified with IP54 making it water-resistant for a continuous ride in all-type of weather.
Pros
Super sturdy, durable and flexible.
A self-balancing board technology.
UL2272 certified.
All terrain tires.
Conclusion:
Feel free to ride like a warrior on grass, gravel or wet surfaces. As an all-terrain model, it is strong, durable, safe and comes with technologically advances. It is a perfect gift for yourself and as well for kids, regardless if you're a pro rider or a beginner. We can ensure that the single use of this product will keep you and your children away from their electronic devices.
---
3. Hover-1 Hoverboard - With Customizable LED
Hover-1 continues to impress the market with outstanding products and the Hoverboard Electric Scooter is one of their best yet. It comes with a wealth of features designed for you to have a fun experience when hanging out with friends, heading out to the mall, or just playing around in the house.
Built with impressive power, it will carry you and some more at impressive speeds and mileage. The casing protects the internal components from impact and accidents.
It embodies state of the art smart control, convenience, and safety; combines functionality and aesthetic appeal, you won't be able to wait to show off to your friends.
Specifications
High power, compact battery, and motor propulsion system.
Accessories; Bluetooth speaker, LED lights, and battery indicator beacon.
Smart control feature.
Impact and water-resistant casing, with automatic balance and driving system.
Our In-Depth Review:
The Hover-1 Hoverboard is at the forefront of modern battery and motor technology and comes with very impressive features. Impressive power is the main selling point of this gadget. At its heart is a powerful DC motor that provides all the torque and power to get you cruising at thrilling speeds of up to 9 miles per hour.
The motor is very lightweight and compact, making the Hoverboard easy to carry around. Backing the main motor is a powerful 20-cell Lithium-ion battery pack. Its high power density ensures it will give you plenty of 'ON' time and impressive mileage of up to 9 miles on a single charge. This innovative battery-motor combination gives this gadget a very impressive carrying capacity of 264 pounds.
The Hoverboard comes with a host of extra accessories that sell it out as one of the best on the market. Heighten your experience with the embedded Bluetooth speaker that allows you to play all your favorite songs as you cruise out.
This gadget also comes with customizable LED headlights that give it a cool sci-fi look, and are also for night vision. An indicated indicator allows you to monitor your battery level and quickly restore lost energy before it runs out.
A special feature on this hoverboard is a smart control that allows you to set the operation mode and customize the lights remotely using a smartphone app. No need to bend down to make adjustments. Once you download the app and connect via Bluetooth, you are good to go. The smart feature also gives you control over the Bluetooth speakers' volume and song selection.
Housing the internal components of the Hover-1 Hoverboard is a lightweight, impact and water-resistant plastic casing. This contributes to the overall maneuverability of the gadget. The water-resistance is a valuable quality that will protect these internal components from damage and infiltration, should the gadget fall into a pool or a liquid spills on it.
One of the most important components of the Hover-1 Hoverboard Electric Scooter is its automatic balancing and driving system. Taking this gadget for a spin just requires you lean forward a bit, and the sensors will do the rest.
Pros
It has a very high carrying capacity and long-lasting power.
It is lightweight and easily maneuverable.
It comes with great accessories to spice up the experience.
It is very convenient to use and control.
Cons
It comes at a relatively high price tag.
It will have difficulty moving on rough terrain.
Conclusion:
The Hover-1 Hoverboard Electric Scooter is a great gadget to have or gift to loved ones. It comes with amazing features that emphasize convenience, maneuverability, and just plain fun! If you are willing to spend extra for quality, then this gadget is surely for you.
---
4. Tomoloo Hoverboard - Affordable Hoverboard
Tomoloo has established its reputation in the hoverboards industry with some excellent products.
With a lot of products from its brand, they still surprise consumers with every new model they release. This self-balancing scooter from Tomoloo is unique in every way. It is versatile in use and could be ride by both adults and children.
This is your time to consider some modern and innovative models like TOMOLOO Hoverboard and impress for an upgraded hoverboard.
Specifications
3.5 hours charging time.
Battery range of 7.5 miles.
Up to 165 pounds weighing capacity.
6.5 inch strong road-holding tires.
Our In-Depth Review:
Turn on your adventure with this off-road hoverboard from Tomoloo that comes at an excellent price point.
Tomoloo hoverboard can give you a smooth and stable riding experience and help you wherever you want to go with its high-standard quality materials that make the unit sturdy. It has a powerful 500 watts electric motor that gives hoverboard a maximum speed of 7mph and a maximum travel distance of up to 6.2 miles in a full charge.
This hoverboard has a 6.5 inches wheels with the strong-holding tires. With that, your tires will possibly get flat and can hold up to 165 pounds weighing capacity. As a self-balancing hoverboard, it will stay level which makes it safe and at ease for beginners.
The hoverboard has a great climbing ability even in an inclined slope or humps of up to 20 degrees. The all-terrain design lets you travel on the sand, uphill or grassy areas. This is made possible with the 500-watt motor and all-terrain tires.
You can also play music on the go with this hoverboard. It has Bluetooth 4.1 stereo speaker technology giving a stereo surround sound while enjoying your hoverboard ride.
Another innovation done in this model is the mobile application control where you can customize the LED colors, adjust the lightning brightness and control the unit's speed. You can also turn the unit on or off and set auto shut off time using the mobile app.
Tomoloo hoverboard ensures double protection for the users. This model is a UL 2272 safety certified and also comes with a Fire-Retardance Shell. With this, the model is free from electrical short-circuit, overcurrent and prevents overheating of the battery once charged. The cap of the charging port is water-proof.
Pros
It has a maximum climbing slope of 20 degrees.
Unique LED lighting.
Inbuilt Bluetooth and stereo speakers.
Water-proof charging port.
Conclusion:
TOMOLOO Hoverboard is a loaded combination of colors, style, and utility. With its unique design and the help of flashing LED lights, it is visually soothing. This model is furnished with greater safety and sturdiness for extra-long usability. So if you are planning to purchase a new hoverboard, definitely, it is a perfect gift for yourselves or for your loved one as it combines portability and technology.
---
5. Razor Hovertrax 2.0 - With Ever Balancing Technology
Razor is a pretty trusted brand and is also a global leader when it comes to the recreation of electronic products.
The company has given us excellent products in the past and is very popular for creating personal transporters and other electric rides.
The Hovertrax 2.0 is another great offering and is claimed to be the smartest hoverboard by the manufacturer. Indoor or outdoor, the overall robust structure and technology on this hoverboard make it the best buy in the mid-budget segment.
One of the coolest features on the Hovertrax 2.0 is the Ever Balance technology. With the integrated Ever Balance technology, you get an intelligently engineered, self-balancing experience for smoother rides.
Specifications
UL2272 certified.
350-Watt powerful silent motor.
The maximum speed of 8mph.
Ever Balance technology for automatic intelligent balancing.
LED lights along with LED battery indicators and fender bumpers.
The most interesting part of the Hovertrax 2.0 is its overall design. Being one of the smallest hoverboards in the market, it has become the first choice among customers due to its portable design.
The hoverboard itself is made of shatter-resistant polymer frame with fender bumper protection and anti-slip rubber grips on foot platforms, making it an easy and long-lasting ride. Though it's not a terrain-ready hoverboard, it can easily handle minor bumps and wobbly pathways.
The Razortrax 2.0 also features two blue LED light bars and an LED battery indicator. We've got to say that the LED light bars on the front are very well designed, and they make an impressive addition to the overall look.
The hoverboard runs on a 350-Watt dual hub motor. The motor is powerful and therefore allows you to quickly go up to 8mph (which is the maximum speed of this hoverboard), and also adds a certain fluidity to the wheels that we truly appreciate.
Apart from the power and smoothness that the motor generates, there is another feature:
If you've had an older hoverboard or you've used someone else's in the past, then you might have noticed the slight sound being emitted from the motor. With the Hovertrax 2.0, however, this is not an issue at all.
The 350-Watt motor that comes with the hoverboard is extremely silent and makes for peaceful user experience.
The hoverboard is powered by fast-charging LG cells, which are extremely easy to replace at any time in the future. A single charge will fetch you a runtime of around 1-2 hours, which is similar to most other hoverboards out there.
The hoverboard comes with two different riding modes: Training and Standard. If this is your first go at a hoverboard, the training will help out a bit. Plus, with the ever balancing technology that this hoverboard comes with, balancing should be easier, although, of course, there is a definite learning curve. Once you've mastered the training, you can switch over to standard mode.
Safety is an important aspect when it comes to any set of wheels, more so with a hoverboard. In this regard, the Razor Hovertrax 2.0 comes with UL2272 certification: a certification that ensures that the hoverboard scooter is absolutely safe to use.
A couple of features we would have loved to have seen on the Hovertrax 2.0 are speakers and Bluetooth connectivity. This is by no means a deal-breaker, not something you really think about when getting a hoverboard but considering the fact that other, lower-end hoverboards do have these, we were expecting the Hovertrax to have them as well.
Pros
Built from a shatter-resistant polymer.
Beautiful Blue LED lights on the front.
Equipped with Smart Ever Balance technology.
1-2 hours of battery range.
Cons
No speakers and Bluetooth connectivity.
Conclusion:
From a big brand like Razor, the price tag is really good for such a powerful machine. The overall look and build quality of the hoverboard is excellent and internal specifications like the 350-Watt silent motor is something you don't commonly see with competing brands. If you're looking for a brand name hoverboard in the mid-budget range, then the Razor Hovertrax 2.0 is your best bet.
---
6. Segway Ninebot Mini Pro - Personal Transporter
The Segway mini pro is much more than just a hoverboard, it's been marketed as a next-generation personal transporter.
Powered by Ninebot technology, the Segway Mini Pro is an excellent choice in hoverboards, with the most top-notch features and elegant build quality.
The bigger price tag might give pause to some but considering the high-end features and premium specifications, you'll find it well worth the investment.
Specifications
10.5-inch pneumatic air-filled tires with shock absorbability.
Made of aeronautic grade magnesium.
Additional padded kneebar for maximum comfort.
This is a particularly great option for users who already have experience using hoverboards and are looking to up the game, and explore a new type of ride.
With the scarcity of padded knee bar hoverboards in the market, something like this from a manufacturer like Segway can be a treat for customers.
Unlike other popular hoverboards, the Segway Mini Pro also comes with Bluetooth technology, allowing you to connect via the Segway app and gives you total control of your hoverboard right from your phone. The mobile app lets you access options such as the speed modes, anti-theft alarm, customizing led lights and performing firmware updates as well.
Most hoverboards equipped with Bluetooth do not offer such controls - the maximum you get is the option to play music through the hoverboard speakers and a few other minimal functions.
You get 10.5-inch, pneumatic filled tires (which are 2 inches larger than the Halo rover), which results in a cruise speed of up to 10 mph, which is a pretty great speed for a hoverboard.
Initial speed modes are locked for safety purposes. Right out of the box, you will get a maximum speed of 4mph, and once the Mini Pro senses that you've got a good hold over the hoverboard, the speed moves up to 6 mph, until finally arriving at the 10 mph mark. This can be a little frustrating to some users, but from a safety standpoint, we get why it's essential and is a major plus point for new users.
In terms of build quality, the Segway Mini Pro is designed using aeronautic grade materials, making it extremely durable and long-lasting. The hoverboard is available in 2 different colors: black and blue, with red accents on both of them. This is definitely one of the best designs we've come across on a hoverboard.
The braking system might go a little overboard at times since it is a teeny bit too responsive. This has a tendency to cause sudden jerks which can be a little dangerous. As long as you keep this in mind and go easy with the brakes, you should be okay. New users might not notice this but experienced users will need a bit of time to get used to the braking mechanism.
Pros
Excellent build quality with a beautiful design.
Bluetooth controls for all major features.
Shock absorbing technology on tires.
A maximum speed of up to 10mph.
Cons
Extremely responsive braking system can be a little jarring.
Conclusion:
Though the Segway Mini Pro is going to cost you little more than other hoverboards, we believe that it is completely justified in its pricing. With the great build quality and unique design on top, you get a pretty great-looking hoverboard. The technical aspects of the Segway Mini Pro make it a well-rounded piece of equipment capable of giving you great riding experience.
---
7. Halo Board 2nd Edition - Fastest Board
The Halo Board 2 has burst onto the electric skateboard scene with a furry unseen in its competitors.
It has quickly gained popularity, and as a result, has been subject to many critical reviews and a plethora of commentary.
We've decided to try the Halo Board for ourselves, opting to give it a fair shot before giving our two cents. Here are our findings.
Specifications
Built of carbon fiber.
Maximum speed range of 22 mph.
It can go up to 14 miles on a single charge.
300-watt dual motor.
Our In-Depth Review:
Straight out of the gate one of the most interesting features of this skateboard is its 100%, full carbon design, which uses Japanese T700 carbon fibers. This particular fiber, if you aren't aware, is known to be one of the most lightweight yet durable materials known to man. Okay, great – but what does this mean for the skateboard? It means that, as a consumer, you can expect the board to be both durable and easy to carry, weighing only 14 pounds in total.
Starting with appearance, the board is sleek, and its rounded edges do wonders to capture our attention. The top deck has been equipped with grip tape that works to keep your feet stationed in place, and the battery packs that are so cumbersome (and an eyesore!) on most boards have been neatly tucked out of sight. The wheels are smooth and seem to be a perfect size, with the trucks being adjustable.
No electric skateboard would be complete without a motor or two. The Halo Board features a dual-motor operation system that puts out a whopping 3000 W of power. This is a ton of power, and if you're a newbie, you should be aware of this.
In addition, with this board, there's no need to worry about maneuvering your board with your feet, as the Halo Board 2 boasts a handy remote control that not only controls speed but also direction. Your overall experience is made comfortable by the remote's well-lit LCD screen that shows your board's stats including battery life, remote battery life, and signal strength.
Halo Board 2 is able to reach a speed of 22mph within its 14-mile range, which we found truly impressive considering the price of the board. The wheel-in motors are silent, making for a ride that is free of annoying sounds.
If you run out of battery life, the board can be kick pushed like a traditional board. We did notice, though, that at top speed the board has a tendency to wobble, but this problem wasn't really that big of an issue when it came to the overall riding experience.
We did find a bit of a challenge when using the board on bumpy terrain, though, because the board is built for smooth pavement. It also doesn't fare well with cracks.
Regardless, thanks to its torque power, the board is able to maintain a good speed when its faced with steep hills. Officially, the manufacturers claim that the board can handle inclines of up to 25 degrees. We didn't test that theory, but we did try taking it up hills. As a piece of advice from our personal experience, you'll want to have a fully charged battery when taking it up any major inclines.
The brakes of the board are the area in which the board has its biggest downfall. With the board's premium price, we were expecting top-quality, never-fail brakes, but we found the brakes to be a tad slow to activate. The braking system used is a regenerative one, meaning that the board features a mechanism that converts kinetic energy into power for your brakes and motor. So, in short, every time you brake, the board recharges its batteries. The batteries can charge quite quickly, with a full charge taking a maximum of 3 hours.
Pros
Insanely powerful board with a max speed of 22mph.
Super light yet robust body.
Regenerative brakes.
Noiseless motor.
Cons
The speed might be too much for some users.
Conclusion:
This electric skateboard is one of the finest things we have ever seen. Built of carbon fiber, the body of the hoverboard is not just lightweight and beautiful but is also quite sturdy. But there is also one warning that we would like to pass on to anyone who is considering this an on option, and that is its too fast. 22mph would surely give you some adrenaline rush but you also need to be very careful at the same time.
---
8. Xprit Hoverboard - With Anti-slip Rubber
A top choice hoverboard for kids, XPRIT is a cool looking hoverboard with lights on the wheels and a trendy design making it an attractive unit.
With its design, anyone can easily learn to master the hoverboard and ride like a professional one in just minutes of practice.
Prepare to head out to a family adventure and pair this hoverboard with your phone to blast your favorite tunes while riding in comfort using XPRIT Hoverboard.
Specifications
Anti-Slip rubber foot pads and gyroscope foot sensor.
Long-lasting bright LED flashing lights.
Solid rubber wheels.
Built-in Bluetooth speakers.
Our In-Depth Review:
Self-balancing scooters are very popular these days. Especially for kids, as hoverboards add extra adventure and fun for them. XPRIT Hoverboard is a popular choice among parents to buy for their children due to its design, quality, comfort and safety certification.
This is an entry-level hoverboard that considers customization. With that XPRIT hoverboard comes in a range of classic sharp designs in different matte color finishes and a glossy multicolor camouflage finish. In line with the design, the hoverboard has a long-lasting bright LED flashing lights installed on the wheels and fenders to look great and safe when this board rolls in the dark.
The hoverboard is made up of solid thick casing for durability. It has a 6.5" non-slip sturdy rubber tires for a smooth home or outdoor rides. XPRIT hoverboard is very portable with its weight of 19 pounds, with a maximum weight capacity of 165 pounds.
It is ideal for 7-11 years old kids but could be used by any member of the family. It has a maximum speed of 6 mph but as the weight increases, the speed may get slower. It has a charging time of 2 to 3 hours and can operate for 45 to 75 minutes once the battery is full.
To secure the safety of riders, the XPRIT hoverboard is UL2272 certified means it is fitted with a safe electrical system and fire safety requirements for secure operation. The anti-slip rubber foot pads have gyroscope foot sensors for easier maneuvering and control responding quickly to angle and speed.
It can overcome slopes and humps with up to 17 degrees slope. It also has an alarm that will trigger if you are doing something wrong or riding too fast.
One of the main features of XPRIT is the built-in Bluetooth speakers, so you can stream your favorite music while enjoying your ride with your hoverboard.
Pros
It has a maximum climbing slope of 17 degrees.
Easy speed control.
Longer battery life.
Bluetooth wireless connectivity enables.
Cons
The surface gets a little bit hot after a long usage.
Some complaints about non-functional LED lights.
Conclusion:
With it is easy to control and safety capability, you and your kids can enjoy your free time riding outdoors. Using an XPRIT hoverboard is a perfect family bonding where you can also enjoy the flashing LED lights in the tune of your favorite music.
---
Why are we so focused on Safety Certification (UL2272)?
Back in 2016, the CPSC (Consumer product safety commission) recalled over half a million hoverboards, since they were in imminent risk of resulting in explosions and fires.
A large percentage of consumers around the world faced this issue and ultimately the CPSC had to take a decision. In one of the reports they said:
"Contact the manufacturer or retailer and demand that they give you your money back," CPSC Chairman Elliot Kaye stated in a statement. Unless the manufacturer can show that the device has been certified as safe by Underwriters Laboratories, it should be considered "a fire hazard waiting to happen,"
After a detailed inspection,  the hoverboards were certified and back in the market, ready to go. The UL2272 Certification symbolizes that the hoverboard is completely safe to use.
If you'd like to learn more,check out the reasons for the fires here as explained by the CNET community.
---
9. Swagtron T1 - With Gear Stabalization
Swagtron is one of the biggest manufacturers of hoverboards.
The company is known to launch a great, all-rounded hoverboard and enjoys a large fan base among riders.
The Swagtron T1 is an entry-level hoverboard from the brand, targeted at first-time users and is great in terms of features you get for the price.
With all of the major and necessary features packed in at an affordable price tag, this hoverboard makes a compelling choice for anyone looking for an entry-level hoverboard.
Specifications
The maximum speed of up to 8mph.
The battery life of more than 2 hours.
300-Watt Motor with Gear Stabilization.
Preloaded with two riding modes.
Our recommendation of this hoverboard is based on many factors, including the rate of satisfaction which is decently high among riders and it is the highest-selling hoverboard of all time.
Along with the aforementioned reasons, the low price tag and its popularity in the market also speak volumes in sales and user satisfaction.
The hoverboard was designed with frugality and simplicity in mind to maintain the affordability factor. It has all the basic features of a hoverboard such as two bright front-facing LED lights, 5 level battery-life indicator and tastefully designed wheels.
The 300-Watt motors and gear stabilization provides good downhill traction and tight control. The hoverboard handles surface bumps quite smoothly, which is very surprising for an entry-level hoverboard.
The Swagtron T1 comes with two riding modes; learning and standard. Learning mode keeps control over the speed until you've really got a hold of riding one.
The maximum speed range as claimed is quite accurate at around 8mph. It takes about 2-3 hours for a full charge which gives a range of about 10-12 miles or 2 hours. The Swagtron T1 is available in 6 different colors - Blue, Black, White, Gold, Red, and Pink.
One of the major issues with the Swagtron T1 is the overall build quality. It is built of cheap quality material, which is highly likely to break with just a little added pressure. Keeping that in mind, we think the Swagtron T1 is only suitable for children or lightweight riders. It also misses out on Bluetooth connectivity and built-in speakers, but at this price point, this is to be expected.
The Swagtron T1 was the first hoverboard on Amazon that was awarded the UL certification. The hoverboard is UL2272 certified meaning you are assured of safety while riding. Hoverboards go through stringent tests before they are released into the market. All the hoverboards on our list are UL2272 certified since we do not believe in compromising on safety.
Pros
Maximum speed up to 8mph.
Great Battery Backup of approximately 2 hours.
LED Lights and indicators are a good addition.
Smooth at bumps.
Cons
No Speakers and Bluetooth Option.
Poor build quality.
Conclusion:
The Swagtron T1 is one of the affordable hoverboards in the market. It comes with all the features which you would expect in a good hoverboard, but, the build quality leaves much to be desired. The materials are of poor quality and would break easily by applying force.
---
10. Segway Nine Bot S - Small Transporter
Simple, smooth and stylish are just a few of so many words in describing the Ninebot S Smart Self-Balancing Electric Transporter.
It is a perfect choice for a self-balancing transporter for daily use and the next advancement of personal transportation and entertainment mobility.
With its faster speed, incredible battery life, and safer features, it's ahead of alot of other models.
Specifications
13.7 miles on a full charge.
Suitable for 16 – 50 years old riders.
130-200 cm rider height requirement.
Mobile application connection compatible and Bluetooth wireless connectivity enable.
Our In-Depth Review:
Ninebot S is a new model of Segway's ride for personal self-balancing transport. As hoverboards promote portability, Ninebot S Smart Self-Balancing Electric Transporter brings it to a higher level. This product uses light but durable aircraft-grade magnesium alloy frame in a compact formation making the unit lightweight at only 28 lbs.
Its magnesium-alloy skeleton makes it not just strong in quality but also with high elasticity, heat degeneracy, corrosion resistance, and shock absorption. It can handle a maximum weight capacity of up to 220 pounds and is suitable for 16 to 60 years old riders.
For the first kilometer of Ninebot S, it would be by default on the tutorial mode that will limit your speed to 4.3 mph. After completing the new rider tutorial mode, the maximum limit will be increased to 6.2 mph. With the use of the mobile application through Bluetooth wireless connectivity, you can disable the speed limiter and you could reach the maximum speed of 10 mph.
Through the mobile app, intelligent management of the unit can be done with its anti-theft function, adjust ambient lights, serve as the unit's remote control and other functions.
The Ninebot S allows the rider to transverse various outdoor and indoor terrain with ease. It adopts a 10.5-inch anti-skid and shock absorption vacuum tire that improves stability. With its superior dual 400W motor, Ninebot S can overcome slopes, humps, and obstacles with 15 degrees climbing slope.
It has a knee control bar that helps the riders for precise and smooth maneuvering by lightly pressing the control bar. The knee control bar helps the user to lift it up and it can be easily detached to store the Ninebot S into small spaces.
Safety is one of the main features of this hoverboard. It has a UL 2272 certification that ensures to meet the quality standards for electrical and fire safety. Ninebot S has IP54 waterproof protection where it can adapt in various weather conditions. For driving in a dark environment, it has an installed headlight and LED taillight that changes the brightness based on the ambient light. The unit also provides reliable battery performance.
Pros
It has a maximum climbing slope of 15 degrees.
10mph maximum speed.
With road obstacles adaptive design.
Longer battery life.
Conclusion:
Ninebot S gets you to your destination while you enjoy and experience the moment. The triple combination of high performance, durability, and safety, making Ninebot S Smart Self-Balancing Electric Transporter a top choice in the trending portability device. A quiet yet powerful ride even in diverse road conditions and obstacles. A comfortable and convenient way of enjoying the ride and adventure.
---
Hoverboards - Buyer's Guide
Self-Balancing Scooters or Hoverboards, as they are commonly known, have been all the rage since 2016 and after the use of hoverboards by popular celebrities the hype went to another level.
Everyone from celebrities to Youtubers was seen riding them. The hype reached was absolutely insane and everyone wanted to get their hands on one.
But then it eventually crashed and burned. Literally. Hoverboards all around started catching fire and most had to be recalled. Poorly made imitations were the biggest cause with Amazon having to offer refunds to all customers who'd ever bought one from them. This isn't to deter you or say that it's going to happen again. Safety is a primary concern and a lot of strict enforcements have taken place in the years since then.
Like any other moving piece of machinery, you don't just want to buy the first option you come across, and if you're looking to buy a hoverboard for your children, you definitely don't want to take a chance with their safety. You'll want to ensure that your purchase is safe and is the best possible option you could get at the price point.
What is hoverboard
Hoverboard or as some people call it Self-balancing scooter is a two-wheel ride that balances itself automatically when you stand on it. Although it takes some time for a new user to learn how to use the hoverboard, once you do, riding it is very fun.
The devices run on battery and could go from anywhere between 6-12 miles on a single charge.
Since they have a powerful battery and motor built-in, their overall weight is quite heavy.
Talking about the types of hoverboards in the market, you get a normal one and an all-terrain one.
The all-terrain hoverboard usually comes with really powerful dual motors and very well built tires that allow the hoverboard to go on the toughest paths without any issues.
Are hoverboards safe?
We would not have been sure about the answer to this question until 2016, but now we can say that the Hoverboards are 100% safe.
So what happened in 2016?
In 2016 when the hype for the hoverboards was on peak, suddenly some of the hoverboards started catching fire. The government recalled more than half-million hoverboards and the asked the manufacturers to provide the refund.
The hoverboards were then brought back into the market with UL2272 certification.
Ul2272 certification ensures that the hoverboard is well tested and is completely safe from hazardous issues.
So if the hoverboard that you are going to choose comes with the UL2272 certification, you are good to go.
How to buy perfect hoverboard.
Wheel size
Range
Charging time
Speed
There are mainly three wheel sizes you get to choose from 6.5 inches, 8 inches, and 10 inches. The larger the wheel size, the better would be the grip with the groud.
The 6.5 inches hoverboard areas suitable for people who like to do tricks or moves on them. The 10 inches is suitable for those users who like to ride on the terrain or any tough surface in general.
The 8 inches wheel offer the in-between balance which means you can do little tricks with also can also take them on little rough tracks.
The battery range of a hoverboard depends on at what speed you are riding it. If you are going too fast then the battery will drain fast too if you are going on medium speed, the battery will last for around 1-2 hours.
On average the battery of a hoverboard lasts for anything between 6 miles to 12 miles.
Once the hoverboard arrives, the chances are that it would be low on battery. The first charge of the hoverboard would be a bit longer than the usual charge.
It would take anywhere between 3-4 hours for the first charge to complete.
From there on, it would take anywhere between 1-2 hours to perform a full charge until the battery of the hoverboard is completely healthy.
Speed is a kind of personal preference. Some like it fast, some want it average and some want it to be slow since they are buying it for their kids.
On average a hoverboard comes with a speed of 7-10 mph. Some really powerful hoverboards go above that but according to us, 10mph is a good speed for anyone.
If you are looking to buy the hoverboard for your kids then we would recommend going with a hoverboard that offers a speed of 6-7mph.
How to check for the safety yourself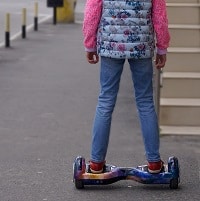 The only thing that you need to check to be sure of the safety is the UL2272 certification.
If your hoverboard is UL2272 certified then it is completely safe from any issues.
But the certification does not mean that the build quality of your board is great too, you have to manually check the build quality of the hoverboard or read the reviews of the existing customers.
You can't go wrong with big-name brands such as Swagtron, Halo, Segway (Ninebot), Razor and Epikgo who guarantee safety with their hoverboards.
The majority of the hoverboards mentioned on this list come from these brands and we can assure you that all of them have the highest safety standards.
Check for the sturdiness
Put extra efforts doing research for the sturdiness of the hoverboard than for any other feature.
If you want your hoverboard to stay with you for a longer period of time then it should be built out of sturdier plastic.
If the hoverboard is built of metal then that would be a bonus since those hoverboards would last for years to come.
How to ride a hoverboard
Riding a hoverboard is not as simple as it seems. Creating the balance after standing on top is not easy and would take some time to do, a few days maybe.
Here are some tips that might be of use:
Turn on the hoverboard and put your first foot on top. The positioning of this foot is very crucial for the balance. The foot should be far from the center and should be close to the wheel.
Now put the second foot on the hoverboard too. The same positioning trick would be used for this leg too. This will make your legs wider hence making the ride much easier.
Now the above two steps might look like easy things to do but they aren't. It would take some practice and patience from your end to make things run smoothly. Do not try to learn in a hurry, you might hurt yourself.
Turning technique
Once you are done learning riding the hoverboard front, you are almost done with most of the anything.
Talking about turning, If you want to turn left, you need to push your right toe forward and put the weight of the body to the left direction and to turn right, push the left toe forward and lean on the right side.
Riding backward
Riding backward is no different than riding forward.
To ride forward, you lean forward and lean backward to lean backward.
Riding on slopes & Rocky Pathways
Riding on slopes is no different than riding on a straight path but the possibility of doing that depends on how powerful your hoverboard it.
To be able to ride the hoverboard of sloped go for the hoverboard that comes with dual motors.
Also, its not just about the motor if the hoverboard would do good on sloped largely depends on the tires.
Look for a hoverboard with all-terrain tires that can offer a better grip on terrains and sloppy areas.
Getting off the hoverboard without falling
The process of getting off the hoverboard is just the reverse of getting, but its tougher than getting on. In fact, it will take much time for you to learn to get off than to go on.
Getting on and off should be the two things that you should master first before going out for a long ride.
Where can I buy one
We would recommend buying from a well-established seller rather than a local seller. Best Buy, Wallmart, Amazon would be some of the places that I recommend.
And that's because:
Back in 2016 when the hoverboards started catching fire, Amazon offered refunds to all the customers who have brought the hoverboard from them. We don't mean that in future you are again going to face any issues but still, you never know, and to be on the safer side choose Amazon or any other popular store.
How much is it going to cost
Hoverboards from the newer brands come at a really affordable price point and that too with all the features like Bluetooth and LED lights.
On approx a decent hoverboard from a decent brand will cost you around $200.
The advanced all-terrain hoverboards with higher speed and better overall performance will cost you a bit more than this.
Most of the higher-end premium hoverboards come at a price point of around $500.
Additional features like Bluetooth Speakers & LED
While Bluetooth speakers are not really what anyone would consider essential on a hoverboard, the inclusion of LEDs is definitely important.
They are extremely helpful while riding at night, lighting up your pathway. We would definitely not recommend getting a lower cost hoverboard without LED lights if you can afford a better option.
Hoverboard Motors
Depending upon how much power you are looking for you can choose between single and dual motor.
Single motor hoverboards usually go up to 7-8mph while the dual motor hoverboards can provide an average speed of 10-12mph.
Now the power not only depends on the number of motors used but also on how many watts they are offering.
Most of the hoverboard offer around 250-300 watt motors. If there are dual motors then you get around 600-700 watts of power.
Some of the more powerful hoverboards come with 400-watt motors, which means if the hoverboard has dual motors, you get 800 watts of power which are not only enough to give you great speed but also help you ride on inclined pathways with ease.
App-Enabled Hoverboards
Some of the hoverboard in the market like Halo hoverboard and Segway mini pro also come with their own dedicated mobile app.
With this mobile app, you can control the speed of the hoverboard, control the LED lights, and can also control the movement of the hoverboard.
Also if your hoverboard has the speakers and Bluetooth, you can play the music using the app.
What is the fastest hoverboard?
The fastest hoverboard that we have reviewed until now would be Halo Board Beast, but technically its not a hoverboard, its an electric scooter.
So talking about the real hoverboard, the fastest and that also goes would be Halo Hover X. It comes with a speed of 10mph and goes up to 2 hours on a single charge.
We have also tested some hoverboard from brands like Gyroor that offered a maximum speed up to 12MPH but we would not call them a complete package.
How to know if a hoverboard is fake?
The market is filled with counterfeits of most of the types of products, and hoverboards are one of them.
And you just can not risk riding a fake hoverboard. It can break down, catch fire, and a lot of other things that could be harmful for a user.
The easiest and the best way to identify a fake hoverboard is by checking the spelling of the brand name mentioned on the hoverboard.
As goes with other products, the fake hoverboard manufacturers also keep the name of the hoverboard as similar to some popular brand with some slight change that is usually unnoticeable at first glance.
So a quick spelling check will do the job.
The other thing you must do is check if the battery of the hoverboard is from a reputated brand or not because that is the biggest concern ever since the hoverboard caught fire.
FAQs related to Hoverboards:
Can we Use Hoverboards in Rains?
The bottom line is, no, you cannot. If you check out the specifications of the listed hoverboards, you'll notice that a few of them come with IPX4 technology that makes them water-resistant, but not waterproof. What we'd concern ourselves more than the ability to ride around in the rain, is being able to use it on muddy surfaces that can be quite sticky. With the IPX4 certification, you don't have to worry about riding through mud or small puddles.
How Fast are the Hoverboards?
It would be unrealistic to expect speeds of 30-40 mph from a hoverboard. They are, after all, designed for leisure and not as an actual mode of transportation. Any board that offers a maximum speed of anything 7 mph is a great choice. Here on the list, you'll find hoverboards offering maximum speeds of up to 12.5 mph which may seem slow on paper, but is a decent enough speed when it comes to actually ride the hoverboard.
How important are features like Bluetooth and Speakers
Most hoverboards do not come with a Bluetooth speaker functionality which makes it pretty clear that it isn't a crucial feature to have. Although, it is a pretty cool option and who doesn't want the latest tech when they have access to it? Think about whether you want Bluetooth as an option before making your ultimate choice.
What is the best hoverboard for a 10-year-old
Razor Hovertrax 2.0 would be a good hoverboard for a 10-year-old kid. It comes with a maximum speed of 6mph and is manufactured by one of the most reputated hoverboard brands in the industry.
Which hoverboard is the safest
Every hoverboard that comes with the UL2272 certification is safe. However, poorly built hoverboards can break which is a different issue and that is why we recommend going with the hoverboards that offer a decent build quality.
Are hoverboards dangerous to ride
Hoverboard are surely tricky to use and might take some time to learn but we would not call them as dangerous.
How long do the batteries last on hoverboards?
The batteries on most of the hoverboard last for around 1 hour. Few of the hoverboards can go up to 2 hours on a single charge.
How long does it take to fully charge hoverboard?
The charging time is not the same as all the hoverboards. But on average it takes around 2-3 hours for a hoverboard to charge completely.
Do all hoverboards have Bluetooth and speakers?
NO, not all the hoverboards come with Bluetooth and speakers. So if these two things are a must for you, double-check if the hoverboard that you are going for has these features.
Am I too heavy to ride hoverboards?
This is a pretty common question and we can see why people wonder about this. Standing on a hoverboard means the board now has to handle your entire body weight. However, most hoverboards have a load capacity of 250 lbs., making it usable by most people. Hoverboards are also made with durable, solid materials, making them pretty sturdy and durable. So we wouldn't worry too much about this aspect.
Conclusion:
Hoverboards are no doubt a fun thing to ride, but before you buy one you need to be aware of the rules in your country and on what places you are allowed to ride it.
Then you need to decide the type of hoverboard you want to go with along with how much you the money you want to spend on the board.
Here is the conclusion of our Buyer's Guide:
The best overall hoverboard on our list is Gyroor Hoverboard
The best electric skateboard on our list is Halo Board 2nd Edition
The best affordable hoverboard on our list is Tomoloo Hoverboard
The best electric transporter on our list is Segway Ninebot Mini Pro
---