Tablets
The 10 Best Drawing Tablets for 2022 – Reviews & Buyer's Guide
Must have tool for all the artists and graphic designers.
Digital art has been on the rise and is a leading choice for several thriving artists to create amazing works of art.
They say it's the artist and not really the tools but there is no denying that great tools help tremendously when learning and creating.
To maximize your abilities, you'll want to get a drawing tablet for yourself.
With the emergence of new brands and tools and the overwhelming hype that surrounds them, it can be difficult to choose what works best for you. To make things easier, we've reviewed some of the best drawing tablets and compiled this list.
This list is made up of both
regular drawing tablets
and those with a built-in screen. We have done our best to put together all the necessary information within these reviews, including the pros and cons of all the tablets, giving you plenty of detailed information, in order to make a well-informed decision.
Best Drawing Tablets for 2022 – Quick Look
(Click on the name of any drawing tablet to read its in-depth review)
---
1. XP-Pen Artist12 – Affordable Digital Graphic Tablet
XP-Pen is a good brand that is known for producing affordable drawing tablets with displays.
We have already reviewed its Artist 22E, which is a digital drawing tablet with large screens.
Artist 12 over here is a smaller tablet that comes with an 11.5-inch display which is actually more than enough to work on.
So if you are low on budget and still want a good display drawing tablet then this could be your best bet.
Specifications
11.1-inch FHD digital drawing surface.
Pressure sensitivity levels: 8192.
6 shortcut keys and a touch bar.
Compatible with all popular drawing programs.
Needs to be connected to a computer to work.
Our In-Depth Review:
Before we head on to the detailed review, we would like to add a little disclaimer. Even though there is an FHD display on the tablet, you can not use it as a stand-alone tablet, you would have to connect it to the computer. Good thing is that you can still monitor the design on the tablet itself unlike non-display tablets when the previewing is done on the computer screen.
Now talking about the tablet itself, its an 11.6-inch well-built portable drawing tablet that could be easily traveled with. The best thing about this drawing tablet is the small touchpad present between the express keys. You can simply pinch in and out to zoom in and out or just scroll to scroll through your design.
The next good thing about the tablet is the pen that comes along. Its a battery-free and charge-free pen that comes with 8192 pressure levels. It comes in a unique hexagonal design with an eraser at the end. Included is a pen stand that could either be used to store the nibs or use as a pen stand.
The tablet supports Windows 7 and higher, and max OS 10.10 and higher. Talking about the software it supports, its compatible with Photoshop, Illustrator, CDR, and all the other major software. The stylus's eraser, on the other hand, is also compatible with a lot of programs. The list is long for that so we recommend you check that on amazon's product page.
The 11.6-inch FHD drawing display comes with an anti-glare film. This not only protects your eyes from light reflection but also provides you with a better feel while designing. If you feel like 1080P is not enough then you also get the option to connect the tablet t0 a 4K monitor. However, remember that there would be a 1ms delay in response.
Pros
Affordable price tag.
Battery-free pen with 8 extra nibs.
Intuitive touchpad.
Brightness adjustment buttons.
Conclusion:
As said earlier, this is ideally built for users looking to get a display tablet at a lower price point. It works well, the display looks good, and you can even connect it to your 4K monitor for a better previewing experience.
---
2. Huion KAMVAS GT-191 – Best Drawing Tablet with Screen
The Huion Kamvas GT – 191 is a great budget-friendly drawing tablet that manages to come packed with the most high-end features of an expensive tablet.
This tablet comes with a built-in display measuring 19.5 inches IPS LCD with Full HD 1080p Resolution.
Right out of the box, you get a Tablet, a stand, two pens, extra nibs, cables, and a screwdriver to help attach the stand properly.
Specifications
8192 pressure sensitivity levels.
8 spare nibs.
19-inch 1080P IPS display.
It comes with two digital rechargeable pens PE330.
Smooth drawing surface.
Our In-Depth Review:
The Kamvas GT comes with 8192 pressure levels making it stand out from most other tablets that usually come with 2048 pressure levels. You can notice these extra pressure levels almost immediately when you start using the device.
In the package, you get a tablet stand that can be easily attached to the tablet. The stand is sturdy and feels durable. A great standout in the box is the inclusion of a screwdriver to help you install the stand which we think is pretty cool.
The 19-inch FHD display is vibrant and the colors pop very well. The screen comes protected with an anti-glare guard which is removable. We personally felt that the colors looked better after removing the anti-glare screen guard, albeit just slightly.
You get two digital pens along with the tablet that can be charged via the USB cable that comes in the box. Along with the pen, you get a pen stand that can be used to store the pen both horizontally, and vertically. The stand also comes with 8 nibs inside.
A common issue with most drawing tablets – budget ones especially is the response/report rate. This, however, is not a concern with the Kamvas GT which comes with a response rate of 25ms which is pretty fast.
For someone who just wants to move from a graphics tablet to a digital graphics tablet, then this is a great upgrade. The experience of drawing directly on the screen is pretty awesome. The pen pressure, sensitivity, and response rate all work amazingly well to provide a solid and well-rounded experience.
The one drawback that might bother some users is the absence of hot/express keys on the side of the display. Considering that most Huion tablets come with these hotkeys, their absence on this tablet is a bit strange. However, if you tend to use your tablet in front of your keyboard, you won't be missing out since all the shortcuts are present on the keyboard as well.
Pros
Affordable as compared to other display tablets.
One of the fastest response rates of 25ms.
Accurate color reproduction.
A robust tablet stand that can be adjusted between 20-80 degrees.
Conclusion:
As mentioned earlier, this is one of the most affordable drawing tablets with practically no major flaws. The pressure sensitivity points are accurate, the response rate is fast and the display clarity is as good as you will ever get at this price point. This would be an ideal display drawing tablet for both beginners and professionals.
---
3. Wacom Intuos Draw CTL490DW- Best Drawing Tablet For Beginners
Wacom is a renowned name when it comes to graphics tablets, and naturally, you're going to see several tablets from them on this list.
The brand has been a leading industry name for over a decade and has designed both types of tablets – with and without built-in display screens.
The Intuos series comes with a number of different models and luckily, most of them come under the entry-level segment.
Intuos Draw CTL490DW is one of the most popular and beginner-friendly drawing tablets and is the preferred choice of thousands of people. It is compatible with both Mac and Windows PCs and connects in a snap.
Specifications
7 inches of surface size.
Sturdy build quality.
4 express keys.
Battery-free tablet and pen.
Windows and Mac compatible.
Our In-Depth Review:
This tablet is a great choice for beginners looking for a drawing tablet that is functional yet one that doesn't require a hefty investment.
Intuos Draw comes packed with Artrage Lite, an easy-to-operate, drawing software that comes with a vast number of online tutorials covering a range of topics.
It also supports some of the most popular software systems including Adobe Photoshop, Illustrator, Coral Draw, and several others that are used widely in the market for professional art and graphic design.
The pressure-sensitive pen, or stylus, that comes with the tablet gives you a plethora of options with the help of 2048 sensitivity levels. By merely putting the pressure on the pen, you can create variations in the line width, opacity, and several other creative options needed for effective art design.
The drawing pad feels great to use. The response rate between the drawing pad and the screen is fast and feels natural. The tablet also comes with 4 express keys that could be programmed to perform any task. You get two keys on the pen, and you can also program those two to perform any action you want.
The setup overall is quite simple. All you have to do is plug in the tablet via USB to your PC or Laptop, install the driver, register the product, download the art-rage software and you are ready to go.
All the cables including the USB connectivity cable are included in the package making it a quick and easy install.
Under the back panel, you will find, you have the option to insert an external battery into the tablet which will allow you to connect it to your laptop wirelessly (with a charged battery). So, for anyone wondering if this tablet can be used wirelessly, then yes, it definitely can.
In terms of build, this drawing tablet weighs in at just 12.2 ounces and comes in two color options:  Blue and white. Both color options are great.
The only issue that we felt with the tablet is the quality of the nibs that come along. Although they function great, they are not sturdy at all and break off too easily.
Pros
Compact, lightweight, and easy to operate.
Perfect for beginners who are just starting.
Excellent responsive surface.
Option to use it wirelessly with your laptop/desktop.
Conclusion:
Overall, the look and feel of this tablet are fantastic, and easy to access and operate buttons are placed carefully. The pen tool can be adjusted for sensitivity giving you complete control over your work. Considering the price tag it comes with, you definitely get a bang for your buck. We would strongly recommend this tablet to all beginners out there.
---
4. Huion Giano WH1409 – With Giant Surface and Wireless Connectivity
When it comes to drawing tablets, Huion is a pretty big name. The company has launched several great options for drawing tablets. Ranging in size from 10-inch tablets to 13-inch ones, Huion pretty much has it all.
The Huion Giano WH1409 is the latest addition to the brand and comes with a rather large work surface area, measuring 13.8-by-8.6 inches.
The design of the tablet is pretty neat and functional. Everything, including the buttons and the drawing surface, feels very well placed and provides enough even spacing to ensure the easy and functional operation of the tablet.
Specifications
12 hotkeys/express keys.
2.4 GHz Wireless Communication.
Wireless connectivity range can go up to 40feet.
2048 pressure level-sensitive rechargeable pen.
Compatible with Mac 10.8.0 or above and Windows 7 or above.
Our In-Depth Review:
Unlike the Wacom Intuos drawing tablet as mentioned above, there is no dealing with the hassle of an external battery on this tablet. Instead, you get complete inbuilt wireless connectivity, with an impressive range of up to 40 feet allowing you to have a flexible design experience and freeing you from any spatial limitations. The wireless adapter can be found at the back of the tablet under a small panel.
The tablet also has a wired mode which can be used by connecting the tablet to Laptop/computer via a USB cable.
The tablet comes with 12 shortcut keys to perform certain quick actions [can be used by both right and left-handed users]. All of the keys are fully customizable and can be assigned or programmed based on the preferences of the artist. You can also create a combination of two keys if needed.
On the top left-hand corner, you can find the power on/off switch and below that, 4 LED indicator lights: Express keys/pen, wireless mode, wired mode, and Low battery.
The rechargeable drawing pen comes with 2048 sensitivity pressure levels and allows you to design freely on the surface with a resolution of 5080LPI and a practical response rate of 230RPS.
The power source for the  Huion Giano WH1409 is a powerful  2000 mAh battery that takes approximately 4-6 hours to charge and lasts up to 40 hours  (tested on a continuous run in wireless mode), freeing you from the hassle of constant charging or lugging around the charger.
The tablet is equally compatible with both Windows and Mac [Windows 10, Windows 8, Windows 7, Windows XP, and Mac 10.8.0 or above] and works very well with major designing software including Photoshop, illustrator, and several others.
Both Wacom and Huion stand neck to neck in terms of competition but each has a certain edge over the other. If features like wireless functionality don't interest you then you'd go for the Wacom Intuos CTL490DW. The Giano WH1409, however, comes with better pen sensitivity and so it ultimately comes down to what your needs are and how much you're willing to spend on a drawing tablet.
Pros
Large drawing surface area.
12 hotkeys that can be customized as per needs.
Wireless connectivity with an excellent range.
8Gb built-in micro SD storage.
Cons
The pen tool does not come with a built-in eraser.
The surface size might be too big for some users.
Conclusion:
Great features like wireless technology and 230RPS set this tablet apart, making it stand out from the crowd. Combine that with the long and powerful battery – which is a must-have for most artists – and the large drawing surface and you've got a pretty powerful drawing tablet in your hands.
---
5. Wacom Intuos CTH690AK – With Multi-Touch Gestures
As mentioned earlier, you are going to see a few Wacom tablets on this list and this next one is a great example of why Wacom is such a leader in the industry.
The CTH690AK is available to buy in two different sizes:  Small and Medium, and two different colors: Black and Blue.
This tablet is basically the smaller version of Intuos Draw CTL490DW with slight downgrades in terms of functions and size.
Having said that, let's have a look at what this graphics tablet has to offer:
Specifications
Battery-free-pressure sensitive pen.
Four Customizable express keys.
Connects to PC and Mac via USB cable.
It also comes with the option to make it wireless (a wireless adapter needs to be bought separately).
2048 pressure sensitivity levels.
Our In-Depth Review:
You can enable the wireless connection functionality via the wireless kit that is sold separately and works fine with any software program.
Intuos Art overall is a very powerful and creative tool for designers. The Intuos pen that comes in the box is highly sensitive and comes with 2048 distinct pressure levels. It perfectly measures the pressure and maintains the desired thickness or thinness, giving the overall design experience a very natural feel and movement.
Also in the box, you get 3 Extra nibs, a nib holder, and a nib remover tool.
The Wacom Intuos Art tablet works with most major design software programs including Adobe Photoshop, Adobe Illustrator, etc.
Functions such as the sensitive responsive pen or express keys aren't new but the option to use gestures is a pretty remarkable and guaranteed user favorite. The gestures make zooming and scrolling as easy to do as it is on your smartphone.
The build quality of the tablet is also really good. The body is slim and very compact in nature. The express keys on top are well-placed and easy to navigate and use.
The tablet comes with 3 extra refills in the package which can be found under the back panel. The back panel also houses the battery slot allowing the tablet to be used wirelessly.
The one slight negative about this tablet is the pen that comes along with it. While the size, customizable buttons, sensitivity, etc., are great, it, however, does not come with an eraser. If this is your first time buying a tablet, you aren't going to miss it but for someone already accustomed to using a pen tool with an eraser, this can be quite a major issue.
Pros
The slim body makes it very compact in nature.
Very smooth surface and is overall lightweight.
It comes with Express keys and multi-touch gestures.
Optional wireless connectivity.
Cons
The pen doesn't come with an eraser.
Conclusion:
The tablet is overall very sturdy and weighs approximately 12.8 ounces. While testing it out, we didn't notice any major issues or flaws and everything worked pretty smoothly. The option to turn the device wireless through the purchase of a wireless kit is great for artists who might want it. Overall, this is a pretty great option for most users.
---
6. Huion H610 Pro – Affordable Drawing Tablet
The H610 Pro is cheaper when compared to the previously mentioned model and does not support wireless connectivity, unlike the Huion Giano WH1409.
The H610 Pro is considered a budget tablet and is priced at an entry-level price tag, making it super affordable. Considering the low price tag, the tablet does everything one would expect from an entry-level device.
The build quality, as is to be expected, is not very premium and feels a little cheap. But again, for the amount of money that you spend, you can't really expect much else.
Other than that, here are the specifications it comes with:
Specifications
8 express keys.
2048 levels of pressure sensitivity.
Compatible with all software like Photoshop, Illustrator, and Coral Draw.
It comes with a rechargeable pen P80.
Economical.
Our In-Depth Review:
This is probably the best option you can get at this price point. The tablet is perfect for beginners and works ultra-smooth. The surface is pretty big when compared to what you usually get at this price with other drawing tablets.
The pen is pretty basic and features the most regular functions found on other pen tools. The express keys and the hotkeys are gold, with the option of assigning different features to them to suit your preference, making designing and creating a much faster and easier process.
The pen comes with an inbuilt battery which needs to be charged. Keep this in mind when unboxing since the pen may come completely uncharged. Plug it in to start creating magic!
Similar to the other tablets, it is very compatible with all PCs including the most common versions of Windows and Mac. The installation process may take up to 30 minutes, so don't fret as this waiting time is completely normal.
You might face slight issues with the CD that comes with it for the installation of the drivers. We faced driver issues with almost every tablet that we reviewed. The best and easiest fix to this is to download the latest drivers directly from the website!
Let's move on to some of the negatives of this tablet, the first being the lack of an eraser on the pen, which is pretty useful and something a lot of tablets do. Also, the build quality isn't the best with the body being made out of plastic. But again, if we look at the price point, these choices are pretty justified.
Apart from that, all other aspects of this tablet work pretty smoothly and have a great response rate, making it a great budget option drawing tablet.
Pros
Smooth drawing surface.
Compatible with Windows and Mac.
A battery-free pen that comes with 8 pen nibs.
Very well priced.
Cons
The pen does not come with an eraser.
Average build quality.
Conclusion:
Great specifications at a brilliant price point. Though you miss out on the wireless connectivity feature, the overall functionalities of this device make it a great entry-level drawing tablet. Plus you also get hotkeys, which in our opinion, are the best part of this tablet since they make usage pretty easy!
---
7. Huion Inspiroy Q11K – With 8192 Pressure Sensitivity Levels
This one brings an end to the series of best drawing tablets (without a screen). This is the third tablet from Huion in this series that comes with some pretty amazing features.
The Q11K is quite similar to the WH1409 in terms of specifications but is slightly cheaper making it a great bargain.
It has a large drawing surface that comes with an 8192 pressure sensitivity level, which is absolutely amazing.
Specifications
8192 pen pressure levels.
New, rechargeable PF150 pen.
Large 11 inches drawing area.
Wireless connectivity.
2500 mAh battery with up to 40 hours of backup on wireless mode.
Ergonomic design.
Our In-Depth Review:
In terms of other features, apart from the surface size express keys, the Q11K outshines the WH1409 in most aspects.
It comes with 8192 pressure levels, which is almost 4 times as many when compared to any of the other tablets. This is a very big revolutionary upgrade from Huion, providing ultimate accuracy in design, excellent performance, and precise strikes right where you intend to make them.
The 11-inch work surface is super smooth to work on and is made up of high-end, quality materials, ultimately offering you a pretty smooth drawing space for better artwork.
The pen that comes with the tablet is pretty decent. You get two standard buttons that can be programmed to perform certain functions based on your preference. Along with the pen, you also get a pen holder that can store nibs. You will also find a Wi-Fi connector beneath it.
The tablet supports wireless connectivity and works on 2.4 GHz wireless technology. There isn't a lot of information regarding the connectivity range but if previous tablets from Huion are to go by, we can expect a range of 40 feet.
The tablet can also be used in a wired mode via the USB cable that comes along with it.
The drawing tablet sports a complete, ergonomic design with rounded corners, and a smooth surface which aims to provide extreme comfort to users.
And last but not least, the tablet comes with a powerful 2500 mAh battery, which aims to provide a range of up to 40 hours while continuously running in wireless mode, giving you no reason to worry about battery drainage.
Pros
Compatible with all popular software.
Eight fully customizable and well build express keys.
Highly smooth drawing surface.
Battery life of up to 40 hours.
Cons
Shortcut Keys don't light up and are hard to find.
Does not come with an eraser.
Conclusion:
The Q11K proved stiff competition to the WH1409 and had it not been for the larger surface size and the extra express keys on the latter, then we would easily recommend the Inspiroy Q11K, owing to its overall better design, 4x pressure levels, and the cheaper price tag.
---
8. Artisul D10 – Entry-Level Drawing Tablet with Screen
The Artisul D10 is the cheapest drawing tablet on our list. This low cost is reflected in its overall size, which is smaller when compared to the rest of the tablets.
This tablet is perfect for anyone who wants to upgrade from a surface drawing tablet to one with an LCD and wants to take their design skills to the next level, all without spending too much.
The D10 comes with a 10.1″ IPS LCD screen that is not Full HD, but, is pretty great to look at, and exceptionally responsive to work with.
Specifications
1280×800 HD Resolution Display.
6 Hotkeys.
2048 levels of pressure sensitivity.
8.5 x 5.3 inches of the working surface.
It comes with a battery-free "U-Pen".
Slim and lightweight design.
Our In-Depth Review:
It comes with a U-pen, professional and realistic gestures with 2048 levels of pressure sensitivity which is at par with what we see on other regular tablets without a display.
The pen is made using premium quality materials and unlike other pens mentioned on this list earlier on, the U-Pen looks and feels better. Along with the pen, you also get 10 extra nibs, although, you don't get a pen stand with it.
The D10 is very thin and light, making it very portable and easy to carry. It can be easily powered via a USB cable connected to a laptop with no external AC power.
The drawing tablet basically uses two cables, an HDMI cable, and a USB cable. It also comes with 6 shortcut keys which are customizable as per user preference.
All sorts of praise fall short when it comes to this tablet. When compared to bigger brand names like Wacom and Huion, Artisul may not seem all that powerful, but considering what you get at the price point on this tablet, the D10 outshines in every regard.
The response rate on the tablet is 30 MS which should create a smooth user experience with zero issues when drawing on it. The display is not the best and the brightness could have gone up higher, although this is just nit-picking and it works fine overall.
Pros
Sturdy build quality.
Easy to navigate and fully customizable hotkeys.
The pressure sensitivity of 2048 levels.
Comes with a battery-free pen.
Cons
No pen stand comes in the package.
The small LCD display, but at the price, it is to be expected.
Conclusion:
If you are not really a professional or are just a beginner who wants to get your hands on a graphics tablet with a display, then this would be the best choice. Though it leans on the smaller side in terms of size, considering the price point, it is an absolute steal.

---
9. Wacom Cintiq Pro – Highly Professional Tablet
If asked what we would invest in if we had a certain amount of money to spend, then we'd choose the Cintiq Pro. Though slightly pricey for an average buyer, professionals would consider this absolute gold.
The Cintiq Pro comes with 13 inches of a full HD 1080p display which produces brilliant color and pictures, with exceptional clarity. Packed with a wide color gamut, you get what you see.
The all-new Cintiq pro comes in two different options: a 13-inch model as mentioned above, and a 16-inch model. The 13-inch model comes with a 1080P FHD resolution, while the 16-inch model offers you a 4K resolution.
Specifications
1080p Full HD display.
Single USB C type connection to a USB port.
It comes with Wacom Pro Pen 2.
Advanced Pen performance with 4X accuracy.
Customizable express keys and multi-touch gestures.
Compatible with both Windows and Mac OS.
Our In-Depth Review:
The tablet supports multi-touch gestures, allowing you to zoom in and navigate with a swipe of your fingers. Alternatively, you can also improve your workflow via the programmable on-screen radial keys.
The tablet also comes with an optional express key remote which makes it very handy to draw. You can draw with one hand and control the express remote keys with the other.
When it comes to the connectivity bit, the Cintiq pro comes with multiple options to connect to both PC and Mac. You can either use the USB type C to create a connection or alternatively use the Wacom link and Cables to connect via standard USB and a mini-display port. In our opinion, the USB C type option is easier as it involves fewer cables.
The Wacom Cintiq pro comes with the
Pro Pen 2
, which is said to be the smartest pen from Wacom to date, providing not just a good grip to hold but also gives a real feeling of designing on paper, helping you design more accurate strokes and quite evenly.
The Wacom claims that the Pro Pen 2 has 4x accuracy as compared to the Pro Pen. If you have used the Pro Pen in the past, then you will definitely notice a difference.
In terms of the overall build quality and look of the tablet, it comes with a beautiful new design with an etched-glass screen and an attached stand making it more convenient for designers to work.
It performs great with any 2D and 3D software to give you a real and authentic feel to design and control your work as you would like.
The tablet does have a few minor issues with the drivers. The cables that come with the tablet feel a little weak and the stand is not very sturdy. As long as you do not apply too much pressure, however, it should work just fine.
Pros
Multi-touch gestures for easy zoom and other functions.
Advance Pro Pen 2 pen with 4x pressure levels.
Very responsive and paper-like surface.
Faster USB-C type connectivity.
Cons
Minor driver issues.
Too many cables are involved (if not using USB C).
Very pricey.
Conclusion:
The tablet, overall, is pretty great and comes with loads of features and a beautiful design. The FHD display is one of the greatest displays we've come across in drawing tablets. The Pro Pen 2 is an absolute charm to use and makes drawing very easy. Though on the pricier side, it is a great choice for most professionals.
---
10. XP-Pen Artist 22 – Budget Tablet from XP-Pen
XP-Pen is a well-known brand when it comes to digital drawing tablets and this tablet is another great bargain from the brand.
The Artist 22 comes with a well-designed, 22-inch Full HD IPS display with 1920x1080p resolution, 9-point display calibration, and an extra wide angle.
Although similar to the Wacom Cintiq Pro, this one does not come with 4x pressure levels, and instead comes with the standard 2048 pressure levels, which work well to help you design natural-looking, even designs.
Unlike other tablets, this one comes with 2 rechargeable pens in the package.
Specifications
16 Fully customizable express keys designed for both left and right-handed users.
22 inches of FHD IPS Display.
72% Color gamut and an extra-wide 178-degree angle.
2048 pressure sensitivity levels.
Supports and runs on Mac OS 10.8.x or higher and Windows 7 or higher.
Comes with a very sturdy stand.
4K display support with updated drivers
Our In-Depth Review:
You do get an ergonomic stand with the drawing tablet making it a stable surface to work on. It also gives you a better grip and prevents the tablet from unnecessary shaking.
The display is well protected via the tough glass produced in a dust-free workshop, which is scratchproof and shockproof. The pixel quality is great – with no dead pixels, the colors are deep and the response time is good as well.
The drawing tablet comes with support for most design software including Adobe Photoshop, Illustrator, 3DMax, etc. It is compatible with versions of Windows 7 and above, and the Mac OS, versions 10.7 and above.
The tablet comes with the standard 2048 pressure points which perform very well. The pen is a rechargeable pen that lasts for more than 50 hours on a single charge.
If you have your eyes on the Cintiq pro but have not yet taken the plunge, we'd suggest giving this tablet a closer look. Consider what you really want from your purchase and then decide.
It may just be that the Artist 22 might have everything you need, and you'll end up saving yourself a pretty penny.
Most users get caught up in the brand name hype and reject newer brands that may have a better cost value, all while offering similar benefits. Unless you actually need the extra 4x pressure levels or the big brand name, the XP-Pen Artist22 should work just fine.
One small drawback is the overall build quality. The tablet does have a slightly cheap feel to it with its plastic build. The pen and accompanying cables feel a little dated as well. This, however, is redeemed by the design of the tablet, which looks pretty high-end.
Pros
True and vibrant color reproduction.
Extremely responsive and with great pressure levels.
It comes with perfect calibration out of the box.
Low price tag when compared to other brands.
Cons
Plastic build that feels cheap (but looks good).
Conclusion:
As mentioned, this tablet is a bargain at the price it comes at. It is a fantastic drawing tablet and comes with a great look and great sensitivity levels. If you really like the Wacom Cintiq Pro but find it quite expensive, then the XP-Pen Artist22 is a great alternative.
---
Drawing Tablets – Buyer's Guide
What is a Drawing Tablet?
Whether you're an aspiring artist, a professional, a beginner, or a parent to a creatively inclined child, you first need to figure out what you're needs are and then decide on a type of drawing tablet to buy.
No one wants to make a poor investment and that is just what a drawing tablet is – an investment into your future.
A drawing tablet aka the graphics tablet, a digitizer, a pen tablet, or a digital artboard is a computer device that enables users to create hand-drawn sketches, graphics, or animations with the help of a special pen tool called a stylus.
What are the uses of a drawing tablet?
Most people believe that graphics tablets are only useful for artists or graphic designers, but that's not true. The use of a graphics tablet goes far beyond art and graphic design.
Here are the few most popular uses of drawing tablets:
Graphic Designing
This is the very obvious one. majority of graphic designers today own a drawing tablet for designing digital portraits, illustrations, and for animation.
Illustration with a tablet is quite easy as compared to an illustrator program. It allows designers to work more precisely and create complex creations much easier.
If you are an illustrator, you must get a good drawing tablet for yourself, it will surely enhance the quality of your work.
Architects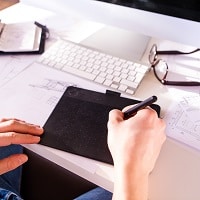 Now, this might come as a surprise to a few people, but Architects do use drawing tablets for creating mockups.
This saves them a lot of time.
Architects use them to create 3D models of a building they are planning to build.
But still, not many architects are well aware of the fact that drawing tablets could be helpful to them.
So if you are an architect get a drawing tablet that supports 3D modeling software like CAD and 3DS max.
Digital Signature
Digital signatures for company registration or any other legal procedures are mainly recorded using a drawing tablet.
Now that signature recording device might not be called a drawing tablet since it looks more like a mobile phone, but the technology behind it is similar to a drawing tablet.
Corporate
Incorporate, a drawing tablet is used for designing graphs, pie charts, and other statistical diagrams.
Using a drawing tablet instead of traditional software could help to build graphs and pie charts much faster.
Types of Drawing Tablets
Broadly speaking, there are two types of drawing tablets available:
Tablets that come without a display.
Tablets that come with a built-in display.
A couple of differences between the two –
A regular drawing tablet is pretty much the same as a drawing tablet with a screen, the only key difference is the LCD.
On a regular tablet, you have to need to keep an eye on your connected PC/Laptop screen to ensure you are placing strokes where intended.
On the digital drawing tablet, this can be easily done just by keeping track on the LCD screen making it more "What you see is what you get" (WYSIWYG).
A good graphics tablet can cost around $70-$200, and the ones that come with LCD displays are likely to go up to $1000. This may sound like a massive amount for a tablet, but bear in mind, these are mostly aimed at high-level professionals and design artists who benefit greatly from the extra features.
Most people associate a higher price tag with superior features which will ultimately result in amazing artwork.
While this may true to a certain extent, higher-priced products aren't a must to create amazing digital art. Practice and dedication go far when it comes to creativity. You don't want to spend a large amount of money on fancier features and tech that you may not use or need as a beginner.
This is why we have created this quick guide to work you through the process – making you aware of the important aspects of a drawing tablet and how to decide which one is the best for you.
Here are the key points to look at while going for a drawing tablet:
Tablet Size
Size is one of the most important factors when it comes to buying a drawing tablet and should be on top of your priority list.
Keep in mind bigger is not always better since you'll probably be carrying your tablet around a lot if you're someone who likes to take their work with them, wherever they go.
10 inches is one of the most common sizes for drawing tablets but even 6-8 inches works great for most users.
Professional artists and illustrators are likely to opt for larger tablets but it is important to remember that with a larger drawing area comes a bigger price tag. A larger surface area also means a wider range of arm motions. These are small but important things to keep in mind.
Another thing to remember is that the dimension mentioned in the box does not refer to the total dimension of the drawing tablet. This number only refers to the drawing surface and the total dimension of the device would be 4-5 inches more than the size of the drawing area.
It might come as surprise to you but the tablet does tend to take up more desktop space than you think. As of now, tablets come in sizes 6×8 and 9×12 that match up to the 4:3 aspect ratio of computer monitors.
This isn't a major concern, however, since modern tablets come equipped with screen mapping software and adjust aspect ratio accordingly.
Wireless V/S Wired
Most of the drawing tablets have the option to attach a wireless adapter, while some of the tablets come with Bluetooth pre-installed.
In our option, wired connectivity works better than wireless connectivity.
With wireless connectivity, there could be a slight delay between graphics appearing on your tablet and PC, and most users wouldn't like that.
However, if you go with some really premium drawing tablets, the connectivity will work just fine.
If you plan to use wireless connectivity then double-check if the tablet you are going for has Bluetooth or has the option to add a wireless adapter.
Resolution
Resolution in regards to drawing tablets is no different than the resolution in your regular tablet or mobile phone.
It refers to how many LPI (Lines per inch) a tablet has and how much can the tablet detect from the stylus.
As with your mobile phones. the higher the resolution, the better the experience. And the same goes for the drawing tablet.
If you are trying to get the best resolution, you should go for tablets that have a larger drawing surface area.
Interface
The interface is the source/way through which your tablet is connected to the computer.
USB is the most popular source on which most tablets run. Wireless technology is another which is quite the buzz these days and with a few companies like Huion and Wacom including it onto even their entry-level tablets. Some of the newer drawing tablets such as the Wacom Cintiq pro have added a USB-C connectivity option making them much faster.
If you don't look forward to constantly being wired to your PC, then you do get the option of a wireless adapter/kit for most tablets. The wireless kit is easily available for purchase, but before you go for it, we recommend getting confirmation from the manufacturer regarding compatibility with your tablet.
Pen/Stylus
The pen is equally as important as the size and the surface of the tablet. The pen tool needs to be smooth, lightweight, and compact, or it is going to be a burden to use.
We have two types of pens available:
Rechargeable Pens.
Non-Rechargeable Pens.
Rechargeable pens are pens that come with a battery and a USB cord to charge. Though they need to be recharged, the battery life is pretty stellar with most lasting up to two weeks so you don't need to worry about constantly keeping the pen charged.
The only downside of these pens is that the battery they come with tends to add to the overall weight of the pen a little.
On the other hand, we've got non-rechargeable pens which are a very good choice. They are lightweight, help in applying even pressure levels, and not having to charge them is a definite plus point.
Some, but not all pens come with an erasing end, which makes it quite easy to erase certain bits of your work design right from the pen, instead of digging around for the erase option on the software you are working on.
Most tablets also come with either a tablet stand or a docking point for the pen on the tablet itself, giving you somewhere to store your pen while not in use. This helps in making sure you don't lose your pen.
Physical Material
The material used to build the tablet is also a very important factor.
The majority of the drawing tablets are built of cheap plastic. If its metal instead of plastic the overall durability would increase.
Yes, the metal would add some weight to the tablet, but that would not affect the overall drawing experience since you will probably use the tablet after placing it on the desk.
But that's about the frame, what about the drawing surface?
Withdrawing the surface, its more about the texture of the surface rather than the material used.
Most of the non-display tablets come with a granular surface that is not as smooth as the glass surface.
Glass surface here means the actual display in a screen tablet.
Drawing on a glass surface is much smoother as compared to a granular surface, but is also a little hard to master. The granular surface on the other gives more drawing on a paper feel.
Controls
Most of the drawing tablets and stylus come with programmable keys which are often known as express/hotkeys.
These express keys could be set up to do any graphical task. This could be a huge time saver for any artist.
Although the number of keys you get with the tablet could vary from tablet to tablet, the tasks they can perform are usually the same.
So if you want to have this functionality, make sure the tablet you are buying has express keys.
Pressure Sensitivity
If you've read the reviews above, then you would have across this term several times.
What exactly is pressure sensitivity?
Pressure sensitivity refers to the variations you can create in terms of thickness, thinness, transparency, color, etc., just by varying the amount of pressure exerted on the pen. It works very similarly to how sketch pens are used in real life.
Pressure levels start at 256 moving up to 512, 1024, and further along. A few years ago, most drawing tablets support up to 1024 pressure levels but with the latest advancement in technology, most modern drawing tablet comes with at least 2048 pressure levels, with some of the high-end tablets going up to 8192 pressure levels, which is the absolute best you can get on any drawing tablet.
As the pressure levels increase, you get more natural and responsive control and design.
Driver Software and Bundles Software
While most tablets come with driver CDs in the package, we'd recommend going directly to the brand website to download the latest drivers for your tablet, especially if you don't have a built-in CD drive, which most notebooks today don't.
All graphics tablets require a driver, so before you start downloading, ensure it is the right one for your tablet and that you are downloading the correct compatible one for your operating system. For example, some drivers work with Windows XP while some do not.
The next thing to look at is the features offered by the drivers. Most drivers control certain important functions of a tablet. Some of those controls include tool customization, tweaking sensitivity, screen mapping, and many others.
All tablets come with bundled software systems that are key aspects of drawing and functionality on the tablet. Almost all of the tablets also come with a drawing program and utility tools that support systems such as Photoshop, Illustrator, and other popular design software.
Some companies also integrate handwriting recognition software that converts your handwriting into written notes although this is a less common feature nowadays.
Pricing
Entry-level tablets start at around $100 – $200. You can get an excellent Wacom or Huion tablet for that price, which is an ideal investment if you are just starting out.
On the other end of the spectrum, you have drawing tablets that can go up to $1000. It is important to remember that you don't always need the best or newest device to create amazing artwork. Ask yourself if you need these extra features and specifications.
A 21-inch IPS LCD display drawing tablet is pretty fancy and will absolutely catch your eye but if it isn't something you really need, there is no point investing such a big amount.
For beginners or parents looking for a tablet for their kids, we recommend finding an option that is about 100$, while designers and professionals can choose an option that best fits their needs and requirements.
Advance Features
Highly professional designers would love some advanced features like multi-touch and tilt sensitivity.
With multitouch basically, you can double-pinch to zoom in and zoom out. A very helpful feature when you are working on a highly detailed design.
Another advanced feature for us would be an HD digital screen. Now we know that this is not really a feature, but having an HD screen could be very helpful.
Some of our designers use 4K drawing tablets, and working on that tablet is an absolute treat.
On our list, we have reviewed Cintiq pro, which is an HD tablet.
Top Brands
To be really honest, there are not a lot of drawing tablet brands in the market.
Some of the best brands in the market are:
All three of the brands create good drawing tablets that are quite popular among users.
On this list of best drawing tablets, we have tablets from all three brands.
Wacom is considered to be the best brand when it comes to drawing tablets, but Wacom tablets are quite expensive too.
Huion, XP-pen, and Ugee, on the other hand, offer great tablets at an excellent price point.
Wacom offers feature-rich tablets that are primarily designed keeping professionals in mind. There is also an Intuos series, which is quite affordable.
The display tablets from Wacom are known to have one of the best resolutions, color accuracy, and touch experience. Their Cintiq series is very popular. But again, to get a tablet from that series you have to shed a decent amount of money.
if you are a professional who has a good budget to spend on a drawing tablet, we would recommend you go with a Wacom tablet. The functionality and build quality of Wacom tablets are quite good.
Huion is another popular brand that is our personal favorite.
We genuinely believe that Huion produces complete value-for-money drawing tablets.
If you are a beginner looking to get a decent drawing tablet for a low price, then Huion would be your best bet.
If you are a professional designer looking to get a display-integrated drawing tablet, then you can get that too at a very affordable price point.
XP-pen is also a great brand that produces good drawing tablets at a cheap price point.  Both brands produce display and non-display tablets.
For beginners, it is advisable to go with the non-display tablets at first since they are more affordable, and you would get an idea if a drawing tablet is something you would want to stick to.
How to Connect a drawing tablet to the Computer?
Setting up a drawing tablet on your PC/Mac is really easy. Here are the steps to do that:
Connect your tablet to your PC via a USB cable.
Upon connection, you will be prompted to Download and Install the drivers.
Some tablets also come with a CD to install the drivers.
Once the drivers are installed, restart your computer (Windows users only).
Set up your tablet and software to start drawing.
Note: Most of the time, drivers that come along in CD don't work. In that case, you have to go to the manufacturer's website and download the latest drivers from over there for your tablet.
Connecting a Drawing tablet via Bluetooth: 
If your tablet is Bluetooth enabled you can directly connect it to your computer/laptop wirelessly.
To do that:
Turn on the Bluetooth on your drawing tablet.
Turn on the Bluetooth on your computer and scan for devices.
Pair it with your tablet and you are all set.
Tips for getting the best out of a drawing tablet :
Use Tablet shortcuts
Tabet shortcut keys/express keys are capable of doing anything functionality. You just need to program them to a certain task.
The ideal position of hands during designing is one hand with a stylus on the drawing surface, and the other hand on the express keys. This way you can quickly use the shortcuts when needed.
With time you will start using the shortcuts much faster, and it will become much easier.
Fine-tune Stylus sensitivity
You must fine-tune your stylus sensitivity before starting up with the design.
A pen responds to how much pressure is put on it. To really fine-tune how your stylus responds to your pressure inputs, you need to customize the tip feel based on how heavy-handed or light-handed you are.
A person with heavy hands would need to put less pressure on a darker line as compared to a person with light hands.
Right out of the box, the pen's sensitivity is at the median. It kept keeping an average weighted hand in mind.
To fine-tune the stylus, you need to go to the tip feel settings in preferences. You will see a real-time effect on how much pressure you are applying. You can calibrate it from there accordingly.
Experiment with Nib types
Just like different pencils give different writing experiences, different nibs provide different drawing experiences.
There are different types of nibs present in the market including hard-felt, standard, stoke, and flex.
There is no right fit for everyone. You should try out different nibs to see what feels best to you.
Some people love hard-felt nibs, and some, on the other hand, find them slippery. Our only advice to you would be to not stick to the nib that comes along. Try out different types of nibs, and stick to what feels best to you.
Make use of stylus buttons
Don't forget to take advantage of the buttons on the pen as well.
With these buttons, you can change the brush type, size, and hardness in photoshop.
Again, similar to the express keys on the tablet, you can program these keys to perform almost any function.
Practice
If you are a good designer on paper, you would be probably good on the tablet.
But things could be a little bit difficult for beginners.
First of all, if you are a beginner and you have decided to start right off with the tablet, you have made an excellent design.
Now its time to practice.
FAQs related to Drawing Tablets:
What can I do with a drawing tablet?
A drawing tablet is a tool used mostly by professionals like graphic designers, architects, and people incorporates. It's just like everything you design or create on paper, you can create the same thing on that tablet in a digital form. With every tablet, you get a stylus/pen which is used to draw on the tablet. Basically, if you draw a lot, be it for fun or for the profession, a drawing tablet could be a good investment for you.
Do Drawing tablets need a computer?
Yes, most of the tablets be it display or non-display need them to be connected to a computer. Although with display tablets, you don't have a continuously look at the monitor since all the previewing could be done directly on the screen of the tablet.
How much does a drawing tablet cost?
You can get a decent non-display tablet under $100. For a larger non-display tablet you have to shed a little more money. For display tablets, prices are usually higher. The best display series, Cintiq by Wacom, has tablets ranging up to couple thousand dollars. A good display tablet from a brand like XP-pen would cost you under $500.
What are the best apps for a drawing tablet?
There are a lot of drawing software and apps available for both Windows and Mac. Some of the most popular ones are Adobe photoshop, coral draw paint, Artrage, Krita, and sketchbook. There is another great software as well, but the ones mentioned above are the most widely used ones. You will find every good designer using atleast one of that software. Some of them are free, some are paid, and some do have a free trial.
Can I use an iPad as a drawing tablet?
The latest-gen Ipads support apple pen which could be used for drawing on it. The old iPad was not made keeping drawing in mind, so drawing on them won't be that exciting. Talking about the latest-gen iPad pros, they are excellent. And using it with Apple pencil (2nd gen) is a whole new experience. The iPad Pro comes with all the tools you will need as a designer. The colors are accurate, the drawing experience is smooth, and the set of tools that apple provides makes things very easy.
Can I use Wacom Cintiq without a computer?
Wacom Cintiq is a popular series of display that is quite expensive. The display added to them in HD, the color reproduction is perfect, and the build quality is great too. But you have to still hook it up to a computer to start using.
What else can I use as a stylus?
Aluminum foil wrapped around a regular pen/pencil is a great alternative to a stylus. But since the starting point would not be as smooth as a regular stylus, the graphics would not come out well. Usually, an alternative could not only be used to browse the tablet functions, but we also don't recommend it to draw something.
Does the stylus require a battery?
Some of the pens are battery-free, while some of them need to be recharged. You need to recharge them at several intervals depending on the battery range. The best thing is that these pens have insane battery range, once charged they would go on for months
Can a tablet be used by left-handers?
Yes, being a left-handler you can still use the drawing tablet just normal. The main issue would be the use of express keys. Express keys are usually located on the right side, and being a left handler you have drawn and use express keys with the same hand. The best solution to this problem would be to use the keyboard shortcuts extensively instead of express keys.
What's the weight and portability of the tablet?
Drawing tablets weigh just like any other regular tablet and are portable enough to be carried anywhere. You can easily take them to coffee shops, coworking spaces, etc easily.
What is the difference between a drawing tablet and a graphic tablet?
Drawing tablet is a term used for display tablets, and graphic tablet is a term used for non-display tablets.
---
Conclusion:
Drawing Tablet could be a great accessory for all artists or graphic designers.
It offers you a lot of control over your digital designs.
Here is a short summary of our buyer's guide:
If you are looking for a good non-display drawing tablet then Wacom Intuos draw could be a great choice.
If you are looking for an affordable display drawing tablet then Huion Kamvas would be the best choice.
For those who want the best display drawing tablet then Wacom Cintiq is the best series, Wacom Cintiq Pro is the one that we recommend.
If you need more info, have a look at these other great electric Drawing Tablets buying guides by Creative Bloq, Forbes, and ZD Net.