Headphones
The 10 Best Wireless Headphones for 2022 – Reviews & Buyer's Guide
Bluetooth headphones are one of the great accessories to have.
Wireless Headphones are the most popular type of headphones on the market currently, and slowly and slowly every user has started moving toward them.
They are compact, have multiple connectivity options like Bluetooth and NFC, and come with an excellent battery range the best part is that they are not very pricey.
But, how easy it is to choose the best wireless headphones for yourself?
Tough! right?
Since there are so many great wireless headphones available in the market and that too from so many brands, we felt it was our duty to help you navigate the market and choose the Best Wireless Headphones for yourself.
Below, we have assembled detailed reviews for the top 10 wireless headphones. Included are headphones from top brands like Sennheiser, Sony, Bose, and a few others, ensuring that there is a recommendation for everyone with particular brand loyalty.
Best wireless headphones for 2022 – Quick Look
(Click on the name of any headphones to read its in-depth review)
---
1. Bose Quiet Comfort 35

– Best Overall Wireless Headphones
The Quiet Comfort 35 is the successor to the immensely popular Quite comfort 25, ideally designed for users who are looking for some perfect Noise Canceling wireless headphones.
Equipped with Bose's world-class noise cancellation technology, you can focus on your music or work without getting distracted by the noisy hustle and bustle of crowds, heavy traffic or airplane engines.
It is designed with users of all volume preferences in mind, employing a volume-optimized EQ to perfectly tune to every listener's taste and emit perfectly balanced audio in all conditions.
These wireless headphones also offer NFC connectivity along with the latest Bluetooth, which is supported by most new mobile phones.
Specifications
Dual noise canceling Microphones.
LED lights and control buttons.
Three different levels of noise cancelation.
20 hours of battery range with ANC on.
Our In-Depth Review:
In a pair of premium headphones, you look for a couple of things. Build quality, sound quality, comfort, and obviously how good the noise cancellation is (if it comes with that)?
Bose has mastered the art of Noise cancellation. Be it in QC 25, QC 35, or the latest Bose 700, the noise cancellation integration is always perfect.
Its great for flights and trains, traffic, or any other loud environments, basically for every time you want to cancel out the external loud noises and just focus on your movies, music, or just simply want to ignore the world.
QC 35 was leading the market in terms of active noise cancelation for quite a time until Sony XM3 headphones were brought into the market. A lot of users believe that XM3 has better noise cancelation and it is the new ANC king, and we also somewhere agree with it. And we hope Bose takes back the throne real soon.
Build quality is really fine and the design is almost identical to QC25. They are a build-up of premium plastic with a matte finish on top. The body is flexible and the leather cushion padding on the headband and earcups is super soft.
Overall they are lightweight, simple, and stylish wireless headphones that are also one of the most popular wireless headphones in the market.  We assure you that if you go for them, then these are going to be your companion for a very long time.
On the right earcup, you get the volume control buttons, buttons to play, pause and change tracks, a button to turn on the headphones, and a LED light notification. You also get a switch to turn on/off ANC and a switch to switch between three ANC levels.
With three ANC levels, you can easily set how aggressive you want the ANC to be. For places like offices and libraries, where the level of ambient noises is quite low, you can switch to a lower ANC level, for places like airplanes and trains, you can set the level to be high. Turning off ANC completely when not needed will save you a lot of battery.
Tired of noisy phone calls and poorly made microphones? Bose has you covered there too! The Quiet Comfort 35 features advanced dual noise cancellation mics,  which block out all external noises, allowing for crystal-clear communication in any setting.
Along with all the excellent features in these headphones, they boast an impressive battery life of up to 20 hours. The battery in them is really strong and it holds up for 20 hours. So, even with heavy listening, you can expect the battery to last around for a couple of days on just a single charge.
Talking about the sound quality, and overall audio experience, the bose headphones automatically analyze the type of music you are hearing and then optimizes the sound performance to give you the best listening experience. It also produces balanced audio on all volume levels.
They do include a free mobile app that makes it easy for you to switch between devices, and lets you personalize your audio settings as per your preferences.

Pros
Best in Class Noise Cancellation.
Extremely lightweight for better comfort.

Volume-optimized EQ for balanced audio performance.

Better control with the dedicated mobile app.
Conclusion:
These headphones are ideal for users who want the highest quality possible, with little consideration for cost. The extra cost is substantial, but so is the quality! The noise cancellation feature is on point and the overall sound quality that the headphones produce is excellent.
---
2. Sony WH1000XM3 - Best ANC Wireless Headphones
Are you searching for something unique and beautiful in the market? If so, these headphones are for you.
Though you may find them slightly expensive, you will quickly be assured of your money well spent by their plethora of features and astounding build quality.
Designed by the market's leading electronics manufacturer Sony, these wireless headphones are equipped with high-resolution audio technology to provide a best-in-class music experience to the listener.
Their high-fidelity audio pairs impeccably with its best-in-class noise-canceling technology. Whether you are stuck in traffic or sitting on an airplane, with these headphones you will be able to put full focus and attention on your tunes.
These are direct competitors to the legendary Bose QC35.
Specifications
Easy to use gesture touch controls.
30 hours of battery range.
Active Noise cancellation.
It comes with Bluetooth and NFC.
Inbuilt Microphone.
Premium build quality.
Our In-Depth Review:
The Sony XM3 comes with a quick attention mode that allows you to hear the ambient noises that are important to you. If at any point in time you want to tune in to the world outside! Just cup your hand over the right headphone, doing this will activate the quick attention mode and you'll easily be able to hear all the ambient noises in your surroundings.
We believe that this is by far the most important feature you will ever see in a pair of noise-canceling headphones. And the good thing is that a lot of ANC headphones manufacturers have started integrating it into their headphones.
Talking about the active noise cancelation on XM3, its flawless. A lot of publications have declared them as the new ANC king and we somehow agree with that. Along with that it also comes with additional microphones that assist in isolating surrounding noises when on a call, resulting in better voice calls overall.
Bored with the physical buttons on your old headphones? These Bluetooth headphones provide smartphone-like interaction using intuitive gesture touch controls. This is one-of-a-kind tech that significantly reduces the issues of wear and tear on physical buttons, ruining their ability to work after a short time.
With gesture controls, you can swipe right to go to the next track, swift left to go to the previous track, slide up and down to adjust the volume, and simply tap to play/pause the music.
We were blown away by the overall look and feel of these headphones. The design is quite minimal and the matte finish on top of that feels extremely good. The body is mostly made of high-quality plastic which not only looks good but is also pretty solid.
The headphones come with a powerful battery with quick charge support on top. You get a battery range of 30 hours on a single charge. With 10 minutes of quick charge, you can get a playback time of around 5 hours. The battery range could be extended by turning off the ANC when not needed. The button to turn off the ANC could be found on the headphones themselves.
The only thing that could have been better is the cushion quality of the earcups. It's not bad, but, we have seen so many headphones from Sony with better and more comfortable ear cushions.
The sound quality is amazing and automatically adjusts to whatever you are listening to. The headphones deliver perfect bass without affecting the sound quality. We think it would be very hard for anyone to point out any issues in terms of sound quality.
Pros
Industry-leading noise cancellation.
Exceptionally beautiful design with solid build quality.
Impressive sound quality with punchy bass.
Intuitive gesture controls on top for controlling the music.
Cons
The ear cups could have been more comfortable.
Conclusion:
These are the best headphones ever produced by Sony. Though a bit pricey, it is easily justified by their unique, intuitive control features and excellent sound quality. The overall design is very elegant and is as beautiful as you will ever see on any headphones. Additionally, they have the best ANC tech in the market (while writing this review).
---
3. Beats Studio Wireless - Best from Beats
Despite the overwhelming number of high-end headphones on the market, Beats has still managed to stake its claim in the sector.
In its early days, Beats Audio started out making wired headphones and instantly became a market sensation.
Now, as they step into the wireless headphones market, the expectations were just as high, and thankfully they do not disappoint.
Beats Studio Wireless headphones are equipped with dual-mode adaptive noise cancellation technology and feature an inbuilt mic to take calls on the go.
Built with only the best quality materials, they are one of the lightest headphones on the market, and will never burden your head even after hours of continuous listening.
Specifications
22 hours of battery range.
Dual-mode adaptive noise canceling.
Built-in microphone.
Extremely lightweight with a neat design on top.
Integrated controls
Our In-Depth Review:
Beats Studio 3 wireless is a very close competitor to Bose QC 35 and Sony XM3. It also offers the same excellent audio quality with perfectly working active noise cancelation on top.
Some users have complained that the Bluetooth connection drops, and we confirmed this with numerous users of the product. To remedy this, the headphones must be updated after connecting them to a PC. After the update, there would be no such problem while connecting it to any music device.
The beats have shown improvement in terms of build quality. The build quality is solid and is not prone to any wear and tear. The headband is comfortable and also adjustable, which makes it a good choice for people with large head shapes.
Not just the headband, but the earcups are soft as well. They are large and would give you an overall great over-ear headphones experience.
With headphones actually in hand, you might feel like they don't come with any wireless control, but that's not true. On the left earcup, you get buttons to control the volume, change the tracks, and also a play and pause button. Since there is no marking for these buttons on the earcup, the headphones look even better.
These headphones are great for users who struggle to find headphones in their favorite color. Beats Audio has manufactured the Studio Wireless Headset in 10 colors, some of which are available in a sleek matte finish. Our personal favorite is the matte black color since its quite low profile.
Like some other, similarly priced wireless headphones, the connectivity range is a non-issue for this set. Packed with advanced Bluetooth technology, you can easily connect to Apple or Android devices up to 30ft away. This has the convenient benefit of being able to listen to your music in multiple rooms of your house, without ever moving the device.
Although the headphones come with great Bluetooth connectivity, there is no NFC available.
The headphone's batteries can sustain 22 hours of continuous playback on a single charge in wireless mode with ANC on, and 40 hours with ANC Off. Like QC35 and XM3, these also come with fast charging technology. A quick 10 minutes charge would give you 3 hours of playback.
Beats studio 3 wireless comes with Adaptive noise cancelation that automatically senses the level of ambient noises around you and sets the level of noise cancelation accordingly to cancel them out.
Talking about the sound quality, beats has seriously improved the sound quality of wireless studios as compared to previous studio headphones. The vocals are clear and the bass is very precise, for someone who loves Bass would not be disappointed with them. However, if you are coming from some previous Beats headphones then you might notice a slight downgrade in Bass.
Pros
Dual-mode Adaptive noise cancellation technology.
The moderately long-lasting battery and relatively high connectivity range.
Plush and cushy earcups for extreme comfort.
Non-marked wireless controls give them a clean look.
Conclusion:
If you are a big fan of Beats, you should go for them! The advanced features and excellent sound quality will leave you with no regrets. The price, however, is slightly higher than mid-budget. Still, the consumer satisfaction is on par!. But if you are not biased towards beats, try considering the QC35 or XM3.

---
4. Sony MDRXB950BT/L - Extra Premium Bass 
Sony is one of the finest, and most popular, manufacturers of electronics in the entire world.
Whether it is televisions, mobile phones, or headphones, Sony has always given its best to its customers. The result of their efforts is a dedicated fan base of trusting consumers that is years in the making.
Products like the Sony MDRXB950BT/L are part of what supports this reputation.
Designed for users who love Bass, the MDRXB950BT/L features electronic bass boost circuitry for an awesome bass experience.
Specifications
Electronic bass boost circuitry.
20 Hours of battery range on a single charge.
Large 40mm drivers.
Built-in microphone.
Lush, cushion covering on earcups.
Our In-Depth Review:
Sony loves to ensure that you get what you pay for! Comparing these headphones to other leading manufacturers like Bose, they come at a much lower price point. So long as you're not a die-hard Bose fan, the Sony MDRXB950BT/L is a worthy competitor to any of their offerings. But remember, they don't come with Active noise cancelation technology.
Talking about the looks and feel of these wireless headphones, they look big but are overall very lightweight. They are built of high-quality plastic, metal headband, and soft leather band cushion which makes them extremely soft and comfortable to wear.
They are available in 3 different colors; Black, Blue, and Red. We like the black ones as those come with beautiful red accents on the body.
Although the build quality for most of the parts is great, the part where the headphones swivel looks weak and would easily break with little pressure. Make sure you don't put a lot of pressure on that part.
In addition to their wealth of premium features, these headphones feature an excellent battery life with up to 20 hours of continuous playback. This will ensure that dead batteries never come between you and your wireless entertainment again!
The headphones are well suited to those who love bass. The best part about these headphones is that you get a dedicated button to turn on the extreme electric bass boost, for convenience in fine-tuning your sound. This is great for multiple users who may have differing bass preferences. For all those bass heads, these headphones would come as an extremely satisfactory accessory.
Talking about the battery range on these sony headphones, you can get a battery range of around 20 hours while using them in wireless mode. Once the battery runs out, you can use them in wired mode. Unfortunately, like the top three headphones, these headphones do not support quick/fast charging.
Finally, these headphones make taking important calls a breeze with an inbuilt microphone. Life just can't get any easier! Overall, premium features and stellar build quality makes the Sony MDRXB950BT one of the best wireless headphones on our list.
These headphones come with two modes of audio quality :
Red Flash, which signifies the energy-saving mode is on, and lower sound quality is enabled.
The headphones come out of the box in blue flash mode, which is high-quality audio. That is the standard mode.
Pros
Advanced electronic bass boost circuitry for extreme bass.
Option to take and place calls on the go with a one-touch button.
The broad Frequency response of 20 – 20,000 Hz.
Battery life of 20 hours playback and 200 hours standby.
AptX support.
Cons
Poor build quality at the swiveling part.
Conclusion:
If you are one of those bass heads, you will enjoy the Sony MDRXB950BT/L. They are also an excellent choice for those who are a fan of Sony's MDR series. The technical aspects including the bass, sound quality, and battery are excellent, and you get an overall 20 hours of wireless music playback on a single charge.
---
5. Avantree aptX Audition Pro - With 40hr Battery Range
Equipped with hi-fi sound technology, and whopping 40-hour battery life, these headphones easily earn their spot on the list.
These pair of headphones are abnormally light, weighing in at just 7 ounces.
If you're used to some heavy headsets, these are very likely to add extreme comfort and you may have just found your best Bluetooth headphones!
The sound quality is excellent, and there are no clear compromises made by Avantree to achieve that.
Specifications
40 hours of battery range.
Bluetooth 4.1 and NFC.
Superior Bass boost.
Inbuilt microphone.
Multipoint connectivity: Connect up to 2 mobile phones simultaneously.
Leather headband and soft padding on earcups.
Our In-Depth Review:
These Avantree headphones come with multi-point/dual connectivity that allows you to connect the headphones to two devices at a time, it can be a combination of laptop and mobile or tablet or mobile.
In case you are enjoying your favorite movie on the laptop and the mobile phone gets a call, the technology will automatically pause the movie and will give preference to the call.
The most eye-catching feature is the battery life of the headphones. They provide 40 hours of continuous playback on a full charge, which is far more than any of the headphones we have reviewed. If battery life is one of your primary concerns, this headset excels well beyond any others on the market.
Within the package, you get a hardshell case, a 3.5mm audio cable, and a USB cable to charge up the headphones. The price of the headphones is very affordable and it overall actually feels that you are getting quite a value for the price.
Although the headphones look decent, the build quality is not good. They are built of plastic and don't feel sturdy. A little rough usage could damage the body of the headphones.
The headphones are comfortable to wear for a long period due to comfortable earcups and adjustable headbands.
If you want to use these headphones with your TV you can do that too. Not just with the TVs that have Bluetooth but also with ones that don't come with Bluetooth. All you need to do is get an Avantree Bluetooth transmitter that adds Bluetooth to any TV. Once its done you can connect your TV to your avantree headphones over Bluetooth.
Bluetooth's connectivity range is about 30 feet. Connectivity is pretty accurate unless there is an obstacle in between, like a wall maybe. The headphones also come with an inbuilt mic to take phone calls.
Combined with Aptx the audio quality on them is great and comes with almost none to very low latency. While watching there would be very less to no delay in audio synchronization. The audio quality is pretty good, and the bass is really impressive.
Pros
The wired option allows for seamless switching between wireless listening and wired connectivity.
Battery life is a staggering 40 hours on one charge.
The headset has sound quality that will impress even the snobbiest of audio connoisseurs.
Comes with aptX.
Conclusion:
These are the lowest-priced headphones on our list, and we must say it is tough competition to many of the more expensive models. If you are on a tight budget and looking for over-whelming sound quality headphones, then don't give a second thought to buy them.
---
6. Sennheiser PXC 550 - Best From Sennheiser
These are easily one of the most beautiful sets of headphones on this list.
Packed with Bluetooth 4.2 technology and NFC connectivity, they seamlessly connect with any of your favorite devices.
The adaptive noise guard technology with ambient sound blocks out everything you don't want to hear and lets you easily focus on the things you do want to listen to.
Whether on a train, plane, or in a crowded area, you will hear nothing but your sweet, sweet music.
Specifications
Lightweight and comfortable.
Nose guard adaptive noise cancellation technology.
Up to 30 hours of battery range.
Intuitive gesture touch controls.
Triple microphone system for better voice clarity during calls.
Our In-Depth Review:
Sennheiser is one of the most trusted headphone brands in the market. We have a good number of headphones and a lot of TV headphones, and we were satisfied most of the time.
The PXC550 over here is a direct competitor to Bose QC 35, Sony XM3, and Beats Studio3 wireless.
Now, there is hardly any major difference between them and all of them are extraordinary headphones, it's just about brand loyalty. If you love Bose go for QC35, if you love Sennheiser, go for PXC-550, if you love beats, go for Studio 3 wireless, and if you love Sony, go with XM3. Anyways, you will be completely satisfied with all of them.
Wearing these headphones is an absolute pleasure. They look great, feel great, and are easy and fun to boot!
Talking of booting them up, there is no button/switch to turn them on, you just turn them on by switching the right earcup from foldable to normal position. This could be a fun feature at the beginning but if you don't get used to it, that would end up causing battery drainage. We wish that Sennheiser had added an optional On/Off switch to these.
Unlike most of the other wireless headphones, you do not get the control buttons on the top. Instead, you get an intuitive touchpad on the right earcup to control your music and phone calls just by tapping or swiping your fingers. Speaking of phone calls, the inbuilt microphone boosts speech clarity that rivals your phone's mic!
Battery life on PXC 550 is excellent and can provide a battery range of around 30 hours on a single charge. However if at any point the battery runs out, you can simply plug in the cable and use the headphones in wired mode.
Talking of sound quality and noise cancellation technology, both are on point. Noise cancellation might be not as good as Bose QC 35, but then there are also a few things that PXC-550 comes with that QC35 doesn't.
The headset includes the Cap Tune music player with a purchase, which provides a powerful suite of audio enhancements and organization.
Pros
Ergonomically designed, extremely lightweight headphones.
Easy to carry and travel with the carry case that comes with them.
Triple microphone array.
Dedicated Cap Tune Music app for easy control.
Cons
Turning on the mechanism.
Conclusion:
At a lower price, these headphones would easily have beaten out all others for the top spot. However, since it comes with a hefty price tag, only the most discerning of audio critiques will be able to shell out the cash for these. If the price is of no concern, then these could be a pretty decent buy.
---
7. Plantronics Backbeat Pro - Budget Noise Cancelling Headphones
Battery and connectivity have always been one of the biggest issues plaguing wireless headphones. Plantronics took this to heart and made an effort to develop the mid-priced Backbeat Pro with a best-in-class battery and connectivity.
Their battery is rated to last for up to 24 hours of continuous listening. Its long battery life is further matched by its outstanding wireless connectivity range of 330 feet.
Along with the listed features, the Plantronics Backbeat Pro also has multi-device connectivity features, allowing you to connect both your tablet and phone to the headphone at the same time without creating any connectivity issues whatsoever.
Specifications
Active noise cancelation.
24 hours of battery range.
Bluetooth and NFC.
Up to 2 devices multi-connectivity option.
Pillow soft covering on earcups.
Our In-Depth Review:
Noise cancellation in headphones never comes cheap. Combine it with Bluetooth and you are easily looking at a hefty price tag. But, Plantronics backbeat pro is the exception, it comes with Bluetooth, NFC, and active noise cancellation technology at a very cheap price point.
Combined with their good build quality, these headphones make a great impact overall. There is absolutely no reason not to buy it, and those who do are guaranteed to be impressed by its quality and innovative tech.
The headphones come with a ton of controls on them. The right earcup holds an on/off switch, volume dial, mute button, and a dedicated button for answering and ending calls. The left earcup on the other side holds up an on/off switch, a button to turn on NFC, a Play/pause button, and a dial for skipping forward and backward.
MultiDevice Connectivity
It might sound like some science-fiction but technology has made it possible and the invention is said to be "
multipoint
". Let's say the Bluetooth headphones are connected to two devices. You are listening to music on one of the devices and the other one receives a call, now the headphones identify which one it is, pause the music on the first one and automatically streams the call from the precise device.
Scenarios in which multipoint is useful:
Managing two phones, let's say a personal phone and the other one a professional phone.
Using the headphones with the iPod while staying connected to the cell phone.
Playing games on your console with extreme sound effects without worrying about missing the important calls on your cell phone.
These headphones feature excellent build quality and are comfortable for prolonged use. The cushion cups are soft and cover the ears well. During our testing, the fit was perfect, and most people with the usual head shapes and ear sizes should have no complaints.
Since they are closed-back over-ear headphones, with deep bass and noise cancellation features, they stick tightly to the ear so that no sound leakage can occur. All the good sound quality in the world can't make up for the uncomfortable headphones, but thankfully, that is not a problem with the Backbeat Pro.
The bass is rich and precise, the mids sound natural, and the highs are crisp. Combine that with Active noise cancelation and you get an even more detailed audio experience.
The weight of the headphones is neither heavy nor light. But, when compared with other top wireless headphones in the same price range, you will find them slightly heavy.
Pros
Premium design for maximum comfort.
Tune out distractions with a one-touch noise cancellation circuit.
Precise bass.
aptX for wired connectivity.
Cons
Slightly heavier as compared to competitors.
Bass might be too much for some users.
Conclusion:
We challenge you to find a good reason not to purchase these. Every aspect of these headphones screams on top of its class. With premium features at a mid-budget price range, there are really no headphones on the market that can compete. Plantronics has really taken their 50+ years of industry experience and put everything they had into the engineering of the Backbeat Pro.
---
8. Jabra Elite 85h - With 8 Microphones
Jabra is one of those iconic brands in the industry that is known for creating excellent audio products.
We have in past reviewed their noise-canceling earbuds offered quite a decent audio experience.
85h over here are minimalistic noise-canceling headphones that come with Alexa built-in.
The best thing about these headphones is that they are rain and water-resistant which makes them very well-suited for a workout.
Specifications
Smart surround audio technology.
36 hours of battery range.
Water-resistant.
One-touch voice assistant access.
8 microphones.
Jabra sound+ support.
Our In-Depth Review:
With most of the headphones, you usually get to see dual microphones, one placed on each of the earcups. But with Jabra Elite 85h you get a total of 8 microphones, 6 out of which are used for taking phone calls on the go. These microphones cancel out all the background noises and wind noises ensuring that crystal-clear audio is delivered.
Talking about the design of the headphones, its extremely beautiful. Everyone today loves minimalistic, and these headphones completely follow that design. We would not say that these are the most beautiful headphones on this list since we already have the Sony X1000M3 and Sennheiser PCX 550, which are two of the most beautiful headphones.
The headphones are built of plastic with some grill design on top of the earcups and headphones. The headband at the inner side is fully padded, and the earcups are well-padded too. The padding on both of these is super comfortable and would allow you to wear them for a long time without any issues.
On the right earcup, you get the volume up/down buttons, and a button to play/pause music and answer calls. The mute button on the same earcup at the lower edge, and the ANC toggle on the left earcup.
The headphones are equipped with smart sound technology that automatically analyzes your surroundings and uses customized settings to provide you with the best music experience. So if the surrounding ambient noises are too loud, like when you are traveling in an airplane, the headphones automatically enable ANC to cancel them out. In quieter places, it automatically disables the ANC or adjusts its level.
The headphones also come with hear-thru mode, which is similar to the aware mode in Bose, and quick attention mode in SONY. Using this mode you can keep the ANC on for unwanted ambient noises and cancel them out, while the ambient noises that are important could still be listened to. Headphones automatically enable this mode by analyzing the surrounding.
Another great thing about these headphones is the overall battery range. They offer 36 hours of battery range on a single charge, which is one of the highest in any ANC-enabled headphones. On top of that, the headphones also support a quick charge. In just 15 minutes of charge, you can get 5 hours of headphone usage (with ANC turned on).
Last but not least, headphones are water and dust-resistant, which means you could use them during workouts as they would be able to handle sweating, and could also handle light splashes of water during rain.
Pros
Excellent battery range.
Automatic sound adjustments.
Clear voice calls.
Minimalistic design.
Conclusion:
We would not say that they are overall better headphones than Bose QC 35 and Sony XM3, but they are good. Some of the features like smart sound technology and a staggering battery range of 36 hours make them stand out of the crowd.
---
9. V-MODA Crossfade - Perfect for Gamers and DJs
V-Moda headphones are currently the most durable headphones on the market. Period!
Award-winning manufacturer V-MODA's headset is making waves in the audio community. They feature unique, uncommon steel construction and eschew the traditional ear cup design.
Engineered with gamers and DJs in mind, these are the best multi-purpose wireless headphones on our list.
Keeping the above user base in mind, the main focus of the manufacturer is on sound quality, which is top-notch in all regards. The sound is clear and balanced on these headphones, and the bass is booming.
Specifications
Military-grade built quality.
12 hours of battery range.
Dual-diaphragm 50mm large drivers.
Built-in microphone optimized for voice clarity.
Customizable Shields.
Our In-Depth Review:
In this review, we are going to mainly focus on build quality.
Most people are under the initial impression that the headphone's all-metal construction would make it uncomfortably heavy. However, we are happy to report that this is simply untrue!
The company has not only focused on the look but comfort as well, keeping the weight of these headphones at just 10 ounces. so, Sore necks and achy ears will never be a problem for users of these headphones.
In terms of connectivity, Bluetooth technology allows for 33 feet of freedom from any paired device. The headphones also come with multi-connectivity options which means that you can connect your headphones to two devices simultaneously.
Though the cushion on the earcups is extremely comfortable, still they are very small which makes them quite punchy. The leather padding could have been bigger and better. Luckily you can get over this issue by buying an extra pair of larger cushion covers from the official company for a very cheap price.
A quality microphone makes taking phone calls and directing voice-assisted apps like Google Now a snap. Besides, there is no need to worry about battery life, as a quick two-hour charge to this Bluetooth headset provides 12 hours of continuous playback.
The 50mm large diaphragm punch out deep bass, and the inner and out rings keep it separate from bleeding into the mids and highs. The headphones could also be used in wired mode. The preamp output is strong enough to run the headphones in wired mode.
Pros
Unique and indestructible design.
Optimized Bluetooth connection.
Punchy bass and world-class treble.
Multi-device connectivity to two devices at a time.
Cons
Small and punchy earcups padding.
Conclusion:
These are the perfect headphones for gaming, music, and even studio usage. Build quality is more durable than anything else we've seen, ensuring that your purchase will last for years to come. If you are primarily interested in gaming but wish to use your headphones in other areas from time to time, this is the best set of wireless headphones for you.
---
10. Boltune Headphones - Affordable ANC Headphones
We won't say that these headphones come at a cheap price tag, but still looking at all the value they offer, they are pretty affordable.
They run on the latest Bluetooth 5.0 and come with Hybrid Active noise cancelation technology.
The one thing that might bother a few of the users is the size of the earcups.
The Boltune headphones come with 45mm large-aperture drivers as compared to 40mm drives in most of the headphones, which makes the earcups a little bit larger than usual.
Specifications
CVC 6.0 noise-canceling microphone.
30 hours of battery range.
Soft protein ear cushions.
Deep and accurate bass.
Our In-Depth Review:
Well, for those who do not want to spend a fortune on a pair of wireless headphones, these Boltune headphones could be an excellent choice for them.
Starting with the design, we liked it. The body is built of both plastic and metal and feels premium. The headphones come in a combination of black and silver color. The protein cushion padding on the earcups is extremely soft and would cause no discomfort to you. There is enough room to cover your ears completely so that nothing touches the ears.
The one thing that we didn't like about the design of these headphones, and we are pretty sure some of the users would not like it too, is the size of the earcups.
We are used to using headphones that come with 40mm drivers, but the Boltune headphones come with 45mm drivers. This surely helps in covering the ears in a better way, but that also makes them look bulky. the headphones are not heavy at all, they just look bulky.
But if we look at the positive side, the 45mm drivers help in improving the overall sound experience by pumping in more bass. The sound quality is as good as any other headphones in this list with clear mids and highs, but with slightly better bass response.
Equipped with a powerful battery and quick charge technology, you can get 30 hours of battery range with just less than 1 hour of charge. You can get 2 hours of playback on a quick charge of 5 minutes.
The headphones have an edge of running on the latest Bluetooth 5.0 which offers better connection as compared to older versions.
For calling, the Boltune headphones come equipped with a CVC 6.0 noise-canceling microphone that cancels out most of the ambient noises ensuring clear voice calls.
Talking about the Active noise cancelation on these headphones, its surprising how well it works. The headphones can easily cancel airplane noises, so you can have an idea of how good the overall noise cancelation is.
Pros
Affordable price point.
Excellent noise cancelation.
Deep and Crisp bass.
Comfortable ear cushions.
Conclusion:
If you are tight on budget and still want to have the best audio and noise-canceling experience, these are the headphones you must be looking at. They look good, are quite comfortable, and provide an excellent overall sound experience.
---
Wireless Headphones - Buyers Guide
With so many models to choose from, finding the best wireless headphones for yourself can be a daunting task. When confusion inevitably sets in, how do you separate the good, the bad, and the awful?
First of all, you need to identify your needs, specifically the features you need in the headphones and the ones you can live without.
As an example, active noise cancellation is a critical feature in our increasingly loud and crowded world, while connectivity range is rarely an issue for most users.
Most importantly, you need to decide whether a wireless headset, whether Bluetooth or NFC (or both), is best for your needs. In some cases, you may find a wired solution works in your favor.
What's good about using Wireless Headphones?
There is a lot of good thing about wireless headphones. Here are a few of them:
There is no hassle of wires. You can freely walk or even run without worrying about the wires.
You don't have to carry your phone with you to listen to your music. You can enjoy music at up to 10 meters of distance.
You can control the music right from earcups.
Some of the headphones also have the option to attach a cord and use them as wired headphones.
You will look cool after wearing them (we can't promise that though).
What's bad about using wireless headphones?
There are a little bit pricier than wired headphones.
Prolonged use of Bluetooth could be harmful to health.
Needs to be recharged at intervals.
Can they be used as Wired headphones too?
Yes, the majority of the headphones, if not all, have the option to use them in wired mode.
In the package itself, you will get a cable that would offer a 3.5mm connectivity to your mobile phone or laptop or any device that has a 3.5mm jack.
With headphones that have ANC, you would be able to use them in wired mode with Bluetooth off and ANC on.
If you are strictly looking to get a pair of wireless headphones that also have wired connectivity, then we highly recommend you do your research before.
Over-Ear Wireless HeadphonesOn-Ear Wireless Headphones
Often introduced as "around-ear" or "full-size" headphones, these are by far the best type you will ever find.
Due to their large size in nature, they cover the ears very well bestowing the best sound quality to the listener's ears.
Over-ear is the perfect choice for users who would like to take them down to audio mixing purposes, as they create a complete isolation atmosphere around which is also in easy words said to be as passive Noise reduction technology.
There is practically no difference between the On-ear, and its competitor Over-ear, regardless of cushion cups on On-ear headphones just size on the outer part of the ear, unlike the over-ear which covers the entire ear.
Though this type of technology is better but still due to its uncovering nature, the user can still hear the surrounding sound which would bother any person around, plus they are also less noise-reductant as compared to the over-ear ones.
Open Back V/S Closed back
If you are buying them for entertainment, you can rarely justify open-backed headphones. They bleed noise, which is annoying for people besides you, and usually carry a heftier price tag for sound enhancement.
However, if you are going to use them for audio engineering, then you have to choose wisely. Most audio engineers prefer open-back headsets for their natural sound effects, which bring the sound right into the studio with you. The choice is not rocket science, it merely depends on your intended usage setting.
NFC v/s Bluetooth
NFC or as it breaks down into Near Field Communication is also a great yet less popular mode of wireless connection due to due of its limitations.
Both Bluetooth and NFC are used for creating a connection with the device over short distances.
Bluetooth where has the capability of sustaining a connection up to 33 feet, and NFC can just hold up to a maximum of 20 centimeters. It may seem like Bluetooth is finer than NFC but that is not the case. Both the high-end technologies have more or fewer advantages and disadvantages over each other and can work as per the needs of the user.
In a battery range battle, NFC surpasses Bluetooth and consumes less power however when NFC has to power a passive medium like an NFC tag it consumes a little more power. The devices when using NFC must stay close to each other which helps in avoiding interference which is a common problem in a crowded area where multiple devices are trying to communicate.
NFC, as compared to Bluetooth, happens to create faster connectivity in a fraction of a second whereas Bluetooth takes some time and may require a thorough read of the user manual before being able to operate it perfectly but again using NFC will force you to keep the devices close to each other.
There is no final shot on which is the best as both slay their feature on the respective terms, Moreover NFC is still a slightly underused technology and will still take some time to grow up when it comes to using them in headphones.
Noise Cancelation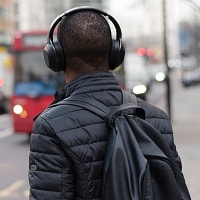 Noise cancelation is the technology that cancels out the surrounding noises before reaching your ears.
Well, they aren't actually canceled. Active noise cancelation is a technology where white noise is emitted to repel the surrounding noises and prevent them from reaching your ears.
Now not every brand integrates the same level of noise cancelation in their headphones. For example, the noise cancelation in Bose is said to be the best.
Noise cancelation has recently become one of the most favorite technology among users. Most people working out in a busy office prefer to wear a pair of noise-canceling headphones for better focus, or people who just want to listen to music without any distractions.
Some of the high-end premium headphones come with multiple levels of noise cancelation which you can switch depending on the surrounding noises.
Though noise cancelation is a great technology to use, it is quite expensive to have.
Decent noise-canceling headphones would cost you around $150, and the best ones would cost you around $300 or more.
How do Wired Headphones differ from Wireless Headphones:
Wired HeadphonesWireless Headphones
Wired headphones are no different as compared to the much-appreciated wireless ones, It's just that they use a chord-wired headset to create a connection with all devices including Mp3 Players, iPhones, iPods, Laptops, and gaming consoles as well.
Unlike wireless headphones, they don't require any batteries and hence users don't have to worry about a dying battery in the mid of the entertainment.
Most of the wireless headphones do come with a wired jack to plug in the chord and let the beats flow.
There has been intense talk in the market that they provide better sound quality as compared to a wireless one, though there is no such clearance on this we do believe that wired ones stand ahead when it comes to evaluating on the basis of sound quality, however wireless one still surprises when it comes to portability.
Wireless headphones are great for sports and outdoor uses as you don't have to keep yourself wired up and keep adjusting the headphones, so it doesn't pull off from the headphones jack.
They allow you free movement as compared to the wired one, and you don't have to stay close as possible to the music source.
Most of the headphones we tested use Bluetooth as the connectivity while NFC is also the connectivity option in some of the high-end headphones, but still, since Bluetooth is the most shared and reliable method of connectivity which comes packed in all of the devices be it is smartphones or music players, you can ignore the NFC part in it.
aptX Technology
aptX by Qualcomm was a major improvement in wireless audio technology.
Before aptX the sound quality transferred over the wireless medium was lossy. What aptX does is it squeezes the audio so that it can easily pass through the wireless medium.
With aptX, there is no loss in quality.
Most of the good headphones have now started integrating aptX technology into their wireless headphones.
Microphone for Calls
Almost every headphone these days come with a microphone which is usually good.
Some of them come with a dual microphone present on both the earcups and the quality of voice calls on these headphones is even better.
Some of the headphones even come with noise cancelation microphones.
The noise cancelation microphone works just as normal noise cancelation tech, it cancels out all the surrounding noises and passes a crystal clear voice to the recipient.
We must admit that a calling experience with a noise-canceling microphone is much better for the recipient.
Features to Look for:
Connectivity RangeComfortNoise isolation & LeakageSound QualityBassBattery rangePrice
A standard Bluetooth connectivity range is 10meters/33feet.
For some of the headphones, the connectivity range is higher, but that's very rare. So when choosing a headphone, see if it has atleast a connectivity range of 33 feet.
Comfort is the second most priority after the sound quality. We always say that if your headphones are not comfortable, they are useless.
And with comfortable headphones, we mean light-weighted headphones with cushion soft padding on both the headband and the earcups, and also not much heating near the ears.
Noise isolation means the prevention of external noises to enter when you are wearing the headphones.
With over-ear headphones, the noise isolation is usually nice since the earcups almost stick to the ear's surroundings. And the same can be said for Noise leakage.
Noise leakage as the word suggests refers to the leakage of music/sound from headphones to the surrounding. Over-ear headphones prevent noise leakage very well.
The very obvious one!
Before buying a pair of headphones, see what kind of technology they use for audio enhancement. Do they have aptX, do they have an app for audio customization, etc?
Check reviews of the real customer to know more about real audio performance.
Also, check the Bluetooth version of the headphones. Newer Bluetooth versions offer better transmission resulting in a better audio experience.
If any headphones are bass-heavy, you can see that in the specifications of those headphones.
Bass is a personal preference. Some like it moderate, and some like it to be too heavy.
Few of the headphones in the market come with bass boost mode or a rotatory dial that can be used to enhance the bass. We have tested similar headphones from Sennheiser and Sony, and the bass performance on these headphones was unreal.
Most of the latest wireless headphones offer an average battery range of 20 hours, which is insane.
But it is always good to check beforehand.
In our opinion, anything more than 15 hours is a good battery range. This way you can use the headphone for a full day without any battery issues.
Well if you are looking to get a pair of wireless headphones from a popular brand then keep atleast $100 aside.
And if you want Active noise cancelation too then add another $100 to it.
There are cheaper headphones available at around $50 which would work just fine, but those are either new brands or not-so-popular brands.
General Headphones FAQ
How does Noise Cancellation Works?
When you want to cut out the ambient sounds of engines, horns, and other audible nuisances, noise cancellation is king. Headphones featuring this tech carry a microphone on each earcup which picks up ambient noises, analyses them, and emits a counter frequency that prevents them from reaching your ears. While it drastically improves your listening experience, it also tends to eat away quickly at battery power. This is why headphones with this feature often need bigger batteries or suffer unusually short times between charges.
What Size is the Best?
We are often asked this question, and the answer is always the same. A 40mm driver suits nearly all head shapes and sizes the best. You should be very picky about size and weight when choosing headphones. Although weight can often be overlooked for good sound quality, poorly sized drivers will ruin the listening experience quickly. Moreover, headphones that are too large tend to put uncomfortable pressure on the head and ears during prolonged listening. While specialized applications and extenuating circumstances may vary, 40mm is a safe bet for the majority of the population.
Are Expensive Headphones worth Buying?
The short answer is a resounding yes. Few people ever regret the awe-inspiring experience of owning quality headphones. However, this recommendation is not without caveats. Depending on how well you can hear the minor differences in high-end headphones, you may wish to stay away from more expensive brands like Sony and Bose. They typically carry marginally better sound quality than lesser-known brands at a slightly lower price, but that is money wasted if you can't even tell the difference! Though the sound quality is, without a doubt, the most important metric when making a purchase, it is not the only one.
How to choose headphones that work with all my devices?
Thankfully, Bluetooth technology is as simple to use as it is powerful. Have a Bluetooth-enabled device? Yes? Then every device listed above, and any other Bluetooth wireless headphones for that matter, will be compatible. Whether it's smartphones, tablets, or even smart TVs, Bluetooth has you covered. Best of all, some of the headphones above even feature ultra-power-efficient NFC architecture, which is commonplace in nearly all smart devices made today. This gives you multiple options for wireless connectivity across all devices!
What is the difference between wireless and Bluetooth headphones?
For an average person wireless headphones by default means Bluetooth headphones. But technically wireless could mean any wireless connectivity. Some of the most popular wireless connectivity used in headphones are Bluetooth, NFC, and RF technology.
How to connect wireless headphones?
Turn on Bluetooth on your mobile phone, and also turn on the headphones. Scan for devices on your mobile phone and looks for the name of your headphones. Click on the name to connect. Note: While connecting to headphones, you might be prompted to enter a passcode. The default passcode for most of the headphones is 0000 or 1234.
Is Bose the best?
The biased answer would be, Yes! The technical answer would be we don't know. We have not tested all the headphones in the world, so we can say. But among all the headphones that we have reviewed, we genuinely think that Bose is the best.
Can I use them during a workout?
Yes! there shouldn't be any problem with using wireless headphones during a workout. They are the best option for workout since there is no hassle of wires.
Can I use them for gaming?
Gaming headphones usually have much detailed audio reproduction, which wouldn't be possible with normal wireless headphones. But it would still work quite well for games. If you are a casual gamer, by all means, go ahead and use normal wireless headphones. But if you are a professional gamer, please get dedicated gaming headphones.
Can I use them with TV?
If your TV has Bluetooth, you can surely use them with it. The connectivity process would be the same as usual.
Are there any Bluetooth 5.0 headphones?
Most of the Bluetooth headphones still run of v4.0 or v4.1. But slowly and gradually a lot of headphones have started integrating Bluetooth 5.0.
How many years do Wireless headphones last?
Wireless headphones last much longer than earbuds. Earbuds are sensitive, and they easily break. Headphones, on the other hand, are durable, also the technology in them never fails. Most of the time they are just replaced with better and latest technology.
Are wired headphones safer than wireless?
We won't say that the wireless headphones are very dangerous, but yes they do poses a little threat. As said before, prolonged use of Bluetooth could be harmful, which means wired headphones are safer than wireless headphones.
---
Conclusion:
So these were the top 10 headphones that we think are the best for 2022.
If you are looking to get a pair of headphones that has aptX technology but doesn't cost much, then Avantree headphones would be your best bet.
If you want ANC headphones, then Sony M3 and Bose QC 35 are one of the best options you have.
Both headphones are premium Alexa-enabled headphones that have both Bluetooth and NFC.
If you are looking for bass-heavy headphones, then Sony 950 BT would be a really good choice.
Those looking for the most durable headphones should go with V-Moda Crossfade.
---
If you need more info, have a look at these other great wireless headphone buying guides by Tom's Guide, CNET, and Wired.