Home Improvement
The 10 Best Surge Protectors for 2022 – Reviews & Buyer's Guide
Save your electronics from those power surges
Keeping your appliances well shielded from power fluctuations is important as oversupply and undersupply of power can have adverse effects.
You don't want an overload of power to fry your precious flat PC's adapter, rendering it a useless bunch of circuits.
It all happens in a matter of seconds when you least expect it.
A surge protector with the right rating will cut off the power supply to your appliances when it senses an overload. It will also stabilize the erratic power supply, which has been found to reduce the lifespan of electronics over time.
To help you choose a surge protector for your home or office, here are the reviews for the 10 best surge protectors in the market currently.
Best Surge Protectors – Quick Look
(Click on the name of any surge protector to read it's in-depth review)
---
1. Belkin Surge Protector – Best Overall Surge Protector
The Belkin eight-outlet surge protector can take the place of your regular extension block, allowing users to plug in several devices to a power source. More importantly, it shields the devices connected to it from the adverse effects of power surges.
The oversupply of power usually happens during storms and other times when least expected.
When more power is supplied to a device than it was designed to handle, it can easily be damaged. TVs, refrigerators, microwaves, and computers are some of the gadgets that are vulnerable to permanent damage exposed to a power surge.
Specifications
3550-joule energy rating.
Heavy-duty 12-foot power cord.
Eight outlets.
Sliding safety covers for outlets.
Our In-Depth Review:
Belkin has yet again come up with a surge protection strip that is highly functional and practical. The 3550-joule energy rating will keep your appliances safe from serious fluctuations in power caused by lightning as well as the occasional short circuit.
This is particularly important for sensitive office equipment like desktop computers and laser printers as well as domestic appliances like refrigerators, microwaves, home theaters, and TVs.
With the number of power outlets it offers, this surge suppressor is adaptable for office use. But in the modern home where everyone is charging a phone or some other gadget every now and then, this device is just as necessary. The beauty is that it can accommodate several gadgets without itself occupying too much space.
This is down to its slim design which allows it to be slipped beneath furniture or other areas where it won't be noticed. If you have a power source with multiple sockets arranged vertically, the angled plug will allow you to comfortably connect another plug below it.
The 12-foot power cord allows you to connect to a distant power source. It is a heavy-duty cord, which means it can withstand accidental damage. You could drop something weighty on it or squeeze it between two hard surfaces and it would withstand the pressure without breaking.
Houses with tiny toddlers crawling around will be a tad safer with this power strip as it comes with covers for all the power points. This feature also works to keep your living room's aesthetics intact by making your home theater and TV's power connections less conspicuous.
In an office setting, the sliding safety covers make for a clutter-free look that workers will appreciate. These covers are also a great way to keep dust out of the holes of the sockets. Essentially, you get a lot in terms of device protection and aesthetics for quite a modest investment.
Pros
It can accommodate several devices.
A long cord can connect to a distant power source.
Flat, space-saving design.
Quiet in operation.
Cons
Build quality not the best.
Safety housing comes off easily.
Conclusion:
This is one of the cheaper surge protectors out there and is a shrewd investment for the safety of your devices in both domestic and professional settings. It has a high enough power rating and enough power points to keep up to eight devices protected from sudden power spikes or surges. In addition to doing a decent job of managing power supply to different kinds of equipment, this Belkin power strip comes with a few extras.
---
2. Bestek Surge Protector – With 4 USB Ports
This power strip very well designed and built.
It will keep devices connected to it safe from an oversupply of power or those destructive fluctuations sometimes caused by storms.
A 600-joule surge rating means it will comfortably be able to protect most domestic appliances and office equipment.
With eight power connection outlets, including two AC sockets that are well spaced to accommodate larger heads, this Bestek model can accommodate numerous devices.
Specifications
Eight power outlets.
Four USB ports.
Six-foot power cord.
600-joule rating.
15-amp circuit breaker.
Our In-Depth Review:
The Bestek 8-outlet is very good at doing what it was designed to do as it is solidly constructed and comes loaded with a 15-amp circuit breaker. Whenever a power overload occurs, the safety switch automatically turns off so that devices connected to the power strip are kept from a damaging overload.
There are two AC power outlets that are widely spaced on the power strip that are designed to accommodate larger adapters.
In addition to this, it comes with four USB slots that will enable you to juice up your mobile devices without having to unplug other devices. The material from which its cover is built is fire retardant, adding to the safety of your appliances.
Even as your phones and tablets charge, they will be well protected from power fluctuations and oversupply of power. The USB slots have covers to keep dust from going into them.
It comes with a six-foot extension cord, which may not be the longest available, but offers a degree of flexibility in terms of where you can plug it in.
Safety and aesthetics are well taken care of in the design of this power strip. Rubber feet at its base keep it from sliding about on the floor. This ensures it remains where you place it if you want it to remain out of sight. It also keeps it from getting damaged by being moved around and trampled on by overly curious kids or pets.
If you want to better ensure the power strip will remain in one place, you can suspend it off a wall using the two keyhole slots also at its base. The surge protector's outer casing is built with fire preventative materials with a flame retardance rating of 1382°F.
While well designed and built, there are tiny niggles. One is how sensitive the power switch is; you can easily turn it off accidentally, leading to frustration when you come back to find the phone you plugged in never charged. The fact that the switch is a bit regressed into the body of the power strip may help prevent such accidental turn-ons and turn-offs.
Pros
Multiple USB slots for charging mobile devices.
The heavy-duty extension cord offers a faster supply of power.
Many power slots.
Rubber feet to keep the block in place.
Cons
The sensitive power switch can inadvertently be turned off or on.
An extension cord is rather short.
Conclusion:
Comparing its price and its build quality, along with the many features built into it, you can't help but conclude the Bestek 8-Outlet represents great value for money. Not only does it offer several devices protection from short circuits and power oversupply, but it also offers them fire protection. In addition to this owners will have a place to charge their mobile devices safely.
---
3. AmazonBasics Power Strip – With Protection Indicator Light
Here is a surge protector for you if you desire to keep your essential electronics safe and you're on a really tight budget. This device really focuses on the basics; it offers a pair of six-outlet power strips with 200-joule surge protection.
That rating means it's mostly limited to small appliances and mobile devices. But again, the sheer number of devices that can be connected to is a strong selling point.
The devices and appliances you connect to it will be safe from power spikes triggered by storms and other disruptions to normal supply.
Specifications
200-joule protection rating.
Two-foot extension cord.
Total 12 power outlets.
Protection indicator light.
Our In-Depth Review:
Ideal mostly for domestic use, this 200-joule-rated surge protector comes with a 15-amp circuit breaker to keep light appliances safe from storm or power outage-induced voltage spikes. Due to its relatively low rating, it is most useful for iron boxes, lamps, phone chargers, and other similarly low-consuming electronics.
It comes as a pair of power strips, each with six power outlets, allowing you to be able to connect several appliances at a go. This will serve you well on the day you host several guests, all with thirsty mobile devices. One of the six power slots in each strip can be used to connect a high power adapter, allowing you to plug in even more devices.
While it may limit the positioning of your appliances, the two-foot power cord on this protector does offer an advantage. Not having yards and yards of cable lying around is not only good for aesthetics, but it's also important for safety. Your toddlers and even your adult self can trip on a power cord unknowingly.
One of the great drawbacks of this unit is its low protection rating. Even the manufacturer states that this surge protector is geared towards lamps, phone chargers, and other small appliances. Along with the low protection, the rating is the low voltage cap (just 800V), which means it can only protect your devices for so long during a power surge. For this reason, they have put a protection indicator light and a power switch. When its off, it means your appliances are no longer protected and you need to turn off the power switch.
Another flaw in this surge protector is its physical design. The design allows it to save space but limits its functionality. The six power outlets on the strip are not well spaced enough for you to actually connect six devices. In reality, you can only connect four with conventional plug heads.
Flexibility in terms of where you can position the AmazonBasics surge protector is limited greatly by the length of its extension cord. Just two feet long, it forces you to place the power strip close to the power source. This means, for instance, you have to prop your ironing board close to the power socket to be able to iron comfortably.
Pros
It can protect many appliances.
Indicator light confirms if connected appliances are protected.
Great price point.
Takes up little floor space.
Cons
Extension cord quite short.
Not useful for heavy-duty use.
Conclusion:
If you're looking for a surge protector to which you can connect several light appliances, the AmazonBasics 6-Outlet Surge Protector Power Strip is a good buy, especially at its price. But note that even when connected to it, your appliances won't be completely protected. You have to keep it in a place where you can see the protection indicator light.
Before you invest in it, be fully aware of this power strip's limitations. If you can live with them, or they suit your purpose, you can go ahead as it won't cost much.
---
4. Bototek Surge Protector – With 10 Power Slots
This thoughtfully designed surge protector will keep up to ten electronic devices or appliances shielded from sudden power fluctuations.
In addition to ten appliances connected to the power outlets, there are four USB ports for juicing up mobile devices.
Intelligent circuitry and integrated circuit breaker supply power to these devices according to their needs while protecting them from damage caused by excessive voltage.
A fire-resistant outer shell and heat dissipation copper wire keep its internal components and the connected devices safe from damage by heat.
Specifications
10 power slots.
Four USB connection ports.
Six-foot extension cord.
125V and 13A power rating.
Flame retardant to 1382°F.
Our In-Depth Review:
The thoughtful design extends to the positioning of the power outlets; they are widely spaced to allow you to comfortably plug in larger plug heads. And the slim body will allow you to slide this surge protector beneath furniture to save space.
There's a lot to like with this power strip. First and foremost is the degree of protection it gives devices connected to it. A 2100-joule rating is enough for most home and office electronic equipment. The in-built overload protection works to keep power fluctuations from damaging anything connected to this surge protector. A double-break safety switch will trip automatically whenever it senses an oversupply of power.
The Bototek surge protector's design is also a lot to write home about. In theory, you can slot in up to ten devices on the available power outlets. However, many owners have seen this to be virtually impossible because of how close the outlets are together.
But you can still comfortably have 6-7 devices charging or operating from this power strip at a go. Besides this, you will have four surge-protected, fast-charging USB slots to connect and charge mobile devices.
Resistance to fire has been factored into the design of this power strip in a number of ways. Firstly there is the flame retardant outer shell. The same materials used to construct the shell have been used to make the outer covering of the heavy-duty cord.
To talk more about the cord, it offers faster transmission of electric current as it is made of pure copper. In terms of positioning of the appliances connected to the power strip, the six feet of the cord offers a number of possibilities.
The Bototek surge protector also comes with two keyhole slots at the back to allow it to be attached to a wall. The flat, relatively slim, the design offers yet another way to make this surge protector unobtrusive in the house. You can easily slide it beneath or between furniture. The lengthy six-foot cord will give you some degree of flexibility.
Pros
Connect up to ten appliances on power outlets.
Four USB slots for charging mobile devices.
The high degree of heat resistance.
Slots for wall mounting.
Relatively long power cord.
Cons
Two rows of four power outlets too close together.
Not possible to use all 10 outlets.
Power switch easily bumped on or off.
Conclusion:
This ten-slot power adapter undoubtedly offers solid value for money. In addition to great overload protection and intelligent power supply, you get a couple of smart USB ports that deliver high-speed charging for mobile devices. The slim design of the adapter and the holes at the back give you a number of options in terms of keeping the adapter out of sight.
---
5. Belkin Surge Protector – With Pivot Plugs
Here is a high-rating, heavy-duty power surge protector that is ideal for office setups as well as home use. With this power strip, you have a total of 12 power outlets protected for power surges of up to 4320 joules.
Its eight rotating power outlets allow plugs of different sizes to be connected alongside each other without one blocking the other. This goes a long way to justifying the heavy investment required for this device.
Another way in which this Belkin surge protector makes up for its relatively high asking price is its space-saving design. It comes with an eight-foot extension cord, which offers a bit of flexibility as to where it can be positioned in a room.
Specifications
4320-joule protection rating.
Max surge voltage: 6000v.
8-foot heavy-duty extension cord.
Twelve protected power outlets.
Our In-Depth Review:
This surge protector is ideal for office setups as it comes with several protected outlets. You have a row of four stationary outlets in the middle of the strip's body surrounded by two rows of four rotating outlets. The rotating outlets are a masterstroke as they address a design flaw that puts paid to the usefulness of the ports on other protectors with multiple slots. It allows you to use all the power slots while still keeping them close together, thus saving space.
Appliances with larger adapter heads can be plugged in comfortably without forcing you to disconnect other devices. Speaking of saving space, if you wish to save floor space, you can use the two slots at the back to hang it on a wall.
The eight-foot heavy-duty power cord gives you a bit of flexibility as to where you can place the protector as well as the connected appliances. The cord is really sturdy and does not tangle easily. A clip at the end of the power strip allows you to better manage the cord as well as the cables of connected devices.
The level of protection you get with this surge protector is significantly higher than that of your average domestic power strip. Besides the number of power slots it avails, the 4320-joule protection rating makes this Belkin power strip ideal for office applications.
It can protect devices from damage by power spikes of up to 6000v. This is adequate to keep computers, laptop chargers as well as peripherals like printers safe from storm-induced power overloads. At home, you can trust it to keep your home theater, flat-screen TV, fridge and microwave protected from power fluctuations.
While the rotating power slots appear an ingenious idea on the face of it, they may not work so well practically. The adapters plugged in at an angle may not have the firmest of connections. In fact, if the surge protector is placed on the floor, the angled adapters may easily come unplugged; a horrific prospect if it happens to be a PC power connection.
Pros
Rotating outlets allow full use of 12 outlets.
High protection rating (4320J).
A lot of surge protectors for its price.
Cable management feature.
Produces minimal noise.
Cons
A bit on the pricey side.
No USB slots.
Connections on rotating power slots not very firm.
Conclusion:
The Belkin power surge protector is a great solution for surge protection for multiple devices in a home or office setting. It allows you to plug in more devices than your most conventional power strips. It comes with a bunch of nifty add-ons that allow it to manage cables and consume less floor space. This surge protector may be a bit more costly than regular ones, but the added extras more than justify this.
---
6. Holsem Protector – With AWG Power Cord
This medium-priced power strip offers a high protection rating as well as a high number of slots for different kinds of adapters. You get six regularly spaced power outlets surrounded by six widely spaced ones when you invest in this device.
You also get three USB ports to power up your mobile devices. Made from fire retardant materials, this protector can withstand heat up to 1380°F.
With a 4,000-joule rating, this surge protector can keep your computer, peripheral equipment, home theater, TV, fridges and mobile devices safe from an oversupply of power. It will also keep its internal components safe from damage by fire as its outer shell is fire retardant.
Specifications
4,000-joule protection rating.
12 AC power outlets.
Three USB charging slots.
Six-foot 14AWG power cord.
Our In-Depth Review:
You can use the Holsem 12-outlet surge protector to keep your office equipment; computers, printers, etc. safe from drastic power fluctuations that can damage their internal components. With a 4,000-joule energy rating, you can be sure no thunderstorm will wreak havoc on your prized electronics.
The manufacturer has built-in overload protection into this device. In the event of an unexpected spike in energy supply, the double-break safety switch will trip and shut off power, shielding your appliances from potentially damaging voltage levels. Thanks to the two red and green LED lights next to the switch, you can tell if your devices are protected or not.
The solid build quality of this protector is evident as soon as you take it out of its box. It feels well put together and the layout of the power outlets will allow you to plug in bigger adapters without wasting some outlets.
The slim design of its body will allow you to slip it away out of sight. You can even mount it on a wall using the two keyhole slots at its bottom if you don't want it to be moved about on the floor.
More evidence of the trademark Holsem build quality is in the power strip's 14 AWG heavy-duty power cord. At six feet in length, it will give you a good deal of flexibility in the positioning of the electronics connected to it. The outer casing of this surge protector is made from flame-retardant materials that can resist up to 1380°F heat.
This lowers the chances of a power overload melting away its innards and exposing your precious appliances to damage. The quality is even seen in the protector's power switch, which is designed not to get stuck after repeated usage over time.
In addition to 12 AC power outlets, this protector offers three USB ports, two of which operate with Smart IC technology. This advanced engineering allows devices connected to it to be charged at speeds of up to 5V/3.1A. And you can be sure that as they charge, they will be safe from any unforeseen power fluctuations. This will prolong the life of your mobile gadgets as well as that of their chargers.
Pros
Numerous AC power outlets.
Well designed and built.
It comes with three USB charging points.
It can work in an office setting.
Great price point.
Cons
Power button quite sensitive.
Conclusion:
From every angle, the Holsem 12-outlet power strip looks like a well thought out and engineered product. You get protection against energy surges of up to 4,000 joules for up to twelve of your gadgets or appliances as well as three mobile devices plugged into its USB slots. Covered by a fire-retardant casing, this surge protector will stay intact when exposed to extremely high temperatures. You get all this and more at little more than the average surge protector prices.
---
7. Philips Surge Protector – Compact Design
Ideal for both home and office use, the Philips 6-outlet surge protector power tap allows you to plug in several devices from just a single wall socket.
These devices will be well protected from an overload of power by this protector's 900-joule power rating. Plugged into it, your TV, lamps, Bluetooth speakers and lamps will be safe from power spikes.
While it allows you to accommodate more appliances than your normal surge protection power strip, this protector tap decreases the amount of floor space you need. It is flat and can be plugged into a wall socket. At just 5 ½ by 3 ¾ inches, it will also occupy minimal space on your wall.
And you get all this for an astonishingly reasonable piece.
Specifications
900-joule protection rating.
Six AC power outlets.
LED Light to indicate protection.
Our In-Depth Review:
Those looking for a simple, inexpensive surge protector to help keep their smaller appliances and electronics safe from power fluctuations can consider investing in this power tap. 900-joule energy protection means such devices will be well protected from the harmful effects of thunderstorms on the power supply. When your devices are protected, you will be able to tell thanks to the clearly visible blue LED light at the top of the unit.
It offers six power outlets that are well enough spaced out to allow bigger adapters to be connected. But the unit itself is designed to consume very little space plugged into a wall. It is slim and has dimensions of only 5.5 x 3.75". When plugged in, it offers a great deal of better aesthetics than most other surge protectors.
Besides its sleek slim design, the absence of an extension cord makes it look better in any room it is mounted. The lack of a cord also augurs well for domestic safety as you have less chance of people tripping over cords.
The level of protection the Philips 6-outlet surge protector offers is more suited to your mobile device charges, lamps, and other such light electronics. Plugging in your flat-screen TV or home theater might be taking a chance. Using it for office equipment will be even more of a risk. Unless you're using it solely as a charging station for mobile devices.
Lack of heat protection leaves this power tap susceptible to overheating, and indeed a number of former owners have complained about their power taps melting. The unit itself is quite delicate and will easily break when mishandled.
Another complaint leveled at this protector is its tendency to get unplugged when you want to unplug any one of the adapters connected to it. This can be quite frustrating; you are essentially forced to use both hands to keep the unit in place while trying to ease out the desired plug.
Pros
It occupies little space.
Six power outlets.
A decent level of power protection.
Works well as a mobile device charging station.
Cons
Doesn't plug in firmly to wall sockets.
Not ideal for high-consuming appliances.
Conclusion:
This is an entry-level surge protector and it shows, both in its price and its build quality. Yes, it is a product of a renowned name in the electronics realm but it is made of light usage. It is not designed to protect higher-consuming devices and itself won't be able to withstand exposure to high voltages or high temperatures.
But if all you need is a charging station for mobile devices or a place to safely connect your Bluetooth speakers, this power tap is ideal. Though it may prove delicate, even if it gets damaged, you won't feel the pinch economically; you can easily order another one.
---
8. GE Surge Protector – With 10 Feet Cord
This surge protector is very reasonably priced and comes with a number of nifty features besides basic overload protection. But potential buyers will want to be sure it does the basics well, which it does.
It offers 800 joules protection to keep your lamps, Bluetooth speakers, TV screens and other electronics with a power rating of less than 1800W safe from the erratic power supply.
Buyers of this product will have the comfort of knowing they have purchased a General Electric protector.
GE has a solid reputation spanning decades in the electronics arena. Even in a budget protector like this, there are features that can distinguish it as a GE product like the innovative twist-lock safety seals in the power outlets.
Specifications
800-joule surge protection.
10-foot power cord.
Six power slots with safety seals.
Protection indicator LED light.
Our In-Depth Review:
There are many things to like about the design of this surge protector. First is the slim body which helps save floor space and preserve the aesthetics of the room it's placed in. You can get the power strip off the floor entirely by making use of the two keyholes at its back.
Another praiseworthy design quirk is the extra-long extension cord that connects it to the power source. This gives you greater flexibility as to where you can position the connected appliances in the room.
An even more innovative feature is the safety covers for each of the six slots. When not in use, you can twist the slot and its holes will be blocked from exposure to water, dust and any other element that can potentially damage it. This is also a safety feature that can potentially protect family members from harm from electric charges.
When it comes to keeping your devices shielded from the ravages of power fluctuations, this protector does a decent job. An in-built circuit breaker protects your precious electronics from an oversupply of power. And when power supply exceeds the protector's energy rating, it automatically shuts down, preventing the excess voltage from damaging your devices.
An indication of whether connected electronics are protected is provided at the top of the protector's body in the way of a blue LED light. When it's on you're safe, when it's not, you're in trouble
The very slim design that makes the GE 6-outlet power strip great for aesthetics compromises its practicality. You cannot plug in larger adapter heads along with other adapters as the slots are too close together. You will, therefore, end up wasting a slot or two. A number of previous owners of this power surge protector complain that it didn't hold up in power overloads induced by storms.
Pros
A long extension cord offers greater positional flexibility.
Safety covers keep dust and fluids out of outlets.
Very reasonably priced.
A product from a renowned brand.
Cons
The positioning of power slots too close.
Long cord gives the room a cluttered look.
Conclusion:
This is a budget surge protector, so don't expect it to do much more than its stated function. With an 800-joule rating, it will cover most domestic appliances including your TV, personal computer and of course, your mobile phone charger.
But you have to live with limitations like the fact that you may not be able to use all six power adapters simultaneously. However, on the whole, it's a great deal, you get adequate power surge protection without messing up your interior décor too much.
---
9. Tripp Surge Protector – With Circuit Breaker
This is a well-constructed power strip that is built for both domestic and office use. Its 1440 joules power surge rating means it can comfortably protect high-voltage appliances so you can confidently plug in your computer, TV, printer and home theater.
It can take in that many appliances- there are eight AC outlets embedded in its body. When it cannot guarantee the connected device's protection, an automatic shutoff ensures excessively high voltage is not transmitted to your electronics.
The spacing of power outlets on the body allows you to comfortably connect larger adapters without having to unplug other smaller ones.
A 12-foot heavy-duty power cord offers owners of this surge protector plenty of options in terms of where they can position their equipment.
Specifications
1440-joule surge protection rating.
12-foot AC power cord.
Meets UL 1449 safety standards.
Circuit-breaker keeps devices from overloads.
Our In-Depth Review:
How well does the Tripp Lite 8-Outlet protect appliances from power oversupply? And if it cannot withstand the voltage, it automatically cuts off the power supply to keep connected electronics safe from getting damaged.
This is one of the main features that have earned this product has confirmed to UL 1449 safety standards. Another is the built-in circuit breaker that protects your appliances from overloads. Yet another is the sliding covers that keep used power slots from coming into contact with unused ones.
An eight-foot power cord connects this power strip to the power source. This allows you to play around with where you want to position your appliances in the room. This works out better for aesthetics. So does the compact design of this unit, which allows you to easily slide it out of sight beneath the furniture. You can use the slots at the back to suspend it on a wall if you don't want it to be inadvertently moved around.
The sheer number of outlets means it will hold almost every appliance in your living room- TV, home theater and still be able to charge. Metallic housing ensures excessive heat or domestic accidents don't result in the loss of the equipment connected. This covering protects the unit from high temperatures as well as high impact.
A small downside with this power strip is how the power slots are arranged. While this is well suited to the more traditional adapters with cables going straight into the head. Newer ones with the cable jutting from the side of the head will not fit well side by side, forcing you to waste a slot or two.
The lengthy power cord can also be considered an eyesore and a potential hazard by those who are particular on aesthetics and safety.
Pros
A long power cord gives plenty of flexibility.
High power protection rating.
Solid build quality.
Numerous, well-spaced AC outlets.
Safety covers for unused outlets.
Cons
The long power cord can be a safety hazard.
Conclusion:
It may be a little on the costly side, but this power strip goes a long way to justifying its higher price tag. 1440 joules protection rating is ideal to keep the most common household electronics and computers safe from power surges. You get a well-designed product that takes up little space and offers great flexibility thanks to its lengthy cord.
Noise interaction is kept at a minimum by the isolated filter banks the power outlets are set in. These are just a few of a slew of great features packed into this surge protector to maximize its usability and functionality. The additional dollars you will spend will be well justified.
---
10. Echogear Surge Protector – On Wall Design
With this surge protector, you get up to 1080 joules protection against power fluctuations and overloads. You can plug in up to six devices or chargers into this compact power tap, which is ideal for domestic use.
Built with flame-retardant Metal Oxide Varistor, this protector will keep itself and connected adapters from damage by fire.
This is not your average surge protector, though its price may seem to suggest so. Its six power outlets can swivel up to 90°, eliminating the frustration of being unable to fully utilize all six outlets.
It is a real space saver and since it plugs in directly to the power socket, you won't have to deal with an unsightly cord.
Specifications
1080-joule surge protection rating, 500V power capping.
Six pivoting AC power slots.
Ceramic fireproof casing.
LED protection indicator light.
Our In-Depth Review:
Few surge protectors in the market can offer the space-saving capability of this Echogear model. It plugs straight into the wall socket, meaning it won't take up any floor space, and neither will it leave miles of extension cord lying on the floor. Its super-slim 1.5" frame makes it virtually inconspicuous on the wall. To keep it fastened to the wall even when you want to yank out an adapter, there is a screw provided by the manufacturer.
Despite its slender stature, this power tap can house as many as six power adapters. This is thanks to the clever swivel design of the power outlets, adapters can be plugged in without interfering with each other. You can, therefore, plug devices into all six outlets at the same time without them overlapping. You just need to tilt them to different angles. Overall, this protector has a premium look and feel despite its size.
Looking at its core function, the Echogear on-wall protector offers a good level of protection to small appliances, lamps, and mobile devices. For its class, this compact protector's 1080-joule energy protection rating is praiseworthy.
This means you can rely on it to keep your electronics safe from an erratic power supply for a long time. A voltage capping of 500V will keep small appliances and devices safe but may not be adequate for those with a higher voltage rating. You might want to pick a different option if you're in need of surge protection for your office equipment.
This protector comes with a number of nifty features to prolong its life and that of the devices connected to it. One is the MOV (Metal Oxide Varistor), which offers fireproofing for the protector, ensuring extreme voltage spikes caused by storms don't result in fire.
The EMI/RFI noise filtering feature filters power supply to ensure just the right amount, and the quality of power reaches your devices. A bright green LED light at the top of the protector shines when the devices connected to the power strip are protected. This seemingly insignificant feature could be the difference between your TV getting fried and it serving you for years.
Pros
The fireproof ceramic casing protects.
Swiveling power slots accommodate multiple adapters comfortably.
Clearly visible LED protection indicator light.
EMI/RFI filtering cancels noise adapters plugged in.
Cons
Voltage protection capping of 500v is quite low.
Lack of extension cord limits flexibility in usage.
Conclusion:
You get a good deal of protection at a very good price with this protector. It may mostly be limited to home use, but it offers great value for money in the number of devices it can protect. Innovative design features ensure all the six power outlets can be used without risk of the noise connected adapters generate shortening the lifespan of your electronics.
---
Surge Protectors – Buyers Guide
What is an electric surge?
An electric surge happens when there is suddenly a spike in your home's power supply. This abrupt increase in the voltage delivered to power sockets normally doesn't last long (can last just a few microseconds) but can damage appliances or shorten their lifespan. Causes of these voltage oversupplies vary but they commonly include:
Storms: It's not unusual for lightning strikes to tamper with normal power supply. When an aggressive thunderstorm strikes near power lines, it may trigger a huge spike in electrical pressure.
Power-thirsty electronics: High-voltage appliances can sometimes cause an interruption in the normal power supply when they are powered on. Machinery such as lifts and air-conditioners suck up a lot of power when they are turned on to get their internal mechanisms going.
Power outages: When the mains power supply is cut off, it may return at a higher than normal voltage.
Mains malfunctions: A fault can happen at any point between your home's power supply and the part of the electrical grid that brings power to your neighborhood. The transformer could develop a problem or tree branches could be blown by the wind and made to touch power lines.
What is a surge protector?
In a nutshell, it is a piece of equipment designed to protect electronics from the effects of an electric surge. In addition to shielding your appliances from an electricity overload, they work to clean up the power supply flowing into power plugs of devices.
They are designed to reduce 'noise' or unwanted disruption in the electrical signal from the mains as noise can shorten the lifespan of electronic devices over time. This ability to regulate power supply is what distinguishes a surge protector from a power strip, which simply connects many devices to a single power source.
How does a surge protector work?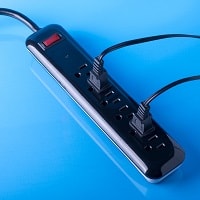 Surge protectors, as the name suggests, are designed to prevent electrical appliances from getting damaged by electrical surges. They do this by limiting the amount of electricity supplied to these appliances to their voltage rating.
This limiting is achieved by shorting the electric current flowing into the protector or blocking it. The main components that divert, or suppress excessive electrical charge in a surge protector are known as Metal Oxide Varistors or (MOVs).
They form a connection between the live or hot wire and the ground. Without getting into too much technical detail, when there is an oversupply of power, according to the MOV 's rating, the metal oxide in the MOV conducts the surplus current to the earth wire. As the excess current is channeled to the ground, normal power supply passes on to the attached electronic device.
In the opposite case, where there is an undersupply of power, the electrons in the MOV's semiconductors create a high level of resistance. When the power supply is normal, the varistors remain inactive.
Other surge suppressors work using gas discharge arrestors in place of MOVs. These work in the same way, only use an inert gas in place of the metal oxide.
Performance ratings to consider
How do you know one surge protector is better than the other? A simple search on online shopping outlets will give you a plethora of options- power strip surge protectors, plug-into-the-wall protectors, tower surge protectors, flat surge protectors, pivoting outlet surge protectors, etc. are there common measures you can use to rate one surge protector against the other? Sure, here are some factors you can consider to narrow down your search:
Number of devices
You need to know, or at least accurately estimate, the number of appliances or devices that will need to be plugged into the power surge protector. It is wise to imagine the worst-case scenario- what will be the maximum number of things that will need to be connected to the protector at any one time?
This will help you to avoid connecting more devices by daisy-chaining with another power strip.
Not only does this bring a very real possibility of damaging your surge protector, but it will also put paid to your chances of being compensated if the protector was still under warranty.
Adapter size (and shape)
In addition to the number of devices that will be connected, you need to consider the size and shape of their connectors. You need to take into account those adapters with large heads that may prevent you from plugging in another adapter next to it if the outlets on the surge protector are placed too close to each other.
Performance
When it comes to performance indicators, there are three you should bear in mind:
Energy protection rating
This is usually measured in Joules and gives an indication of the amount of excess energy the surge protector can absorb and divert to keep your appliances safe. The higher the number of joules indicated in the rating, the better it will be if you're using high voltage equipment. But bear in mind higher-rated protectors will usually cost more; it's, therefore, wise to try and get
Clamping voltage
This is the voltage at which the protector will be awakened and start absorbing excess voltage. With this parameter, less is more- look for one rated 400V or lower. You want a surge protector that will 'wake up' at the earliest sign of trouble, no? Though those with lower ratings will tend to cost more, they will prove to be a shrewd investment in the long term.
Another associated perimeter is the response time, that is, the time in nanoseconds it will take for the protector to respond when it detects a spike in voltage.
As you would guess, this figure is also better if it is lower. Every fraction of a nanosecond longer your protector takes to respond to power fluctuations, your precious equipment is exposed to potentially damaging high voltages. One nanosecond is good but if you can get a surge protector with slower response time, buy it.
UL 1449
Similar to ISO, Underwriters Laboratories UL1449 is a standard that measures how well a piece of equipment performs and how to fit it is for purpose. A number of criteria go into the measuring of this standard including design and performance. When you see a protector with UL1449 written somewhere on the packaging, it means that it performs well and is rated as safe for use.
Manufacturer's warranty
Though you may never get to use it, purchasing a product with a warranty always brings some level of comfort. Different brands will offer different levels of compensation to help you replace your most prized electronics if they should fall victim to a power surge while connected to the protector. Claiming your compensation can, however, prove a challenge should the unthinkable actually occur. You will need to prove that your device was connected to the protector among a host of other conditions, depending on what was written in your warranty's fine print.
Extras
Along with the performance rating, there are a few other factors that can differentiate one surge protector from the other. An LED light that indicates when devices connected to the protector are protected can be considered an essential rather than an extra. It could be the difference between losing your appliances and saving them. In addition to visual indicators, other protectors indicate protection status by alarms.
Surge protectors that offer EMI/RFI filtering are worth a second look as they can prolong the life of your electronics, especially if you connect several devices to a single protector. So are those which automatically turn off when devices connected to it are turned off, or those with remote control for the same purpose.
In this age of ubiquitous mobile devices, a surge protector that comes with USB slots is better than one which doesn't. Some even offer smart, fast-charging USB slots that are even more efficient than original phone chargers.
To keep its internal components protected from dust or fluids when not in use, some protectors come with sealable covers.
Some surge protectors come with battery backups, allowing them to function the way UPSs do.
Types of surge protectors
There are different ways you can categorize surge protectors. Below are some of the more common categories:
Primary
Secondary
Power strip
Wall tap
 These are heavy-duty protectors that filter mains power supply to keep your entire home safe from power surges. You usually don't see these protectors but they are your first defense against erratic power supply.
These are what commonly comes to mind when surge protectors are mentioned. They're smaller and less powerful than primary protectors and are the ones you will typically buy to protect your appliances.
These usually come with extension cords of varying lengths and appear as a block with a number of power outlets. Using a power strip surge protector you can protect several devices at a go.
Note that not all power strips are surge protectors. Some power strips simply offer a means of plugging in more than one device to a power source without offering any protection from power spikes. On the other hand, surge protection is the primary function of surge protectors. Having said that it is easy to confuse the two as some of them look very much alike. Indeed, sometimes surge protectors are referred to as power strips.
You can plug these directly into your wall socket as their power connector is on the body of the surge protector itself, not at the end of an extension cord. Unlike power strips, which can offer up to 12 outlets for your appliances and chargers, wall taps offer a limited number of power ports.
Which appliances need surge protection?
It can be argued that no device doesn't need surge protection. However, since surge protectors cost money and protecting all devices may not be possible, most folks focus on the particularly sensitive appliances. Expensive electronics such as refrigerators, flat-screen TVs and home theaters should be at the top of any such list of items requiring protection.
Desktop computers should also be prioritized for surge protection because of the sensitive components they house. The microprocessors that computers require to function are particularly susceptible to damage by drastic power fluctuations.
Using surge protectors safely
You may have bought a surge protector with a six-outlet capacity which, over time, has become inadequate as you have increased the number of electronics that require protection. Then you remember you have a power strip lying idle somewhere. Why not plug in the power strip to the surge protector so that your extra devices are also protected? Bad idea.
First of all, daisy-chaining power strips or surge protectors violates a number of safety regulations. Surge protectors are built with an energy capacity to which they can offer protection. If this capacity is exceeded and the protector is overloaded, two things can happen. 1) The devices connected to the added-on power strip get de-energized. 2) The overload may result in an electrical fire.
If there are not enough power outlets in a room, it's more prudent to call in an electrician to install an extra one or two.
Daisy-chaining is not the only thing to look out for if you want to safeguard your surge protector, your appliances and your home from any potential harm. The quality of the surge protector you're buying and its capacity to protect the appliances you would like it to should be foremost on your mind when you go shopping. Don't be tempted to just go for what is most pocket-friendly.
The UL 1449 certification we mentioned earlier is one of the indicators of quality to look out for. If not from the Underwriters Laboratory, look out for certification from Intertek ETL. These offer a degree of assurance that your surge protector has met standards of safety instituted by a professional body. Another quality indicator is the brand name- limit your selection to well-recognized brands.
When you have the surge protector plugged in, look out for telltale signs that it is not functioning as it's supposed to. The 'protected' light being off and the protector itself overheating are signs that all may not be well. Unplug some devices as the protector could be overworked.
Inspecting your surge protector from time to time is important as it may help you detect signs of wear in a good time. While inspecting your protector, check how it is connected to the power source. It is advisable to plug in a surge protector using a two-to-three prong adapter as it needs to be properly earthed.
Your surge protector needs to be well ventilated, so place it somewhere with good ventilation and desist from hiding it beneath carpets or anywhere it won't be able to dispel heat easily. Wet areas like the bathroom and kitchen are not ideal for plugging in surge protectors.
Surge protector FAQs
Should I plug my TV into a surge protector?
Anyone with a TV, especially if it's one of these expensive ones with curved screens and 4K resolution, has made a significant investment in their entertainment. By plugging the TV directly into the wall socket, you're exposing it to potential damage caused by power fluctuations. It will take no more than a couple of microseconds for a storm-induced power surge to wreak havoc on your prized telly. Plugging your TV into a surge protector can save it from such damage by absorbing the excess voltage and keeping power supply to your TV stable.
How do you test a power surge?
Surge protectors offer the easiest way of testing if there is, or has been a power surge. Simply plug in the protector with no devices attached. If you find that the circuit breaker has tripped, there has been a power surge. You can confirm this by plugging in a device to the surge protector. If it doesn't power on, it means the CB triggered a shut-off, indicating there had been a power surge.
How long do surge protectors last?
Every surge protector has a life span, which is usually between three and five years. However, those used in localities with frequent storms may have to be replaced earlier. Keep an eye on the LED light that indicates protection or conduct the above test from time to time to ensure your devices are not plugged into a dead protector.
What does the red light on the surge protector mean?
The red light indicates that the unit is working as it should in most cases, meaning the devices connected to it are protected. If it is off, it means the opposite, and steps need to be taken to protect your appliances.
Can surge protectors catch fire?
The short answer is yes. Circumstances under which this can happen include: The unit does not have an in-built circuit breaker. There has been an electrical overload. Daisy-chaining of power strips. The surge protector is not properly ventilated. The unit has been placed in a wet area. You can prevent your surge protector, the appliances connected to it, and your entire house from going up in flames by proactively unplugging the surge protector whenever it feels unnaturally hot.
Does a surge protector affect Wi-Fi?
In theory, it shouldn't, but there are owners of surge protectors who have experienced a dip in their connection speeds or interruptions in connectivity after plugging their modems to a surge protector. If you notice that your Wi-Fi is acting up after plugging it into the surge protector, the protector could be having a problem. It could be that it is overloaded or is malfunctioning for some reason.
How many watts can a surge protector handle?
Usually, this is indicated as one of the numbers on the rating of a surge protector. If it is not indicated you can do a simple calculation based on the capacity in amps of the inbuilt circuit breaker. Most will come with a 13-15A rating for 120V power output. If we multiply the amps by the voltage, we'll get a 1800W capacity for the 15A surge protector.
Can I plug in two surge protectors into one outlet?
Yes, if the outlet in question is a fused duplex socket. The other option is daisy-chaining surge protectors, which is not encouraged. If you must daisy-chain your surge protectors, let it below capacity appliances like lamps and phone chargers that you're plugging in. The primary protector will be overloaded and may overheat if you connect fridges, cookers and other power-hungry electronics to the secondary protectors.
How do you fix a power surge?
It's important to note that not all power surges can be controlled. Power surges can be put into two categories: internal and external power surges. External power surges are those caused by storms or erratic supply from the power company. These you can do virtually nothing about other than purchase a good quality surge protector, or ensure your electronics are off power at the slightest sign of a storm. It is good practice to unplug anything you're not using from the power outlet whenever you're not using it. Another way you can protect your electronics from an external power surge is to increase the number of power outlets in your home if you're overloading a few outlets. Internal power surges are caused by appliances connected to your home's power source. They occur when high-power devices that work using motors are powered on. At that initial startup point, they demand a lot of electricity to get the motors going. This is why you may notice your lights flickering when your fridge comes on. Surge protectors will go a long way to preventing these as well. Another way to deal with internal power surges is to see if two or more heavy-consuming appliances are using the same power circuit. If this is the case, have your electrician install dedicated circuits for each of them.
---
Related Buyer's Guide: