Home & Kitchen
The 10 Best Microwaves for 2022 – Reviews and Buyer's Guide
Microwaves makes it super easy to reheat and cook food.
Can you have a complete life without owning a microwave oven? Of course, you can.
Does your life hang on it? Not at all.
Your survival may not depend on that kitchen appliance (or on whichever one, for the protocol), but if you'd like to take advantage of the oh-so-sweet convenience of heating your foods quickly, and you have both the space and the budget for a microwave oven, then buying one is a good investment for your household.
It doesn't matter if you are a student, busy as a beaver, with such a tough lifestyle that the last thing you consider is cooking, or a scrupulous housewife, devoted to her housewifely routine in which cooking takes a big role, a microwave oven will be a loyal companion in the strive for warm food.
Because my grandma was right – some dishes' taste depends on them being warm.
And as a microwave oven is not only meant for heating your food, but for cooking some of it and we truly believe that it's a handy little helper in the kitchen.
Below, we have reviewed the 10 best microwaves as of 2022. We have included microwaves of different capacities so that everyone can choose a microwave depending on their kitchen size and needs.
Best Microwaves for 2022 – Quick Look
(Click on the name of any microwave to read its in-depth review)
---
1. Toshiba EM131A5C-BS- Best Overall Microwave
To dwell on the name of the industrial giant Toshiba is quite purposeless as the brand is well-known by the average user worldwide for its high Japanese quality and prolific technology portfolio.
We find Toshiba products in our workplaces, homes, including our kitchens.
So, it's worth considering in detail one of the microwaves – the Toshiba EM131A5C-BS, because there is much to be said.
The unit is an intelligent mind, answering the unsatisfying social need for cutting-edge technology even in the smallest of appliances. It has a smart sensor, a sleek exterior, a practical interior, an ECO mode because eco-friendliness today is a must, and many more.
Specifications
1.2 Cubic feet capacity.
Pre-programmed sensor menu.
Beautiful looking and made of stainless steel.
It comes with a large digital display.
Two defrost settings.
Our In-Depth Review:
Remember the time when all the electric appliances in our kitchens were white?
Well, not anymore, because sophistication is aimed not only when it comes to the technical features, but to the appearance as well. And Toshiba doesn't disappoint with the ultramodern unit with an elegant stainless steel exterior in black that gives a high-tech touch to every room.
The humble size of the Toshiba EM131A5C-BS makes it suitable both for domestic use and for those office eating rooms when you want to reheat your food for the lunch break. The neutral, yet oh-so-elegant, design with a big and comfortable door handle will fit any interior.
Moving on to the functions, we look on the right and see Toshiba's pre-programmed presets that are provided for those meals that an average user cooks most often – Frozen pizza, Frozen entrée, Potato, Rice, Veggie, Soften/Melt. And for every movie night, the producer has also thought about this convenient one-touch Popcorn button.
However, there's also a Custom cook function that allows you to set the heating process according to your preferences – choose from ten power levels up to 1100 Watts. You can program up to three favorite combinations in terms of time and power and your Toshiba microwave will remember them for you.
Also, two defrost settings are available – one custom that allows you to adjust freely, and one-pound auto defrost. Just press the button and your work is done. Let Toshiba's smart system do the rest. And when we say "smart", we mean it – for instance, the appliance automatically senses the amount of steam and adjusts it for the best result.
The buzzer of the Toshiba will notify you when you can take your food out, but if the sound disturbs you, just press the button "8" and the unit will go to silent mode.
The large digital display of the Toshiba EM131A5C-BS holds a clock and a timer, so you can set the time needed for your food, and you can track how much is left until the countdown is over. And if more cooking time is necessary when the microwave is working, just press the start button to add 30 seconds of cooking time.
Pros
Stylish design.
Pre-programmed presets.
Both one-touch convenience and customization.
Silent mode.
Conclusion:
The Toshiba EM131A5C-BS is a good solution both for reheating food and for cooking certain meals. The unit has a variety of functions that get your efforts down to a simple press of a button. The sleek styling is a complement to every kitchen and the pre-programmed presets provide various opportunities.
---
2. Panasonic NN-SN936B – With Inverter Technology
Panasonic is one more emblem in the technological industry. It's a name that doesn't need any introduction because it has proved itself over the years.
An epitome of Japanese high quality and innovation, Panasonic offers an enormous range of products from cameras and telephones to personal care devices, kitchen appliances, and many more.
One of Panasonic's products in their microwave and kitchen niche is the Panasonic Microwave Oven NN-SN936B – cutting-edge pride in the company's portfolio that makes it state that Microwaving has evolved.
Specifications
1250 Watts.
2.2 cubic feet capacity.
Inverter Technology with Turbo Defrost.
Smart Cooking Setting.
14 pre-programmed settings.
Keep Warm feature.
Our In-Depth Review:
We were tempted to let the design speak for itself but… we won't, because we can't help ourselves but mention the sleek design, matte and all in black, which will fit well every kitchen interior.
The display is unobtrusive and the various buttons on the control panel are in gray which corresponds to the muted matte black and prevents any inelegant contrast.
What may seem unordinary and inconvenient to some is the absence of a door handle. However, the easy opening is guaranteed by the small indention put in the left corner that allows the door to open smoothly and to wait for you to close it back with a simple push.
You know the feeling when you can hardly take the dish out of the microwave without burning your hands, but when you start eating, the food is cold?
Well, not anymore.
The unit comes with patented Inverter Technology, which makes it different from any traditional microwave oven, as it lets the NN-SN936B deliver an evenly cooked meal, from edges to center, every time.
In addition to it, except evenly cooked, the food can be served on your table in no time because the cooking time is reduced because of the generated steady stream of power at all temperature settings. Moreover, due to this technology, the food preserves its color, texture, and nutrients, so the results are not only fast, but also healthy.
For your convenience, the Panasonic NN-SN936B features 14 auto-cook options so you can cook with a push of a button your favorite meals – frozen entrees and vegetables, soup, oatmeal, pizza, pasta, potatoes, rice, and many more. And the Turbo Defrost system will thaw your food evenly.
What contributes to the intelligence of this microwave is the genius sensor. It is a built-in one and it sets power and time automatically based on different foods. Moreover, the unit also features a quick-minute timer, a delayed start, and a child safety lock.
It is not typical of most microwave ovens, but this one has it – a convenient keep-warm feature. So, if you prepare your rice, for example, but there's an emergency and you have to go, just push the Keep warm button and your microwave will keep it warm and fresh for you until you come back.
Pros
Modern design.
Turbo Defrost that thaws the food evenly.
14 presets.
Large Interiors.
Conclusion:
The smart Inverter Technology, the keep warm feature, and the genius sensor are just a few of the features of this microwave oven. To sum up, in a sentence, the Panasonic NN-SN936B has a sleek design, big capacity, high power of 1250 Watts that contributes to shorter cooking times, and many intelligent functions that guarantee efficiency for healthy and delicious results.
---
3. Sharp R-21LCFS – With Classic Dial Timer
Sharp is a name in its industry, well-established worldwide. The brand is devoted to uniqueness and innovation when it comes to technology and strives to contribute to the welfare of people all over the world.
The Sharp portfolio is really great but we will stop your attention to one of their microwave medium-duty microwave models.
The Sharp R-21LCFS is a commercial microwave and what we know about them is that they have more power than residential ovens. Therefore, they offer convenience by cooking your food faster.
However, although it is meant primarily for industrial and not for domestic use, we made some research and found out that the model is great for both, that's why in the next lines we will provide you with a summary of its features.
Specifications
1.3 cubic feet capacity.
Classic dial timer.
LED indicators.
Auto-cancel timer.
Made up of stainless steel.
Our In-Depth Review:
Let's face it – the efforts when it comes to the Sharp R-21LCFS are not concentrated on the design. There are no smooth lines, sleek elements, and modern curves.
The looks step back to make space for the actual focus of the model – sturdiness, and stability. We don't fail to observe the stainless steel solidity of this microwave which turns it into a real soldier in the kitchen.
Apart from the stainless steel exterior, what impresses us is the spacious interior of the Sharp R-21LCFS. Its 1.0 cu. ft. capacity easily accommodates a 13-1/2'' platter, prepackaged foods, single servings, or even a half-size pan.
Although the commercial (and therefore, the professional) purpose of the unit is emphasized, what strikes our attention is the simplicity in regard to operating with it.
There are no dozen buttons in a cockpit fashion. On the contrary, there is one straight-to-the-point and very standard dial timer that can be set as you want – from 10 seconds to 6 minutes.
On the right side except for the dial we see a time guide for one serving that suggests the perfect time for the most popular foods – bagels and muffins, hot dogs and pizzas, beverages and popcorn, etc. Below the dial, the microwave also features instructions that give directions when one uses the appliance for the first time.
You can set up to 6 minutes of heating time but if you decide that you need less when the process has started, you can safely open the microwave's door and the rest of the cooking time will be canceled in order to save energy and to prolong the magnetron's life.
It is true that you cannot adjust the power and you can't play with any cooking modes or customization functions because such are not featured. However, if you consider simplicity as the key and if you prefer solid construction over the various features, the R-21LCFS will suit you great.
Pros
Easy to clean stainless steel exterior.
Spacious interior.
Energy-saving auto-cancel function.
Very simple to use.
Cons
Expensive.
No presets or cooking modes.
No customization over anything except cycle time.
Conclusion:
With its solid stainless steel design, the R-21LCFS is built to last both in a domestic and a commercial environment. Great for defrosting, heating up, or cooking small food items, this medium-duty microwave oven is great for your kitchen, your office break room, or any other place that doesn't require volume cooking. So, if you are not into these complicated appliances with various functions that you can't deal with most of the time, this simple-to-use and durable unit is just for your needs.
---
4. Nostalgia RMO4RR – Retro-Designed Microwave
As the name of the Nostalgia brand prompts, its products are all about bringing back the retro vibe, and their Nostalgia RMO4RR microwave oven is no exception from their concept, inspired by early 19th century America.
We like to talk about cutting-edge technology a lot these days, but we like to digress from this in the name of products like the one we are about to get you acquainted with.
So, if you are a fan of the vintage, stay tuned, because we can offer you a 1957 Chevrolet Bel Air in the form of a microwave.
Specifications
Retro exterior.
0.9 cubic foot capacity.
12 presets.
Digital clock.
Simply rotate and push the dial.
Our In-Depth Review:
When it comes to the products of Nostalgia Electrics, the retro wave is at full speed. And the design here is anything but muted. If your aim is some appliance that will merge with the background, just skip to the next unit, because the RMO4RR is made to stand out.
The metallic retro red and the chrome lines bring back so many childhood memories of these buttery bowls of popcorn in front of the TV with the whole family. This eye-catching unit will stay good next to your retro slide toaster on the counter, or it will represent a vivid hint of the past in your ultramodern one-color kitchen.
However, don't let the vintage look deceive you, because it is just the surface. The manufacturer just has a unique retro way of looking toward the innovative future. The power of the RMO4RR is 800 Watts which makes it weak compared to these powerful 1300-Watt microwave ovens, but it is enough to quickly cook and reheat foods for your household.
The size of the microwave is compact so it won't take up lots of space on the counter. However, the inner cooking cavity can easily hold a plate of a standard size. And the rotating glass carousel will cook your food evenly.
You may suspect that you can only set the desired time, but guess twice. You can also set the food weight for better results. Also, the unit features 12 pre-programmed cooking settings that provide optimal heating of your favorite foods – beverages, rice, vegetables, potatoes, bread, frozen entree, pizza, dinner plate, popcorn, fish, chicken, and beef.
Moreover, among the features of the Nostalgia, you can find on the control panel are options for express cooking when you don't have much time in the kitchen, for adjusting the power level (100% to 20%), for delaying the start, for setting the clock, and also stop/cancel functions. The child safety mode is a reasonable addition.
Pros
Compact and eye-catching.
Easy to navigate with its simple turn-and-push program dial.
Express cooking.
Adjustable power level.
Cons
Less powerful than similar units.
Conclusion:
Bring back the past with the vibrant Nostalgia microwave. With these so many functions and the 12 presets your favorite foods are just a push of a button away. Rumor has it that users prefer it over these expensive high-end microwaves. Compact and cute, this retro-looking unit will be stand out on every counter. The Nostalgia RMO4RR is all about combing up-to-date technology with the best from the past. This red metallic and chrome design will turn the Nostalgia RMO4RR into the ruby of your kitchen.
---
5. Comfee EM720CPL-PMB – An Affordable Microwave
Comfee is a major brand of the Midea company – one of the leading producers of kitchen appliances in the world.
Its main strive is to benefit people's everyday life by meeting the market needs fast and manufacturing safe, high-quality, and high-performance products, guaranteeing eco-friendliness and sustainability.
One of the units in their products list is the Comfee EM720CPL-PMB. Convenient and practical, it will provide you with the most important functions a microwave oven should come at a reasonable price.
Specifications
700 Watts.
0.7 cubic foot capacity.
Express one-touch cooking.
Easy-to-read control panel.
Mute button.
Our In-Depth Review:
The Comfee EM720CPL-PMB is anything but pretentious. It doesn't stand out with anything – neither with a vintage design, nor with an ultramodern style, but this actually is its charm. The absolutely standard exterior is practical and will fit each and every kitchen.
As for the size, you may see that the unit is more than compact. It may be a disadvantage to some, but the small size makes it ideal for tiny apartment kitchens, crowded break rooms in your workplace, for your villas in the countryside, or for those narrow dormitory kitchens when you are in college.
Just set the time – from one to six minutes – by simply pressing the number on the panel. The unit features an LED digital display that has a clock function and also can display a kitchen timer. It conveniently tells you how much time is left until the heating is over.
The control panel under the display is easy to work with. It has defrosted, cook and reheat functions. Moreover, there are 6 pre-programmed cooking settings for the most popular microwave purposes – popcorn, potato, pizza, frozen vegetables, or reheat a beverage or dinner plate.
The glass turntable is 10 inches so it will fit any standard dish. The inconvenient wiping of these non-removable turntables is now in the past. You can easily take the turntable of your Comfee out and clean it properly when the heating process is over so you won't miss a single greasy spot this time.
Sleeping children are not common in the kitchen, but we know housewives that take their little babies with them so that they won't leave them unattended while cooking. A great feature in such cases is the mute function. You can turn the microwave beeping by pressing the sound on/off button on the control panel.
And as we know that safety comes first, to prevent your children from trying to use the microwave, you can use the lock function that is designed especially for child safety. Thus, the microwave will be kept away from the curious hands of your little beloved.
Pros
Standard design that will look good anywhere.
6 presets for your favorite foods.
11 power settings.
Sound on/off.
Conclusion:
If you don't want to break the bank, the Comfee EM720CPL-PMB is perfect for your household. It has a simple design that will stay good in any surroundings, and it may seem too compact to some, but it possesses the necessary functions to handle all your favorite foods with easy one-touch buttons. The EM720CPL-PMB has nothing to do with cutting-edge or exceptional. But for an affordable microwave oven, it has to offer more than you expect. So, if you are on a budget but you want great results, why don't give it a try?
---
6. Farberware Classic FMO11AHTBKB – With Child Safety Lock
Faberware Classic is a brand, founded in the USA back in the far 1900. For more than a century it has been striving to deliver high-quality kitchen equipment at affordable prices to the average user.
Its promise is captured in the keywords: durability, dependability, value, design, and innovation.
One of Faberware Classic's models is the FMO11AHTBKB – a microwave with its own unique character. It comes at a comparatively affordable price, taking into consideration its various features, and its sleek design fits well on every counter. So, it surely deserves our attention.
Specifications
1000 Watts.
1.1 cubic foot capacity.
11 power levels.
6 One-Touch cooking functions.
1-6 minutes Express Cooking quick start.
LED display with clock and kitchen timer.
Our In-Depth Review:
The Faberware Classic FMO11AHTBKB features a solid stainless steel exterior, a black front part, a convenient handle, easy to use control panel, and an LED display. The construction is sturdy and durable, and the design of the microwave is modern and universal.
The only problem that users tend to share is the fact that the door seems a bit difficult to open and close and the click sound may be too loud.
The FMO11AHTBKB is very standard in size, but it features an unexpectedly roomy interior with 1.1 cu. ft. the capacity that allows the 12.4-inch turntable to hold your large plates, as well as various baking dishes and large food savers to meet all of your cooking needs.
The unit's cooking power is 1000 Watts which makes it competitive on the market because there are less powerful microwave ovens for the same price out there. In addition, the 10 power levels that you can adjust on your own from 10% to 100% for the best cooking results.
For your convenience there are 6 presets on the control panel for your favorite foods – popcorn, potato, pizza, frozen vegetable, beverage, and dinner plate. The rest of the buttons are for adjusting the cooking time, the defrost time, as well as the weight of food that is to be defrosted.
In addition to these, there is also an LED display that shows the kitchen timer and the clock which you can activate from the control panel in order to keep track of your food. Another good feature is the Keypad Lock function that prevents accidental operation.
If you don't have time for customization, though, you can use the handy Quick Start – just set the preferred time from one to six minutes. In case you decide that the time is not enough when the heating process has already started, there is a convenient +30-Seconds control button.
This microwave oven offers the intelligent memory function to save your favorite cooking settings so you can prepare those perfect potatoes over and over again. All in all, your Faberware Classic microwave is ready to handle any cooking task with ease.
Pros
Stainless Steel exterior.
Spacious interior.
High power unit.
Memory function that remembers your preferred settings.
Cons
The door is hard to open and close.
Conclusion:
The FMO11AHTBKB is more affordable than many similar units with the same functions; that's why it deserves our attention. The Faberware Classic made a great job combining a stylish exterior and a roomy interior with various features. With its many functions, the Faberware Classic FMO11AHTBKB will quickly turn into one of the busiest appliances in your kitchen. You will get the best kitchen experience no matter if you want to defrost that frozen chicken, reheat your cold meal, or prepare delicious potatoes.
---
7. Daewoo KOR-7LREM – A Retro Jewel
Daewoo is a major brand, focused on improving the lives of the average customer through advanced technology, innovation, high quality, and excellence in design.
Although it strives for cutting-edge, the aesthetically pleasing retro wave didn't pass it by without having an impact.
The result of this impact is the retro series of Daewoo that brings back the once-upon-a-time memories we associate with our grandma's house or these lovely 1950s in which the bold checkerboard floors, the red furniture, and the mint glossy appliances were a thing back then.
One of the products featured in this series is the Daewoo KOR-7LREM – a compact retro microwave oven.
Specifications
0.7 cubic foot capacity.
5 power control levels.
4 Auto cook programs.
Child safety lock.
+30 seconds control button.
Our In-Depth Review:
With its 700 Watts, the Daewoo KOR-7LREM is not as powerful as some of the comparable units reviewed. However, not even one of them is as charming as this retro beauty. Whether you plan to design your kitchen area around the 50s or you want to add a vintage touch, the design will do its magic.
The microwave is not suitable for big kitchens and it may not suit the needs of every housewife, as it comes with a humble 0.7 cu. ft. capacity that will accommodate easily a standard plate but it surely won't handle these voluminous cooking tasks. However, it is compact which makes it great when space is limited.
Very simple to use, the KOR-7LREM features some buttons that can be counted on the fingers of one hand. There are 4 buttons on the modest control panel – Popcorn, Power Level to adjust it easily, choosing from the 5 power levels, Defrost – 2 way, time and weight, and Auto Cook.
Above the control panel we have the Power on Button, and under it – Stop/Clear and Start/+30 sec buttons, which make the experience with the microwave oven as simple as a simple push of a button.
Talking about Auto Cook, there are 4 Auto cook programs featured – Beverage, Soup, Baked Potato, Fresh Vegetable, and Frozen Vegetable. So, if you are into preparing pizza, pasta, and all your other favorite foods fast in your microwave, you may want to skip to the next model reviewed.
The unit is designed to be energy efficient due to the Zero standby "ECO" that switches the power off after 10 minutes. The child safety lock is another convenient addition that will keep the microwave away from curious little hands.
Pros
Cute retro look.
Compact.
4 pre-programmed settings.
Auto defrost function.
Cons
Too small for some.
Too few cooking programs.
Conclusion:
Compact and cute, the KOR-7LREM will stand out in any room. It doesn't take up lots of space, and you will love its features of it. The unit doesn't impress with innovation or a ton of functions, but there are a few that it has that will suffice your small kitchen needs. If you like to give food to your eyes as much as you love to provide food to your stomach, the Daewoo KOR-7LREM is perfect for satisfying your aesthetic hunger. Both pleasing to look at and to use, the unit will become your favorite kitchen appliance in a blink of an eye.
---
8. Panasonic NN-SN966S – Quality Worth Breaking the Bank
Moving back again to modern appliances again, we present one more of the Panasonic units – the NN-SN966S model, a step further in cutting-edge kitchen technology these days.
If you don't want to make any compromise with the quality and always strive for the best, this appliance is right for you.
This microwave's price is nothing but average for a product of this type but it really has to offer much in return. So, if you are willing to spend some more dollars on a microwave, keep reading because the unit's features are impressive.
Specifications
2.2 cubic foot capacity.
14 Auto cook setting.
Smart Cooking Settings with Genius Sensor.
Keep Warm Feature.
Our In-Depth Review:
No handles or harsh lines to disturb the flawless construction – the stainless steel design of the Panasonic NN-SN966S is so sleek and stylish, and the colors are so balanced that they somehow cohesively flow into each other, creating a real joy to the eye. Placed on any counter, the unit gives an elegant touch to every kitchen.
So high in power, the 1250-Watt microwave will be able to satisfy the cooking needs of a big household. With the 2.2 cubic foot capacity and the 16.5-inch glass turntable, the unit is able to accommodate anything from a small cup to a large dining plate or a glass baking dish with ease.
Your favorite meals are a push of a button away because the NN-SN966S features 14 auto-cook options for your convenience – Oatmeal, Omelet, Quinoa, Soup, Frozen Entrees, Frozen Pizza, potatoes, Fresh Vegetables, Frozen Vegetables, Rice, Pasta, and more.
The other buttons include Popcorn (because popcorn is life), Sensor Reheat and Sensor Cook, Power level – to adjust it easily, and Inverter Turbo Defrost – this is an advanced function that speeds up defrosting time and ensures an even thaw of your food.
The automatic Genius sensor will adjust for you the right time and power according to the type of food. Your only effort will be to look at the time to track how much time is left until your meal is ready to be served on the table.
And what you serve will be a masterpiece because of the innovative Patented Inverter Technology that generates a seamless stream of power so your food will be evenly cooked. Very hot edges but a center so cold? Not anymore.
No cold food anymore with the convenient Keep warm function – just push the button and your Panasonic microwave will keep its contents in a warm-temperature environment until you are ready to take your food out as warm and fresh as ever.
Pros
Sleek design.
High power.
14 pre-programmed settings.
Inverter Technology for cooking evenly.
Conclusion:
In a nutshell, the Panasonic NN-SN966S is a wonderful addition to every décor. It gives a touch of luxury to every environment and it will surely replace many of your kitchen appliances. The unit is as intelligent as you want it to be. Its various functions will handle all of your cooking tasks and the Advanced Inverter Technology will provide you with evenly cooked, consistent, and nutritious food in no time.
---
9. Magic Chef MCM1611ST – With Express Cooking
The name of the brand summarizes its mission well.
Magic Chef has been delivering dependable, easy-to-use kitchen appliances to its customers for almost a century now.
It is a leader in housewares equipment that has proved in time to produce high-quality units with great performance.
The Magic Chef's portfolio is so rich that you can supply a whole kitchen only with the brand's products: refrigerators, dishwashers, ovens, small appliances, and many more. However, we will focus your attention on one of their microwaves – the Magic Chef MCM1611ST model.
Specifications
1.6 cubic foot capacity.
6 Auto cook programs.
Express cooking function.
Our In-Depth Review:
The Magic Chef MCM1611ST comes in a stylish stainless steel design, specially engineered to add an up-to-date touch to the modern kitchen. The construction is sturdy and durable and it will serve you well for years to come. A nice addition is a handle that provides optimal convenience when opening and closing the appliance.
On the right side of the MCM1611ST, there is an easy-touch electronic control and a standard digital display that has a Clock and Kitchen Timer options so that you are aware of how much time is left until the heating process is over.
The other buttons include Time Cook which lets you adjust the heating time for your food if you don't take advantage of the available presets. There are also two Defrost buttons for the two different modes – one for Time Defrost and one for Weight Defrost.
You can customize your unit's performance further with the choice of 10 power levels depending on what kind of food you are cooking. When you adjust the power level, you have your different foods cooked or warmed quickly and evenly.
There are 6 Auto cook programs that ensure your comfort when preparing some of the most often cooked microwave foods – Popcorn, Potato, Pizza, Frozen Vegetable, Beverage, and Dinner Plate.
Below the Auto cook menu, we can find three more buttons – one for stopping or canceling the heating process, one for starting it or prolonging it for 30 seconds while the microwave is operating. The one in between is interesting because it offers a memory option – it remembers your customization for easier preparation of your favorite meal the next time you cook it.
Last but not least, here comes safety. The manufacturers have thought about this aspect when operating with the microwave, so they provided a built-in Child lock feature for cases when you leave your kids unattended. The Child Lock prevents any unauthorized use of the unit.
Pros
Stainless steel sturdy exterior.
Big capacity.
11 adjustable power levels.
Two-way defrost.
Conclusion:
The Magic Chef MCM1611ST will give a hand to each and every busy consumer to prepare their favorite meals quickly, simply, and effortlessly. It has so many features that simplify one's life, such as Auto cook programs, express cooking, two-way defrosting, etc. Due to its big capacity, the Magic Chef microwave will be able to accommodate even the largest plates. It is the ideal solution for your house, small apartment, dorm, or your break room in the office (or anywhere you can find an even surface and electricity, actually).
---
10. Emerson MWCG1584SB – With Grill Feature
Emerson is an American customer-focused brand and one of the oldest customer electronics distributors in the USA since 1948.
Its main aim is to remain one of the most respected names in the industry by providing high-quality and innovative products to the average user.
One of Emerson's units, specially tailored to meet the customers' kitchen needs, is the Emerson MWCG1584SB – a microwave oven that serves as such but also as something more. If we got your attention, proceed below to find out what distinguishes it from the standard units of its kind.
Specifications
1.5 cubic feet capacity.
11 power levels.
9 pre-programmed cooking functions.
Convection function.
Our In-Depth Review:
The Emerson MWCG1584SB comes in a neutral black color which makes it universal in whatever environment put. The stainless steel elements provide a nice touch of elegance. Indeed, it may not be one of the most compact microwave ovens on the market, but it compensates with so many features.
The 1000-Watt power and the 1.6 cubic foot capacity ensure quick and satisfying results when it comes to dealing with your microwave kitchen tasks. The glass turntable's size is big enough to accommodate even larger plates and baking dishes. Moreover, it is removable so you can take it out for easy cleanup.
The unit comes with a standard digital display that shows either the clock or the kitchen timer when you set it so you conveniently have a clear idea of how much time is left until your mouth-watering meal reaches the table.
The MWCG1584SB features 9 preset cooking functions for the most popular microwave foods – Popcorn, Potato, Beverage, Dinner Plate, Fresh Vegetable, Frozen Vegetable, Roast Chicken, Cake, and Pizza. In addition to this, there are 11 power levels: set the high power when you prepare your favorite meat meals, adjust the medium power for reheating your food or slow cooking, and fix low power levels when defrosting.
Bread, butter, and cheese, on the other hand, are meant for a very low level of power.
Moving on to the more intriguing features, the unit has a convection function that allows you to bake or roast your food by circulating hot air uniformly. That's how you get evenly cooked food with no edges too hot or over-cooked and no center too cold or completely uncooked.
And we are reaching the point where the MWCG1584SB becomes much different than the traditional microwave ovens. Drums please… the unit features a grill function that offers a healthy alternative to frying and which turns the microwave into a griller.
The grill rack is removable so when you don't use it, you can take it out in order to have more space for the plate you will put on the turntable. However, when you take advantage of the grill function, you get perfectly browned food in no time.
Pros
You won't pay an arm and a leg for these various functions.
Exclusive grill feature.
Adjustable power levels.
Convection feature for an evenly cooked meal.
Conclusion:
The Emerson MWCG1584SB has a spacious interior and it is more than ready to meet your microwave needs. The 9 presets simplify your work as much as a push of a button when preparing your favorite meals and the convection feature ensures that you always get an evenly cooked meal.
The 11 power levels give you enough freedom to adjust just the right according to the food you are handling. And let's not forget about the grill function which is a great addition if you love grille vegetables (and not only) as much as we do!
---
Microwaves – Buyer's Guide
Microwaves were first introduced first in the mid 19's with a turntable, but that was a very basic version as compared to what we have now.
Now a few decades later we have some really advanced microwaves in the market that are capable of cooking almost anything.
Meat, pizza, popcorn, you name it. A modern-day microwave can cook it all.
How do Microwaves work?
The technology on which a microwave works is pretty simple, not complicated at all.
Here is how a microwave works:
Magnetron, a device placed inside the microwave emits high-frequency radio waves.
These radio waves bounce inside the metal casing of the microwaves (the frame of all the microwaves is made of metal).
These are the frequencies that could be absorbed by the water, ultimately heating it.
The heat absorbed by the water ultimately helps in cooking the meal.
And since the heat is coming out of the water that is why sometimes you have to add extra water to the meals.
Countertop Microwaves
Countertop microwaves are the most popular type of microwaves in the market and that's because they are super easy to install with no setup involved.
Just place them on a surface, plug them into the socket and watch the magic happen.
So if you have enough space in your countertop to place a microwave then you are good to go with these microwaves.
But there are surely a few downsides to these types of microwaves, and one of those is the overall size of the microwave.
The countertop microwaves are pretty smaller in size which means the amount of food they can cook or reheat at a time would be pretty low.
Now the smaller size could be an advantage too if you do not have a lot of space on your countertop.
The Range Microwaves
These types of microwaves don't take up any extra space in your kitchen. They fall under the category of built-in microwaves.
They are installed in your cabinet near the cooking range or just above your stove.
Think of them as a window air conditioner. Installed in the window, take up no extra space, and does the job completely fine.
Considered beautiful and elegant, the over-the-range microwaves are usually installed in luxurious kitchens so as to give them a clean look.
As compared to other types, the most obvious advantage these types of microwaves have is the no taking up of countertops.
Additionally, they come with a vent that can suck out excess heat, fumes, and any odor. Just like an exhaust fan.
In a nutshell, if you have a small kitchen or you just want to give a clean and modern look to your kitchen then the range of microwaves would the best choice for you.
But do not forget that they come with some disadvantages too:
And the most obvious ones are the overall price and the installation.
The price for these types of microwaves is quite higher as compared to the countertop microwaves and they require a separate installation process to be carried out.
Types of Microwaves by Technology
Convection Microwaves
Convection microwaves are the most advanced type of microwaves in the market technology-wise.
It is capable of cooking any type of food, unlike other types that have few restrictions.
And that's because convection microwaves use a completely different cooking method.
While the usual microwaves create electromagnetic waves inside to heat the food, convection microwaves use high heat temperatures inside the oven that are circulated by a fan.
Due to this unique cooking style, this type is widely preferred by users all over America.
You can use it to cook all the complex stuff, for example, baking cookies, which is not possible with the other microwave ovens.
Adding icing on the cake, convection microwaves are available in all types including over-the-range, built-in, countertops.
Yes, they surely cost higher than the other types, but if you are looking for a microwave that can do anything then convection microwaves would be the best for you.
Conventional Microwaves
Conventional microwaves are the usual microwaves that we compared the convection microwaves to above.
They create electromagnetic waves inside to cook or reheat the food.
They work great and fast for normal microwaving, but are not suitable for baking, browning, etc.
Solo Microwaves
These are the most basic and cheapest microwaves on the market.
They are ideal for reheating and basic cooking, you should not expect them to do a lot of things or cook a lot of dishes.
FYI, you can not bake or grill on these types of microwaves, so if you are buying a microwave specifically for these purposes, then we would recommend you stop right here as the Solo microwaves cant do all these things.
A few of the things these microwaves can do are reheat food, creating Milk and Tea, creating rice, noodles, pasta, and also popcorn.
Grill Microwaves
As the name suggests, these types of microwaves come with the additional functionality of grilling.
They come with grilling accessories in the pack that could be easily connected to the microwave allowing you to grill meat or vegetables.
The accessories have heating coils that grill the food in no time.
Additionally, they are also able to perform everything that a solo microwave does.
Factors to consider when choosing
Your Kitchen
If you are one of those people who are concerned about the aesthetics of your kitchen then you should be very careful while finalizing a microwave.
You should be concerned about how it will look with the other things around it. It should look as if it was built especially for your kitchen.
If major appliances in your kitchen are of stainless steel then you should probably get a microwave that has an outer body made up of stainless steel.
Other than that you also need to see how much space you have for the microwave in the kitchen.
If you are looking for a countertop oven then you won't have to think a lot about the size. For the built-in microwaves, you need to double-check the dimensions of the microwave so that it just fits perfectly.
Do not go for just any microwave. Analyze the aesthetics of your kitchen first and then choose accordingly.
Size
Size matters, both for the amount of space available in the kitchen and the amount and type of food you want to cook with the microwave.
Before start looking for the models, you should look for the amount of space available in your kitchen.
For built-in microwaves, you have to strictly stick to some specific dimensions, with countertop models you can be a little flexible, but you still need to keep in mind the space you can allot to the microwave.
The next thing that you need to consider is the inner side of the microwave. Consider the recipes you want to cook in the microwave and the utensils it should fit in.
If you are going to make pizzas in there, then do you have in mind the size of the pan you are going to use?
So it would be best for you to keep in mind the size that would fit well for you both aesthetically and technically.
Wattage
The wattage of a microwave is directly promotional to its cooking time and quality.
The higher the wattage, the lower the cooking time and the food would be cooked more evenly.
Usually, microwaves come with atleast 1000 wattage. Anything less than that would cook food a little bit slowly, although they would be a little bit cheaper too.
Reliability
A reliable microwave means something that works seamlessly all the time, comes up with no functional issues, and lasts for years to come.
A microwave is said to have an average lifespan of around 9 years.
But since technology is evolving fast, you might replace your microwave with a new one in a few years, so it would be wise to focus on the technical features instead of the durability of the product.
Safety
There are a lot of myths related to microwaves such as the electromagnetic radiation that cooks or reheats the food that can cause us cancer or that microwaves can kill all the nutrients in the food.
And we call them myths because there is no scientific theory to back up these claims.
Our only advice related to safety would be to learn how to operate it properly, avoid overheating, always use gloves to pull out the food, and teach your kids to use it safely or just keep them completely away from it.
The over-the-range microwaves have such one issue of pulling the food out. Since its placed above the stove, reaching the top and pulling the hot items can be sometimes difficult for some users.
Ventilation
If you are going for any other type of microwave expect the over the range microwave then you need to place the standard hood in place above the stove.
The over-the-range microwaves, on the other hand, have a ventilation system built in, and since they are installed just above the stove, they completely replace the standard hood.
This is probably one of the reasons why over-the-range microwaves could be great for anyone.
If you already have a ventilation hood in place, you can replace it with an over-the-range microwave, and if you don't have any ventilation system in your kitchen then start with the over-the-range microwave.
Once installed, you would be able to feel the freshness in the air.
Microwave Cleaning Tips
You can use a lot of house essentials like baking soda, vinegar, dish soap, etc to get rid of all the mess inside the oven.
But do not use bleach, ever!
It is advised not to use bleach on any part of the microwave as it makes the plastic parts brittle.
With other materials, there are a lot of ways to clean your microwaves but our favorite one is this:
Take a cup of water and put some vinegar in it. You can also put lemon or orange slices into the water instead of vinegar.
Put the mixture inside the microwave and set it to a high temperature.
Now wait until this mixture boils and there is steam on the glass of the microwave
Open the lid, take the bowl out and wipe the inside of the microwave with a sponge.
How to clean greasy microwave doors
You can simply clean the doors of the microwave with a sponge damped in the water and dipped in little baking soda, then wipe it with a dry cloth or sponge.
If the outer side of the window is dirty too, wipe it with a mixture of half water and half vinegar.
Cleaning the exteriors
The exterior could be cleaned by any cleaner.
Just make sure you are applying the cleaner with a cloth and not directly spraying it on the microwave as the cleaner might go into some sensitive holes.
When done, rinse it with a dry cloth.
Microwave cooking technology and design
With time the technology in the microwave has evolved too.
And one of the major improvements is the launch of inverter technology in microwaves.
Normal microwaves vs Inverter microwaves
An inverter microwave works slightly differently than ordinary microwaves. It uses the power supply from an inverter instead of a transformer or a magnetic coil.
Instead of delivering high heat energy at once, the inverter pushes consistent low energy that helps in getting a perfectly cooked meal.
With microwaves that do not have inverter technology built-in automatically switch between 100 and 0 percent power when you set the temperature to 50%. However, the inverter microwaves keep a consistent 50% temperature all the time.
If you are the type of person that cooks everything in the oven, then inverter technology could come as handy when you are preparing a dish that demands slow cooking at a  consistent temperature.
How to test if something is microwave safe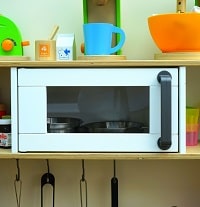 Although microwaves are great and user-friendly appliances, you still need to take some precautions while using them.
Most of the bowls and plates are microwave safe but not all of them. Always check whether the dish you are going to use is microwave-safe or not.
The wrong dish, when kept inside the microwave, can melt and cause some serious damage to the microwave. For example, foiled containers are strictly not recommended to be kept inside the microwave.
The easiest way to check if the dish is microwave-safe or not is to turn the dish and look back. Most of the manufacturers mention at the back of the dish is microwave friendly or not. If there is no such marking on your dish, follow the step below.
Set your microwave to its maximum heating level.
Take a cup of water and place it inside the microwave along with the dish you want to test. Do not pour the water into the dish or container.
If the dish you are testing is large, then keep the cup of water inside the dish.
Set the microwave timer to 1 minute.
Now check. If the dish or the container is hot or warm, it is not safe to microwaving. If the water is hot, but the dish or the container is cool then your dish is safe to be used with microwaves.
As said earlier, most of the dishes in the market are microwave safe. But still, if you have any doubts and you are not able to confirm this with the manufacturer then use the method we mentioned above to get a confirmation.
Most common uses of Microwaves
Reheating Food
Reheating the leftovers would have been so tough if the microwaves haven't been around.
Thanks to microwaves you can now reheat your cold food in just a minute.
The reheating in microwaves does not cause any loss of nutrients. Also, you can reheat almost any type of food in the microwave.
Cooking
While some people prefer using stoves for cooking over microwaves, microwaves could be used to cook a lot of recipes.
In fact, convection microwaves can cook almost anything from grilled meat to a pizza.
And that's just two of the things that a convection microwave can do. There is a whole new world of cooking with convection microwaves.
Apart from convection microwaves, other microwaves can also perform a lot of cooking tasks.
Rice, noodles, pasta, and popcorn are a few of the things that can be cooked in any type of microwave.
Baking
You would have definitely seen people baking cakes and brownies in movies.
Well, in reality too its that easy.
But remember that the baking could only be done on convection microwaves, solo and grill microwaves are not capable of doing it.
Defrosting
Microwave defrosting is the act of softening up frozen food at lower temperatures.
Every microwave has a separate button for turning on the defrosting mode.
Once the mode is turned on, the microwave sets the temperature at around 30-4o% of the maximum temperature. Such moderate heat waves defrost the food till the center without cooking the external layer.
Effects on the nutrients
It would not be right to say that the radiation inside the microwave destroy all the nutrients in food, and it also would not be right to say that those radiations do not affect the food at all.
Like any way of cooking or heating food, the microwave can affect the nutrients of the food to some extent, and it completely depends on how you cook something,
Try these tips to decrease the contamination as much as possible.
Stir frequently: Stir your food quite often while microwaving, so that everything is evenly heated and nothing is overheated.
Add less water: The less water you use, the fewer nutrients with leach out. Especially in the case of vegetables, use only a few spoonfuls of water.
Use microwave-safe dishes: Always use microwave-safe dishes, even if you are just reheating food for 1 minute. Glass dishes are usually a great option.
Microwaves Oven Features
Auto cooking and defrosting
Power
Inverter technology
Child Lock
Preset programs
Sensor cooking
Turntables
With some microwaves, all you have to do is enter the weight of the food, and also its type, and the machine will automatically calculate the time needed to cook the food or defrost it depending on what you are trying to achieve.
Higher the wattage more the power consumption, but also the higher the quality of the food cooked and that would also be time-efficient.
If you are a small family, and you cook for only 3-4 people at once then a microwave with less power consumption would suffice.
However, if you are a large family and you prepare food in bulk then go for a comparatively powerful machine.
Microwaves with inverter technology are better in terms of functionalities as compared to normal microwaves.
Since the power is pulled in from the inverter instead of the direct transformer, the microwaves consistently provide moderate heating so that the food is evenly cooked.
As said earlier, if you are a heavy microwave user, you must go for a microwave with inverter technology.
Having and setting up a child lock is a must if you have kids at home.
It is a simple password lock that would prevent anyone to operate the microwave without the passcode.
Most microwaves come with some keys programmed with automatic settings for specific food recipes.
Depending upon the type of food, the preset settings automatically choose the desired power level and time.
The sensor cooking microwaves automatically set the desired time and power level by sensing the number of moisture generated by the food.
If you have the lid on the container while the sensor cooking is on, the sensor would detect the moisture generated after the container is filled with steam.
The turntable serves the purpose of rotating the food uniformly so that the food is heated evenly with no hot and cold spots created.
FAQs related to microwaves
What can I cook with microwaves
This actually depends on the type of microwave you own. If you own a solo microwave, you can not do a lot with it except for some basic cooking and reheating. With the grill microwave, you can grill items like meat and vegetables apart from basic cooking. Convection is the most expensive, but the best type of microwave in the market. You can basically cook anything and everything with these microwaves.
Is it safe to cook food in microwaves
It is completely safe to cook food in the microwave if you are taking the recommended precautions. Unless overcooked, you will also not lose any of the nutrients in the food.
Where do you put food in the microwave
The food is placed in a dish or a container and then that content is placed on the carousel inside the microwave.
Can you cook raw meat in microwave
We do not recommend cooking raw meat in the microwave, until and unless its an inverter microwave. Every other microwave cooks the food unevenly leaving some hot and cold areas. And since the inverter microwave slowly cooks the food evenly, it could cook the meat properly, although the process would be a little bit longer.
Should you cover your food in microwave
It is not necessary to cover your food in the microwave but doing that will make the overall cooking better since the heat inside the microwave uses the water molecules for cooking.
Can you put things on top of microwave
You can definitely use the top of the microwave as the shelf. But make sure you are not putting anything too heavy on top of it. Putting something too heavy on the top of the microwave can put pressure on the door and that might cause some bent to it. Some of the things that should not be a problem stacking up on top would be a leaf of bread or plastic storage containers.
Does microwave destroy vitamins in the food
Too much heating or overcooking in any way not let alone microwave can affect the vitamins and nutrients of the food. So until and unless you are overheating your food in the microwave, you are good.
Are microwaves safe to stand in front of
Microwaves emit the same radiations that are emitted the mobile phones. But those rays are less likely to affect you since they are produced inside closed containers. Radiations leaks through the glass doors are below standard levels as suggested by the industry standards.
Can onions be microwaved
Yes, to do that peel off onion completely but leave the root intact. Place the onion in a container that is microwave safe, cover it with a lid and put it in the microwave. Set the temperature of the microwave to the maximum and set the timer to around 6-8 minutes. Your onion would be perfectly microwaved.
Conclusion:
A microwave is one of the most time-saving accessories you can have in your kitchen.
The most common use of a microwave is reheating.
Here is a short summary of our buyer's guide:
The best microwave on our list is Toshiba EM131A5C-BS
The largest microwave on our list is Panasonic NN-SN936B
The most compact microwave on our list is Comfee' EM720CPL-PMB
If you need more info, have a look at these other great Microwave buying guides by New York Magazine, The Spruce Eats, and Toms Guide.