Tools
The 10 Best Electric Chainsaws for 2022 – Reviews & Buyer's Guide
Cutting, Limbing, bucking made easier.
Are you a seasoned lumberjack looking for a compact, electric-powered backup to your heavy-duty gasoline power saw?
Or are you a novice woodsman looking for a handy, easy-to-use tool for a start? What you need is a light, 10 to 12-inch chainsaw that handles smaller tasks efficiently.
Novices will need a chainsaw with a number of safety features that will help them gain confidence.
Pros will need a chainsaw with long battery life to get them through as many tasks as possible on a single charge. They will require a powerful saw that will quickly slice through limbs and trunks, and do so consistently without struggling.
We have gone through some of the best electric chainsaws in the market and have listed the in-depth reviews for the top 10 of them over here. The list comprises of different types of electric chainsaws that run on Direct current or on the rechargeable battery.
Best Electric Chainsaws for 2022 – Quick Look
(Click on the name of any chainsaw to read its in-depth review)
---
1. Dewalt DCCS620B – Best Overall Electric Chainsaw
The DeWalt DCCS620B is a chainsaw that works very well for light cutting.
If you need to hack off small branches and need a tool that you can easily work with one hand, this is the gadget for you.
The chainsaw can get you through a lot of cutting and is quite noiseless in operation. You also won't have to deal with the sometimes-irritating smell of fuel.
You will be able to hack off small branches with minimal effort as the chain is very sharp right out the box. And you will do so safely as this chainsaw comes with a number of features to keep users safe.
Specifications
Runs on a 20V Lithium-Ion Battery.
8.8 pounds overall in weight.
12 inch Bar Size.
Our In-Depth Review:
It is one of the best compact battery-powered chainsaws in the market, made by a firm with a solid reputation for high-quality power tools. DeWalt has been in the business for almost a century has made a name as a market leader and innovator. Their 12-inch cordless chainsaw is aimed at professional lumberjacks who need a reliable backup saw or homeowners looking to prune their trees and bushes.
Operating this compact chainsaw model is easy because of its size. You will be able to sling it around with one hand when cutting through foliage fairly comfortably. Its 12-inch bar makes it fit into the compact category, but it is one of the bigger compacts in the market. You will, therefore, be able to get through some tasks you may think a heavier-duty chainsaw for with the DCCS620B.
It will go through even very fibrous branches quite easily as its chain comes pre-sharpened. Most owners only start to sharpen the chain after many months of usage. You won't need to bother with earplugs as it is much less noisy than conventional gasoline-powered models.
Another way this chainsaw improves the sawing experience is by reducing the kickback it produces during operation. The inbuilt chain lock works to keep kickback at a minimum even when you're working your way through thick branches. To make you even safer when operating this saw, the DCCS620B comes with handguards.
The battery retention of this chainsaw is another of its key selling points. Its 5mAh battery can comfortably get you through many hours of chopping on a single charge. And you don't need to charge it all day to get it up to full charge.
There are very few reasons not to add this chainsaw to your home tool collection. One of those is that it might not work for you if you want to do heavy-duty felling. Another issue lumberjacks will raise is that it doesn't have sightlines to indicate where the tree will fall when it's chopped through.
Pros
Light, compact.
Easy to use single-handed.
Quiet in operation.
Long-lasting battery.
Cons
It requires a lot of oil.
No sightlines.
Conclusion:
The DCCS620B is handy and very efficient; the ideal companion for light outdoor cutting. Noiseless in operation and long on battery life, it has also proven itself a great backup for pros. Compared to all the pros it has going for it, this compact handsaw's few shortcomings can justifiably be overlooked. It is great value for money considering it also comes with a guarantee.
---
2. Black + Decker LCS1020 – With Low Kickback
This chainsaw is ideal for you if you're looking for a non-gas compact tool that can handle light tasks over a long period of time on a single charge.
Black & Decker have a solid reputation for high-quality household appliances and they have acquitted themselves well with this beauty.
The 10-inch bar means you can't rely on it for heavy-duty usage. But it's a handy tool to have around the house to keep your yard tidy and cut up some firewood.
It is easy to operate- at just 7.2 pounds, you can work it with one hand without hassle. Chainsaw newbies will find this model simple to use without prior experience.
There are a number of safety features that will keep them protected from kickback and other discomforts as they operate this device.
A 20V Lithium-ion battery will keep the saw humming through a good number of jobs before you need to juice it up again.
Specifications
10-inch bar.
Powered by 20V Lithium-ion battery.
7.2 pounds overall in weight.
Low kickback.
Our In-Depth Review:
Even those who don't consider themselves lumberjacks in any sense of the word will find this chainsaw model easy to use. Simply charge the battery up, turn on the saw and put it to whatever it is you want to cut. The device comes with a number of safety features, which make it even more beginner-friendly.
For one, it produces minimal kickback even when put to tougher assignments. And there is a safety guard between the blade and the front handle for added protection.
In addition to the safety features, this model comes with a tool-free tensioning system that allows you to make quick adjustments to the chain easily. An area Black & Decker appears to have overlooked in their bid to make this compact chainsaw user-friendly is the oiling system.
A number of users have complained about having to oil the bar and chain manually. And this can be a real hassle given how thirsty battery-powered chainsaws can be.
For a compact power saw, the Black & Decker Cordless Chainsaw handles small tasks really well. It makes quick work of clearing away tree limbs and fallen trees. But put it to even a seven-inch diameter tree and it will struggle to go through.
It might get the job done eventually, but before it has gone through a good amount of your battery life. There is the option of replacing this saw's chain with stronger replacement chains but you will probably be better off buying one of the larger, preferably gas-powered models for bigger jobs.
Yes, the B&D Cordless is an efficient cutter, but it goes through plenty of chainsaw bar oil in the process. The battery 20V will keep the blade humming through a number of jobs, but 20 minutes of intensive usage is enough to drain it. To use it as a professional you may need to charge it several times or upgrade to the 40V model.
Pros
Compact but sturdy.
Very efficient and smooth for small jobs.
Easy to use.
A number of safety features.
Cons
Consumes plenty of oil.
The battery doesn't last very long.
No automatic oiler.
Conclusion:
This is a compact chainsaw designed for lighter tasks so don't expect it to saw through thick logs without a struggle. Since it costs a pretty penny, be sure that you need one before you invest in it. However, for small limb cutting and pruning jobs around the house, you will be hard-pressed to find a more efficient tool. Professional contractors might also want to keep one around for smaller gigs or as a backup saw.
---
3. Greenworks Chainsaw – With Automatic Oiler
This is the chainsaw for those looking for an effective, high-performance tool to do light cutting over a long period of time.
It is a godsend for fans of compact chainsaws craving for more action than the regular 20V chainsaws can give. But this model offers more than just improved battery life.
To improve the lifespan and performance of this saw, Greenworks have fitted it with an automatic oiler, which lubricates the bar and chain when required. Its translucent oil tank will help you to easily monitor oil levels to ensure optimal functionality.
There are also a number of other features to ease use and increase safety during operation. This includes the wrap-around handle that allows you to cut in multiple angles as well as a thick chain to reduce the amount of kickback produced when hacking at thicker objects.
Specifications
12-inch Oregon bar and chain.
3/8-inch chain pitch.
40V 2.0Ah Lithium-ion battery.
Automatic oiler.
Tool-free chain tension adjuster.
Our In-Depth Review:
The key selling point of this chainsaw is the longer battery life it offers users. Get the G-MAX 12-inch fully charged and its maker promises it will give you 75 cuts.
The high-quality 12-inch chain and bar on this Greenworks chainsaw make it ideal for handing most cutting tasks around your yard; from hacking off limbs to chopping down dead trees. Most owners, especially arborists and seasoned lumberjacks are pleasantly surprised at the amount of punch this little guy has. It will work through 10-inch diameter trunks with minimal fuss.
The 40V battery will allow you to get more done on a single charge and the wrap-around handle will see that you do it with minimal discomfort. The ample power supplied by the battery, and the weight of the device, ensure that you work with minimal kickback. And minimal engine noise. Getting the battery in place is far from rocket science; all you need is to slide it into place at the back of the saw until you hear a reassuring click.
There are a number of clever add-ons on this beauty that make it a more suitable companion for backyard tidying up than others in the cordless category. One of these is the self-oiling mechanism that works to prolong the life of the chainsaw. As you work, the saw automatically releases oil to the chain and bar to keep operations well lubricated, saving the internal components from frictional damage over time.
The translucent window on the oil tank allows you to monitor oil levels better, reducing the risk of you running on empty. Chances of the large reservoir actually going dry on the job are low, though.
Another of the extra features is the 'bucking teeth' on the saw's body, next to the bar. In theory, they were intended to act as a sort of fulcrum when dealing with larger objects. However, these plastic teeth have proven more cosmetic than practically useful when putting to the test. Much more practical use is the on-body tension adjuster that works without the need for another tool.
Besides the power provided by the battery reducing kickback, the G-MAX 12" has no anti-kickback mechanism per se. The plastic guard in front of the handle is as good as it gets.
Pros
Efficient operation in cutting tree limbs and small trunks.
Quiet operation.
Easy for even beginners to use.
The extended battery life offers up to75 cuts on a single charge.
Cons
No anti-kickback feature.
Conclusion:
The Greenworks 12-inch 40V Cordless Chainsaw is quite the bargain. Its battery offers plenty of cutting power and will see you work for longer than the average compact chainsaw. It will do more than most compacts for longer.
---
4. Worx WG304.1 – With Chain Brake
This compact chainsaw is built with high performance in mind. It's armed with a 15.0 Amp motor and an 18-inch bar that will see it grind through thicker branches with little struggle.
Powerful as this chainsaw is, it is easy to use. For starters, it comes fully assembled right out of the box. To ease lubrication, it comes with an automatic oiler and a window oil level indicator to ease monitoring oil levels.
While other compact chain saws have a tool-free tension adjustment mechanism, the WORX WG304.1 has an innovative auto tensioning system.
To keep users safe during operation, this model is equipped with a chain brake to protect from kickback. The lightweight, ergonomic design of the WORX WG304.1 makes it that much safer to operate.
Specifications
18-inch bar and chain.
15-Amp motor.
200-milliliter oil tank.
Built-in chain brake.
Our In-Depth Review:
It is a common practice among arborists and other heavy chainsaw users to use compact chainsaws to clear limbs and do other small tasks. Cutting thick tree trunks is usually left to heavier-duty gasoline-powered models. The WORX WG304.1 bucks this trend by combining the clean, efficient operation of electric saws with the power of gas models. It owes the increased power to a 15-Amp motor that has to be directly connected to a power source.
The powerful motor and 18-inch bar on this beauty will see you hack through trunks of more than 20 inches in diameter. It still doesn't quite cut the mustard as the number one tool for commercial lumberjacks, but it will do a sterling job helping you manage your backyard.
For it to work for commercial lumbering purposes, the WORX WG304.1 would need to be more portable. Which would mean moving around with a generator powerful enough to feed that motor?
If you're a home user who just needs to clear up your backyard, this chainsaw is more than ideal. It will easily saw through tree limbs and even trunks of sizeable diameter. It is highly efficient and quiet in operation.
Keeping the saw lubed up is made easier by the automatic oiling mechanism and the window on the oil reservoir. This will keep your operations smooth as well as prolong the life of the chainsaw.
WORX made this model with not just power, but the safety of its users in mind. It comes with an inbuilt chain brake and low kickback bar to shield users from kickback. The lightweight, ergonomic design of the chainsaw also adds to the safety of users. Even if you've never handled a chainsaw in your life, you will be able to maneuver with this powerful cutter without endangering yourself.
Pros
Lightweight, ergonomic design.
Comes preassembled.
Built-in chain brake for safety.
A low kickback bar adds user protection.
Cons
Not made to handle repeated heavy jobs.
Chain brake too close to handle.
Complications may arise when putting to rigorous use.
Conclusion:
This electric chainsaw is quite a steal. You get plenty of cutting power; more that you'll get from the most battery-powered cordless chainsaw. Yes, you will have to sacrifice some mobility, but you will be rewarded with higher performance. You will also be rewarded with some nifty safety features.
Getting such a high-performance chainsaw loaded with numerous additional features at the price point the WORX WG304.1 comes at is a rarity.
---
5. Remington RM1425 Limb N Trim – With 14 inch Bar
The RM1425 is a lightweight electric chainsaw, perfect for handling light trimming and cutting tasks in your backyard.
It is light and easy to handle but a highly efficient cutter as it packs an 8-Amp motor and a 14-inch bar for extended reach. Getting rid of small branches and trimming hedges will be a breeze with this little beast.
Remington has built a number of features into the RM1425 to make it easy for the user to operate. Among them is a wrap-around hand guard to keep your hands away from debris and another is a push-button oiler.
Beginner chainsaw users will be happy to receive it fully assembled right out of the box.
Specifications
14-inch bar and chain.
8-Amp electric motor.
Push-button oiler.
External quick tensioner.
Wrap-around handguard.
Our In-Depth Review:
The Remington RM1425 is a beginner-friendly chainsaw; it comes fully assembled from the packaging- no need to figure out what goes where. But there is an operator's manual in the box all the same.
To get going all you need to do is plug it into a power source and press the trigger. In place of the intimidating roar of gas-powered models will be quiet, efficient operation. You won't even have to contend with the smell of gasoline.
This saw is designed for light usage- hacking of tree limbs and cutting down saplings. But it will do a job on bigger-diameter plants if you are patient enough to attack it from two sides. Some have used it to work through trees of more than 20 inches in diameter.
When it comes to getting the job done, however, the RM1425 is far from docile. It slices efficiently through small branches and saplings without much kickback, thanks to its sturdy bar. However, the lack of a chain brake may make the saw feel a bit less safe to operate. To keep operation smooth, the chainsaw comes with an external tensioner that needs to be operated with a wrench. This will feel outdated in the age of tool-free tension adjusters.
Where the RM1425 falters a bit is in the lubrication department. To begin with, it has a rather small oil tank, which is guarded by a rubber cap that feels rather flimsy. To release the oil onto the bar and chain, you have to press a button. Some will feel this is a bit of a drawback in the age of automatic oilers.
Pros
Comes fully assembled from the box.
Push-button oiler makes lubrication simple.
Wrap-around hand guard protects against debris.
Smooth and quiet operation.
Cons
Only useful for light cutting and trimming.
Oiler not fully automatic.
The chain gets dull quite quickly.
Conclusion:
As a yard-keeping tool, the RM1425 is great to have around the house. With it, homeowners can comfortably deal with stray saplings and small tree limbs. The 14-inch version can be used for heavier duty jobs as well, making it useful for chopping up firewood.
It's lightweight and design make it easy to use. You don't have to be a seasoned lumberjack to be able to work this chainsaw- all you need to do is plug it in.
---
6. Oregon CS1500 – With Powerful Motor
This electric chainsaw is strong enough to handle heavy-duty jobs but is easy to handle. Its ergonomic, lightweight design makes it easy to use.
It is smooth and silent in operation but will make short work of branches and limbs. Homeowners with a bit of compound will find it ideal for keeping the yard tidy.
The Oregon CS1500's manufacturers have equipped it with a number of nifty features to ease operation, keep users safe and prolong the life of the chainsaw. One such feature you won't find in most other competitors is the self-sharpening chain.
In fact, Oregon claims that the CS1500 has the only self-sharpening chain among all corded electric chainsaws.
Specifications
18-inch bar.
3/8-inch chain.
15 Amp, 1800-watt motor.
Self-sharpening mechanism.
Our In-Depth Review:
This chainsaw is effective for dealing with light to medium-duty tasks around the yard. It is useful for pruning trees, cutting off limbs and even felling not-so-large trees. Chopping up firewood is a walk in the park with this little guy. The bar and chain can readily deal with 16-inch diameter objects without struggling.
This comes as no surprise as Oregon is a brand reputed for high quality in chainsaw design. The chain on this model has a 3/8-inch pitch and comes with chisel-shaped cutters that are highly effective and stay sharper for longer. And the guide bar is the Double Guard 91 model, which has a small radius nose for a lower kickback.
One of the highlights of the Oregon CS1500 is its self-sharpening mechanism that restores dull chains to tip-top cutting form in three seconds or less. Instead of having to replace the chain, you only need to pull a tiny lever and voila! Tool-free tensioning and automatic oiling, which come as standard on most modern electric saws, are covered by this chainsaw. These, along with the solid overall construction, add to the durability of the saw.
As with all other corded electric saws, this chainsaw has limited mobility. Since the saw has to be connected to a power source during operation, you will have to invest in a long extension cord or a generator with enough capacity.
Another shortcoming with this model is the fact that it comes in separate pieces. You will, therefore, need to put the tensioner on the guide bar before mounting it and the chain on the body. You will need to ensure that the tension is correct before you get started. This is easier said than done for novice users.
Other aspects of usage are straightforward though. To get the saw going all you need to do is disengage the chain brake and press the throttle trigger. This is what Oregon markets as the 'instant start' capability. The ergonomic design of the chainsaw as well as its lightweight build (as compared to gas models), adds to its ease of use.
Pros
Quiet in operation.
Solid built quality.
Innovative self-sharpening feature.
Heavyweight adds to stability in operation.
Cons
Has to be assembled from the box.
A bit heavier than other corded chainsaws.
Conclusion:
The CS1500 is yet another high-performance electric power saw from Oregon, a name you can trust for quality, durable appliances. It will help you tidy up your backyard and make firewood with minimal fuss. Though piecing it together maybe a bit of a challenge, once it is in place it is easy to use.
The unique self-sharpening feature and the high efficiency of this model should be enough to justify its slightly higher price. Some may, however, feel the limited mobility and extra work of assembling it should be reflected in the price.
---
7. Makita XCU03PT1 – With Brushless Motor
Makita has solidified its reputation for high-quality, high-performance, purpose-built appliances with the XCU03PT1. This cordless chainsaw generates as much power as a 32cc gasoline-powered equivalent, only without the noise and fumes.
The power is down to a brushless motor combined with the highly effective direct drive system Makita uses for most of their other saws.
With this, you can comfortably carry out limbing around your backyard and get your firewood nicely done in no time. The extended battery life of the Lithium-ion batteries means that even arborists, landscapers, and other professionals can rely on this beauty just the way they do on gas-powered models.
To help you control the raw power on the saw, this chainsaw comes with a number of useful features including a tool-free chain tensioning system and metal buck 'teeth'.
Specifications
3/8-inch pitch chain.
14-inch chain.
Four 5.0Ah batteries.
36V power capacity.
Brushless outer rotor motor.
Lock-off safety lever.
Our In-Depth Review:
Contractors and arborists looking for a battery-powered alternative to their gasoline power saws will feel the Makita XCU03PT1 is a shrewd investment. It will offer them almost or just as much cutting power without having to put up with the noise.
There will also be no emissions produced; a plus for the environment. The Makita-patented motor on the chainsaw delivers plenty of kick and adjustable speed levels for greater efficiency. With all that power in hand, you may be tempted to put this chainsaw to use on larger diameter trees. It may work but gas-powered chainsaws will mostly get the task done quicker.
Among the extras fitted to enhance your cutting experience are the buck spikes or teeth that help keep the saw in place when working on tougher objects. Unlike other power saws with plastic, ineffectual teeth, the chainsaw has metal teeth that actually work. Even the heavy usage pros will be happy with the amount of grip they give when working on thicker branches.
Another clever feature Makita has built into the XCU03PT1 is the auto-shutoff, which turns off the saw when it has been idle for some time. While it may be great for saving battery juice, at least in theory, it may prove an irritation.
Those used to having their gas-powered saw idling when not cutting will get exasperated at having to keep powering on the saw after every few seconds.
Makita places emphasis on building tools that can be easily maintained and the XCU03PT1 is no exception. It comes with a tool-free tensioning system to help you easily adjust the chain to suit your operation. You only need to push the thumbwheel to the required position.
Replacing the chain entirely also requires no tools. This will be good news to chainsaw newbies who may not want to go through a checklist of procedures to keep their saw in good condition.
Pros
Brushless motor packs plenty of power.
Teeth come sharp out the box.
Sturdy bucking spikes.
Lock-off lever offers added safety.
Cons
Quite heavy compared to other cordless saws.
On the pricey side.
The auto-shut feature may be annoying.
LED switch tricky to operate with gloves.
The tool-less tensioning system, not the simplest to work.
Conclusion:
Let's not beat about the bush, this is among the priciest cordless chainsaws in the market. The question is, does it offer real value for that kind of money? It is a high-performance tool that is handy for lopping off branches, splitting firewood and other household tasks. But it may not quite have enough firepower for heavy commercial use. Considering its asking price, this may make arborists and landscapers shy away from it.
---
8. EGO Power+ CS1400 – With Kickback Brake
The EGO Power+ CS1400 14-inch is a high-performance saw ideal for keeping your backyard tidy. The sheer amount of power it packs and the amount of work it can do on a single charge will make it useful for contractors and professional landscapers.
It can be a worthy stand-in for regular gas-powered chainsaws, only with the much quieter and cleaner operation. The design of the chain and the power of the brushless motor means it can cut through objects more efficiently than saws with even longer bars.
This model is also much easier to operate and maintain than a conventional gasoline chainsaw. It is light and ergonomically built to make handling it during usage easy.
Specifications
56V Lithium-ion battery.
14" Oregon chain & bar.
6300rpm brushless motor.
Tool-less tension adjustment.
Kickback brake for improved safety.
Our In-Depth Review:
For heavy chainsaw users looking for a battery-powered alternative to noisy, high-emission gasoline models, the EGO Power+ CS1400 is a great pick. It offers almost an equivalent amount of cutting power, enough to saw through 10-inch diameter limbs with minimal fuss.
Most of this is down to the brushless motor, a feature that also works to reduce wear and prolong the life of the device. The 14-inch steel Oregon bar on which the chain hangs also works to increase the reach and cutting power of this beauty.
The EGO Power+ comes with a 2.0Ah 56V battery packs enough punch to keep you sawing for up to one hour on one charge. To boost this even further, you can opt for 4.0Ah, 5.0Ah or 7.5Ah batteries. EGO's innovative Arc Lithium battery technology keeps the battery pack cool so that they can stay juiced up for longer.
If you have other EGO products you can use their batteries to power this saw, saving you an extra coin and allowing you to keep working without interruption. Charging the battery from the provided charging station takes about half an hour and sliding the battery into place is a breeze.
To enable you to keep working longer, the EGO Power+ is lightweight and has an ergonomic design. The wrap-around handle is comfortable to hold and makes it easy to navigate the saw on objects of varying widths from different angles.
You can vary the amount of tension on the chain without interrupting your workflow thanks to the easy-to-reach knob. DIYers used to operate gasoline chainsaws will find the starting mechanism of this cordless chainsaw easier to get used to than the push-button on other models.
Its highly functional chain brake works to keep you safe from any kickback. The quietness of the saw in operation means you don't even need to wear ear protection; at least for ordinary domestic use.
The unconventional design of the EGO Power+ CS1400 appears to have overlooked the need for bucking spikes. Other models have to buck teeth on the body to improve grip when attacking thicker trunks. Granted, the bucking teeth on some saws are plastic and more ceremonial than practical, but the metal spikes on other models are highly effective.
This oversight should not detract from a well-designed, powerful tool that can help you get plenty done. Furthermore, like all EGO power tools, the Power+ CS1400 comes with a manufacturer's warranty.
Pros
It can get a lot of work done on one charge.
Quiet compared to gas alternatives.
The oil level window allows for easy monitoring of levels.
Easily adjustable tensioning knob.
Cons
A bit pricey.
Doesn't have bucking spikes.
Conclusion:
Seasoned chainsaw users will be willing to overlook the lack of bucking teeth and the absence of an automatic oiler. They will likely be pleasantly surprised at how the Power+ CS1400 matches the performance of their gasoline chainsaws.
---
9. Earthwise CVPS43010 – With Auto self Oiler
The Earthwise CVPS43010 convertible 2-in-1 corded electric pole saw and chainsaw may be a mouthful but delivers on each and every one of the promises contained in its name.
It is a true multi-purpose tool, with a great level of diversity.
Specifications
Extension pole; 8 feet.
Auto self oiler.
7 amp motor.
10-inch bar and chain.
Includes shoulder strap and blade cover.
Our In-Depth Review:
When it comes to performance and power, this pole saw features a strong and lively motor and weighs in at under 10 pounds. What is amazing about this tool is its cutting ability versus how light it is and feels. Further of use to the discerning homeowner is its ability to adjust cutting angles, depending on what is required. There are 5 separate such angles as options, making it a very customizable pole saw.
Safety is a priority over at Earthwise, and it shows. Included is a chainsaw cover that can be slipped on or off for storage. It can also be broken down when it is not in use. Additionally, a shoulder strap is also included with this versatile tool, which helps users manage its size, along with with self-oiling abilities, not to mention its soft grasp handle for convenience and comfort.
For those that enjoy the convenience of convertible saw that can be both a chainsaw and a pole saw at the press of a button, then this product is for you. With a power train of 7 amps, the Earthwise CVPS43010 cuts small to medium branches with ease.
The chain saw is detachable, for ease of use. Branches of roughly 8 inches can be cut by this saw, due to its saw blade measuring 10 inches.
Tree branches that are some distance from the ground can be easily reached by 10-foot extendable pole, in addition to its 5 feet of reach without the extendable pole, for a total of 15 feet. Weight-wise, it is quite light, weighing in at 5 pounds, with an additional 3 pounds worth of extension pole for a total of 8 to 9 pounds.
For those in the market for a versatile combo saw the product, that can not only trim trees and hedges as well as perform a multitude of home-based tasks, but there are also few that can match this product's abilities.
It is noted by many users that the saw blade is durable and sharp, even after extended use. Moreover, this tool rates highly amongst novice users due to its operational and setup simplicity. The product is so straightforward that many users seldom need to refer to the instructions manual!
Pros
The cutting head is turned easily by the turn of a knob for simpler limbs-pruning.
Chain tensioning does not require additional tools.
Shoulder strap for easier lifting and better trimming control.
A window showing the current oil level.
Tackle multiple types of projects via its versatile convertible nature.
Cons
User manual may be difficult to understand and confusing to some.
The gradual loosening of the tension chain.
The poorly designed oil reservoir.
Conclusion:
Every part of saw matters when picking the best saw. Its engine has to produce enough grunt to tackle whatever level of job you require it to, in and around your home. Its bar and chain have to stand up to scrutiny and pass with flying colors.
The Earthwise CVPS43010 2-in-1 corded convertible chainsaw-pole saw presents with these qualities and more. It is among the best chainsaw/pole saw combinations on the market, as it features a very capable car and chain as well as a robust motor.
In addition, this tool id offered with a shoulder strap and blade cover. These excellent safety features are class-leading in the pole saw/chainsaw hybrid segment.
---
10. WEN 4017 – With 16 inches Bar
WEN has been manufacturing tools from 1951 and is known for producing tools that are of high quality at affordable prices.
The WEN 1407 electric chainsaw is not only very affordable, but it is also designed for those that require a chainsaw that reliably handles many of the cutting jobs that are needed around a home.
Specifications
Runs of 12-Amp Motor.
It comes with the Auto Oiling system.
16″ Oregon bar.
Lightweight body.
Our In-Depth Review:
Many chainsaw users purchase this product for its cord. While being cordless offers some convenience, the benefits of a chainsaw that is powered by electricity are too numerous to ignore. Principally, no gasoline is required. There is no need to mix oil and gas.
There will be no need to store tanks of gas. The maintenance of an electric chainsaw is minimal overall. Lastly, electric chainsaws forego a pull-start, the bane of many a chainsaw user. Unaffected by outside temperatures. Just turn it on, use, turn it off.
In all likelihood, an extension cord will be required, but even so, the WEN 4017 Electric Chainsaw comes up trumps: its motor, with 12 amps of power requires a less expensive and simpler to use an extension cord. This power was determined to be enough to cut through most shrubs, logs, and trees. Any less and it would be underpowered, any more powerful and it would require a much more costly extension cord.
The WEN 4017 electric chainsaw's 16-inch bar is perfect for jobs around the home. Ideally by a DIYer or homeowner. Firewood logs and tree limbs are easily handled by this machine. Smaller tree trunks are also easily dispatched by this chainsaw. Hardwood or thicker tree trunks will take more time but will ultimately be managed.
Included on the chainsaw is a scabbard, which protects the chain and bar when the chainsaw's being stored, as well as when in use. It does not, however, feature a chain brake nor any discernable anti-vibration. Safety is further enhanced by a handguard that keeps the user safe from flying debris.
From plug-in to startup, you will notice immediately its difference from a fuel-powered chainsaw. You will breathe better from the absence of blue smoke. It is also markedly quieter. Additionally, it can be used indoors, in areas such as the shed or garage.
The chain and bar of this chainsaw are kept lubricated by its automatic oiler. This aids in the faster conclusion of jobs.
Novice chainsaw users will not be too thrilled when they open the WEN 4017 box and discover that they have to piece it together. They will need to mount the chain onto the bar and the bar will need to be connected to the body. This is an operation that will take non-DIYers some time to complete.
Pros
44 foot per second rotations for the Oregon chain by the 12A motor.
Lessened user fatigue due to lightweight design.
Saw's lifespan is elongated through the self-oiling system.
Fast and easy chain replacement made by changes to the chain that is free from the tool.
Operations are emission-free due to a lack of gasoline usage.
Cons
Occasional oiler clogging.
Not ideal for larger, professional jobs.
Needs to be assembled.
Conclusion:
The WEN 4017 electric chainsaw offers great overall value, simplicity of use and convenience. It is ideal for any homeowner who requires a tool that can tackle several jobs around the exterior of the home, as well as in interior workspaces. Without any emissions, it is an environmentally clean chainsaw. Emitting minimal amounts of noise, this chainsaw can be comfortably used in a suburban setting. With low maintenance needs, this chainsaw id ready to go at a moment's notice.
The chainsaw is light in weight, though proximity to an electrical outlet hampers its range somewhat. With 100-foot extension cords readily available, this should increase its range considerably.
It may take time to tackle larger jobs, but it breezes through smaller jobs. The WEN 4017 electric chainsaw is a critical yard work tool for the modern homeowner.
---
Electric Chainsaws – Buyer's Guide
What is an Electric Chainsaw?
When it comes to cutting down trees and pruning branches, you could give it a go with a handsaw – provided you have loads of time and energy to burn. But, let's be realistic here. Even if you give it your best shot, the possibility of getting enough wood to serve you from a day's work is considerably low. This is where electric chainsaws prove to be quite useful.
An electric chainsaw is an easy-to-use, automatic cutting equipment that cuts through with the aid of a saw blade affixed to a rotating blade. It comes in two forms – corded, and cordless. Corded electric chainsaws require you to have a power source where you can plug in the chainsaw nearby. The cordless electric chainsaws, on the other hand, work only with batteries.
Electric chainsaws work only with electricity – talk about stating the obvious. You do not require any form of gas to operate one; hence it is cheaper to use and maintain an electric chainsaw.
Using an electric chainsaw comes in remarkably handy when it is time to cut down a lot of trees. You can cut through tens to hundreds of wood at a stretch, all while exerting minimal effort.
Electric chainsaws also come in different shapes, and sizes, each built to cater to different needs, and wood-cutting experience levels.
How do Electric Chainsaws Work?
Before delving into the mode of operation of an electric chainsaw, let's first take a look at the features, and structures of the chainsaw.
A typical electric chainsaw consists of two main parts:
 A flat saw blade which extends outwards from a chain wrapped around a metal bar. The chain is built like bicycle chains and is designed to work in tandem with gear wheels.
A small motor that runs on electricity. This electricity could be in the form of a power cable connected to a power source or batteries.
Most electric chainsaws require the simple push of a button to start operation. Once the start button is pressed, pistons located inside the engine spring into action, and begin oscillating. This repeated movement turns a crankshaft, which in turn rolls gear projections on which the chain is placed. This causes the chain to start spinning, and since the saw blades are joined to the chain, they start cutting.
It's all one big system of parts, working in perfect tandem in there.
Electric chains cut with the aid of cutting chains, and these chains need to be sharpened from time to time, in order to maintain efficiency and quick cutting.
Do Electric Chainsaws Need Oil?
Although you don't need oil to operate an electric chainsaw, moving parts of the equipment need to be regularly lubricated. This is done in order to ensure smooth running, and optimal cutting operations.
Summarily, any machine or piece of equipment that has moving parts require oil for seamless working experience.
Electric chainsaws best work with eco-friendly oil that is specifically designed for the purpose of lubricating its parts. You can't use just any oil to lubricate your chainsaw, and you should take care to avoid using a motor, and vegetable oil as they might damage your equipment's engine in the long run.
How to Refill an Electric Chainsaw with Oil?
Refilling an electric chainsaw is more than just opening a tank, and pouring in the oil. There are a series of steps, and precautions to follow in order to ensure you refill your chainsaw the correct way.
Before you begin refilling your chainsaw at all, you should collect a small funnel, towel, oil, and keep them nearby. It is advisable to use a funnel when refilling, in order to prevent wastage of oil.
Also, keep an eye on your oil level and ensure it doesn't get too low before topping-up.
To refill your electric chainsaw with lubricating oil, follow the steps listed below:
Ensure your chainsaw is not connected to a power source. Unplug corded electric chainsaws, or take out the batteries if you use a battery-powered chainsaw.
Provided you were using the chainsaw prior to refilling it, give it ample time to cool down before handling it. The heat generated during a cutting operation can do significant damage to your skin.
Once you are ready to refill, locate the oil filler cap on the body of the engine, and wipe it clean with your towel. This is to ensure dirt, and debris do not fall into the oil tank, consequently causing contamination, and malfunctioning of your chainsaw's automatic oiling feature.
Remove the tank cap, and using a funnel, slowly pour the customized engine oil into the tank. Keep an eye on the gauge located on the engine so you know when it's right to stop filling.
Once your oil tank is full, screw the cap back on, and wipe off oil spills.
Spare no expense when refilling your electric chainsaw. Go for high-quality, premium oil. It is better to spend money on quality oil than waste cash repairing faults that might develop as a result of using cheap, low-quality oil.
Electric Chainsaws or Gas Chainsaws?
There is a long-standing debate on whether or not using an electric chainsaw is a more effective way of cutting wood, compared to using a gas chainsaw. Admittedly, electric chainsaws have astonishing cutting power and are relatively easier to maintain, but there are instances where the sheer power, and cutting speed of gas chainsaws would be more appropriate.
It would be helpful to do a side-by-side comparison of features of electric chainsaws, and gas chainsaws in order to determine which is the better one, and that's what we are going to do now.
On average, a gas-powered chainsaw costs more than an electric chainsaw. Also, you have to purchase gas to operate a gas chainsaw, and this might prove to be quite expensive in the long-run.
Electric chainsaws don't require gas to run, and apart from the periodic refilling of lubricating oil, they are quite easy to maintain. Hence, electric chainsaws come out on top in this aspect.
Also, electric chainsaws are comparatively light, and compact, making them easy to handle and operate. Gas chainsaws are notoriously heavy, and using them at a stretch leads to fatigue. In addition, gas chainsaws make a lot of noise while working, and you have to mix in oil with the gas, which leaves you with an unpleasant smell.
It is, however, in the sheer volume of work that can be carried out, that gas chainsaws have a major edge over electric chainsaws. Gas chainsaws are built to carry out heavy-duty work and will slice through large trees and branches like a knife through butter. Electric chainsaws are ideal for basic, domestic work such as trimming branches, chopping up wood, and other home cutting tasks.
Gas chainsaws can also work for hours at a stretch, with periodic stops to refuel.
Both gas and electric powered chainsaws are amazing equipment to have and will carry out respective tasks with relative ease. At the end of the day, however, the choice of chainsaw boils down to the purpose you intend to use it for.
Battery-Powered Cordless Chainsaws
If you are thinking of buying an electric chainsaw, it might be in your best interest to go for a battery-powered cordless chainsaw. This particular type of electric chainsaws runs on a battery, and the absence of a power cord means you can use it over a wider area.
Cordless chainsaws seldom have engines; hence, they are usually lightweight – a factor which increases mobility, and ease of use. The fact that cordless chainsaws don't have engines means quieter operations, and you don't have to disturb the neighborhood because you want to prune branches.
However, due to the fact that cordless chainsaws work only with batteries, they generate a considerably lesser amount of power compared to corded and gas-electric chainsaws. Batteries also run out pretty quickly, and you'd have to recharge your chainsaw from time to time for continuous usage.
Despite producing lesser power, battery-powered cordless chainsaws do not come cheap, and you should be prepared to part with a mini fortune if you are to acquire one.
Popular Uses of an Electric Chainsaw
It is widely known that chainsaws are used for cutting trees, but there is an extensive range of operations you can carry out with your chainsaw. Some of these uses include:
Cutting down trees
Talk about stating the obvious. Chainsaws are widely used for felling trees, and are a more efficient and effective option, compared to the traditional axe. You can take down just about any tree with a chainsaw, but it would require a certain amount of expertise to take down extremely large trees.
Sculpture carving
Where there is a will, there is away. It might seem unconventional, but artists have found a way to carve sculptures and art pieces with the use of chainsaws. Hundreds of craftsmen use chainsaws to create ice and wooden sculptures.
The US Open Chainsaw Sculpture Championship is an annual competition held in Wisconsin, United States of America. In this tournament, sculptors from all parts of the world come to display their prowess in creating mind-blowing sculptures with chainsaws.
Delimbing processes
Chainsaws are also used to remove the branches of trees that have been previously felled. This helps clean up the tree, thereby preparing it for the next stage of processing.
Pruning trees
Trees that serve decorative or environmental purposes will produce lots of leaves, and branches that need to be reduced from time to time before they constitute a nuisance. With chainsaws, this process of pruning becomes all too easy, and you don't have to over-exert yourself cleaning trees, and flower edges.
Cutting firebreaks
Firebreaks are strategic gaps created between vegetation to control fire in the course of an outbreak. Firefighters find it particularly easy creating these firebreaks with the use of chainsaws.
Making firewood
If you have a fireplace, and dead trees in your neighborhood, you can cut down the amount spent on firewood by purchasing a chainsaw. With this chainsaw, you can easily chop down those trees for firewood, and stay warm all year long. Pretty good idea, yeah?
Maintaining Your Electric Chainsaw
Electric chainsaws might be the tough guys that fell trees and do all the hard jobs, but just like all other machines, they need to be regularly checked on to ensure they continuously deliver quality work.
If you want to keep enjoying a seamless cutting experience, here are some tips and steps that will assist in maintaining your electric chainsaw:
Regularly sharpen the saw blade
Continuous usage of your chainsaw has a long-term dulling effect on the blade. This could be quite dangerous as you will experience more slips and kickbacks while working with a dull blade.
To be on the safer side, and ensure your chainsaw cuts clean through, sharpen the blade from time to time – do not wait until it becomes completely dull. Use a special chainsaw filing kit and a depth gauge tool which helps you file the blade to an acceptable level.
Do not leave the saw blade exposed to air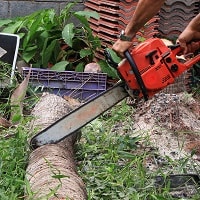 If you leave your chainsaw open when it is not in use, chances are that the metal parts will start rusting within weeks. Moisture and metal are not the best of friends, and you should leave no stone unturned in keeping your chainsaw away from damp air.
When not in use, drape a plastic bag over your equipment. Alternatively, you can store your chainsaw in a cool, dry place, away from sunshine and water.
Monitor chain oil level
Electric chainsaws are a bevy of moving metal parts that work at extremely high speeds, consequently generating intense heat. The heat generated by friction in moving parts is, most times, responsible for faults that develop in chainsaws.
To prevent your electric chainsaw from breaking down, oil it regularly – don't wait till the oil completely dries up! Keep an eye out for the oil level, and swab the chain from time to time to ensure smooth sliding.
Clean out your chainsaw frequently
Wood splinters gotten from cutting trees and dirt can clog up your chainsaw engine, and cause a whole lot of problems. Hence, take time to comprehensively clean out your tool. You can use bristle brushes or anything that is designed to take out dirt whenever you want to clean your chainsaw.
Make sure the chain is tightly fixed
When cutting, you want your chain to be fixed in place – preferably getting displaced by only one-eighth of an inch when you pull on it. A loose blade might break on impact, while a blade that is too tight might not move freely; hence, it is imperative that you get the tightness right.
Chainsaw Safety Tips
While working with chainsaws, a lot can go wrong really quickly. As effective as this equipment is, it could also turn out to be extremely dangerous machinery, especially if it is not used in the right way.
While using electric chainsaws, you need to have a great deal of patience and concentrate deeply on what you are doing. In the same vein, chainsaws should be completely kept away from kids.
To be on the safer side, and to avoid suffering freak accidents while using an electric chainsaw, there are basic safety tips, and requirements to follow while using one.
Wear appropriate safety gear and equipment when operating a chainsaw
This is quite basic, but its importance cannot be stressed enough. Before using a chainsaw, make sure you are docked out in suitable gear.
Wear very thick gloves (something that can cut through trees will have no problem slicing through normal gloves), and boots to protect yourself from the extremely sharp chainsaw blade.
Also, put on safety goggles to shield your eyes from wood splinters that fly around during cutting. If your chainsaw makes a fair bit of noise while in use, get earplugs to cover your ears.
Wearing loose-fitting clothes are a terrible idea, as they might get caught by branches while working. If you are felling large trees, put on a safety helmet to protect your head from falling objects.
Cut with both hands
Handle your chainsaw with both hands while cutting to give you a better grip, and control over your equipment.
Maintain a strong stance when cutting
Stand with both feet placed wide apart, and firmly planted in the ground when cutting with your chainsaw.
Do not try to overreach, cut only within a comfortable range. Also, do not try to cut more than one branch at a time.
Read and understand the instruction manual before operating a chainsaw
This is often overlooked, but it is an important activity that can save chainsaw operators a lot of grief.
Upon purchasing a new electric chainsaw, take your time to properly read and understand the contents of the instruction manual that comes with the package, before attempting to operate the chainsaw.
If you have any questions, do not hesitate to contact customer service.
Cut things at shoulder level only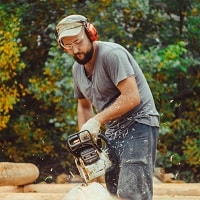 When cutting branches, make sure to cut only those that are at the eye or shoulder level. This helps you maintain a perfect stance when cutting. Stretching to cut branches that are way above you might lead to a loss of balance, and this can be quite dangerous.
Carry out a comprehensive check on your chainsaw before using it.
Before you operate your chainsaw at all, carry out a thorough check on all its parts. Check the engine oil level, the chain, blade, and more, so that problems don't arise midway through the cutting.
Concentrate fully on what you are cutting
While operating an electric chainsaw – or any chainsaw for that matter – ensure you pay undivided attention to what you are doing. If you want to do something else midway through your cutting, completely shut down the chainsaw, and carefully set it down.
Features to Consider When Buying an Electric Chainsaw
When choosing an electric chainsaw to buy, there are a number of features and technical specifications you need to consider before making your choice. Some of the properties you should take a look at when you want to get a chainsaw to include:
Bar length
Chain speed
Weight
Handle type
Chain Tensioning
Kickback
Ease of use and maintenance
Quiet operations
Simply put, bar length is the length of the cutting bar (or blade) of the chainsaw. Bar length directly affects the cutting area. Electric chainsaws with long bars are able to cut trees with larger trunks, while those with shorter bars have a reduced cutting area.
This is the speed at which the chainsaw chain rotates. Higher chain speeds mean you will be cut through thick trees much more quickly. Typically, corded and cordless electric chainsaws offer chain speeds of around 9m/s.
Consider going for lighter models of electric chainsaws as they are easier and more comfortable to handle, and maneuver. Because electric chainsaws do not have engines, their total weight is considerably lesser, compared to gas chainsaws.
The handle of a chainsaw is another important feature that impacts heavily on the ease with which you can operate it. Chainsaws with anti-vibration and soft-grip designs provide greater accuracy when cutting, and should be right on top of your shopping list.
Appropriate tension must be maintained in a chainsaw to ensure it is completely safe to use. Some chainsaw models come pre-equipped with a simple tensioning tool with which you can adjust chain tension.
Quite a number of chainsaw models have simplified the process of chain tensioning by incorporating a simple dial tensioning feature. These models should be given priority when it is time to purchase a chainsaw.
Ever been cutting, and then your equipment encounters an obstacle which causes it to bounce back? That is what is referred to as a kickback. Kickbacks could be quite dangerous and harmful to both experienced, and inexperienced operators.
There are chainsaws on the market which employ an anti-kickback brake feature. This brake automatically shuts down the chainsaw once kickback vibration is detected, thereby guaranteeing the safety of the user.
Go for electric chainsaws that require little or no maintenance, and are easy to clean. Some chainsaw models require just a simple button push to start operation – easy.
Generally, electric chainsaws – both corded and cordless – make little or no noise while in use, due to the absence of powerful engines. Noise pollution is a real issue, and your neighbors will appreciate it if you could cut your trees, and prune your hedges without constituting a nuisance.
FAQs Related to Electric Chainsaws
Are electric chainsaws good?
An electric chainsaw is excellent equipment for carrying out basic cutting operations. Compared to gas chainsaws, electric chainsaws are light and easy to move around. They are cheaper to use and maintain as they only require the occasional oil change. Besides, electric chainsaws do not generate a great deal of noise while in use, and they certainly don't give out the unpleasant smell of gasoline associated with gas-powered chainsaws.
Are electric chainsaws loud?
No, electric chainsaws are not loud. In fact, the quietest chainsaws are electric. More often than not, electric chainsaws do not have engines, which are responsible for the roaring noise on display when using gas chainsaws. Generally, electric chainsaws are ten decibels quieter than gas chainsaws.
What size chainsaw do I need to cut down a tree?
The size of chainsaw you need to fell a tree depends solely on the size of the tree trunk. If the tree in question has a fairly large trunk, you require a chainsaw with a long blade to conveniently bring it down. Trees with smaller trunks can be cut down almost any chainsaw size.
Can you use an electric chainsaw in the rain?
It is not advisable to use an electric chainsaw in the rain. Electrical chainsaws – especially the corded ones get their power from an electrical source, and using them in the rain means you are risking electrical shocks. Furthermore, chainsaws are 90% metal; hence, exposing them to rainwater is not the best idea.
Do you start a chainsaw with the brake on?
For your own safety, ALWAYS – and I cannot stress this enough – start your chainsaw with the brake engaged. To start the chainsaw brake, push the brake handle located on top of the chainsaw forward. By doing this, you ensure the chainsaw blade does not start rotating immediately you start it, which buys you additional time to adjust yourself.
How many amps is an electric chainsaw?
Electric chainsaws have no engines; hence they generate lesser power compared to gas chainsaws with engines. Heavy-duty electric chainsaws can deliver between 14.5-15 amps of power, while less powerful models give out only 10-12 amps of power.
What kind of oil do you put in an electric chainsaw?
Electric chainsaws work best with specially fabricated chain and bar lubrication oils. These oils are specifically designed for chainsaw engines and are eco-friendly. Other kinds of oils, such as vegetable and motor oils should be avoided at all costs as they will damage the chainsaw oiling system.
What is the best way to sharpen a chainsaw blade?
From the use of hand files to sharpening guides and bench vices, there are various methods you can use to sharpen a chainsaw blade. However, in my opinion, the best way of sharpening a chainsaw blade is through the use of portable power sharpeners. Power sharpeners are a quick, and efficient means of sharpening blades. Portable power sharpeners come in two forms – a rotary tool, and an electric rotary grinder. Both tools do an excellent job of sharpening chainsaw blades and work with various chainsaw sharpening accessories.
How good are battery-powered chainsaws?
Battery-powered chainsaws deliver a strong and great cutting experience. Due to their strong 36-volt Lithium-ion batteries, these chainsaws deliver a significant amount of power. The absence of a power cable also means you can use a battery-powered chainsaw with relative ease and greater mobility. The only drawback to this is the fact that you have to pause your work at intervals to charge your chainsaw – but, who complains about an opportunity to rest anyways? Battery-powered chainsaws have no engines; hence, they are quieter than gas-powered chainsaws.
Why is my chainsaw hard to start?
If you are facing difficulties starting your chainsaw, there are quite a number of things that could be wrong. Firstly, check to see if your air filter is clogged. If that is the case, clean it. Replace the air filter if it is worn out. If you use a gas chainsaw and you have not operated it for a while, chances are that the fuel's gone bad. Take out the old fuel, and replace it with a fresh mixture. If the fuel is fresh, and your chainsaw still won't start, check the fuel line for leaks and cracks.